Elite Force Premium .28g (Biodegradable) 2700 BBs
[09728 / HK-2279063 / 2279063]
( 2 Reviews )
❤ Add to Wishlist
Free Shipping for orders over $149
No Coupon needed
One of the newest BB brand on the airsoft market, and sure to be a huge hit. These BB's are as close to a perfect 6.00mm as you can get. Rather than keeping their bb's in a flimsy, hard to handle and reseal bag like other brands, Elite Force BBs come in an easy to handle and easy to store bottle so you don't have to worry about a bag tipping over and making a mess. To make them even better, these Biodegradable BBs will even decompose over time in a non-toxic, environmentally friendly way. They are great for extended outdoor operations that require players to use biodegradable BBs.

Specifications:
Manufacturer: Elite Force
Dimensions: 5.98mm
BB Weight: .28g biodegradable
Quantity: 2700 rounds per bottle
Design: All electric guns, high power spring guns, gas guns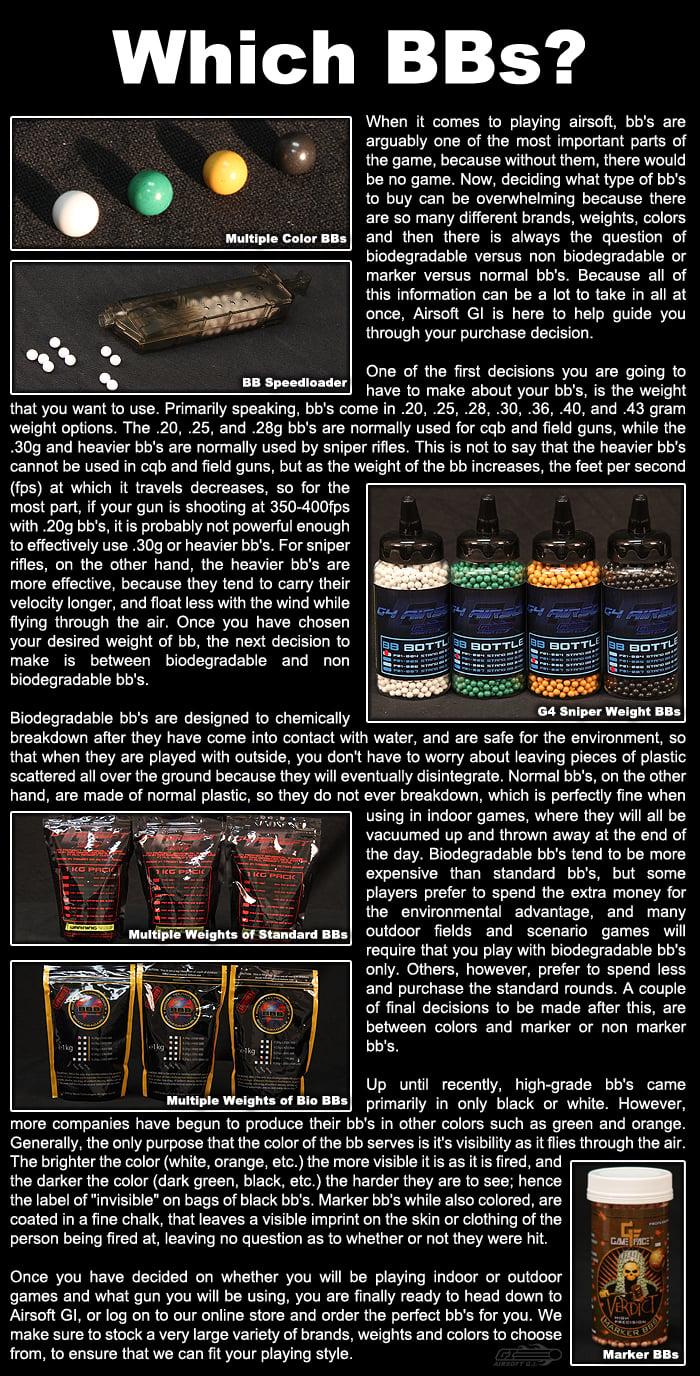 Specifications

Manufacturer: Elite Force / Umarex USA
Color: White
Material: Plastic
Package Includes: 2700 BBs
see 2 reviews
|
Write a Review
C. AGUILAR | 2013-11-18
Product Information:
High quality biodegradeable BB's. Polished, precision, and protects Mother Nature! Must have for outdoor players, people who plink in their backyard, MILSIM players, etc. They feed perfectly through all my GBBs (I don't own any AEGs), no hiccups or shattering found in over 1500 rounds.Plus, they come in a bottle, which makes simple carrying onto a field, and easy reloading of speedloaders. Excellent BB's for the price. Highly recommended.

Pros:
Polished
Precision
Biodegradeable
Comes in a bottle
Quality for Price ratio

Cons:
You will keep mowing enemy players down and steal kills from your buddies for the amount of quality biodegradable BB's you get!
J. PARODI | 2014-01-22
Product Information:
These bbs may seem too cheap to be reliable but that is not the case. These bbs are finely polished and capable of competing with any other high quality bb, even the non-bios.

Pros:
-really good deal for what you get
-no deformities
-very polished
-bottle it comes in is way more convenient to store than a sealable bag
-good shooting consistency

Cons:
None that I can think of. If you're looking for some bio .28s then I would highly recommend these to any airsofter.
Search Tags: High Quality Precision Grade Seamless Polished Ammo BBs BB Bag .28g .28 g 28 28g bio bios biodegradable Bottle Bottles
People who bought this item also purchased: