Elite Force Premium .20g 2700 ct. BBs (White)
[M05A05/BB SECTION][09706 / HK-2279500-020G-2700 / 2279500]
( 8 Reviews )
❤ Add to Wishlist
Free Shipping for orders over $149
No Coupon needed
One of the newest BB brand on the airsoft market, and sure to be a huge hit. These BB's are as close to a perfect 6.00mm as you can get. Rather than keeping their bb's in a flimsy, hard to handle and reseal bag like other brands, Elite Force BBs come in an easy to handle and easy to store bottle so you don't have to worry about a bag tipping over and making a mess.

Specifications:
Manufacturer: Elite Force
Dimensions: 5.98mm
BB Weight: .20g
Quantity: 2700 rounds per bottle
Design: All electric guns, high power spring guns, gas guns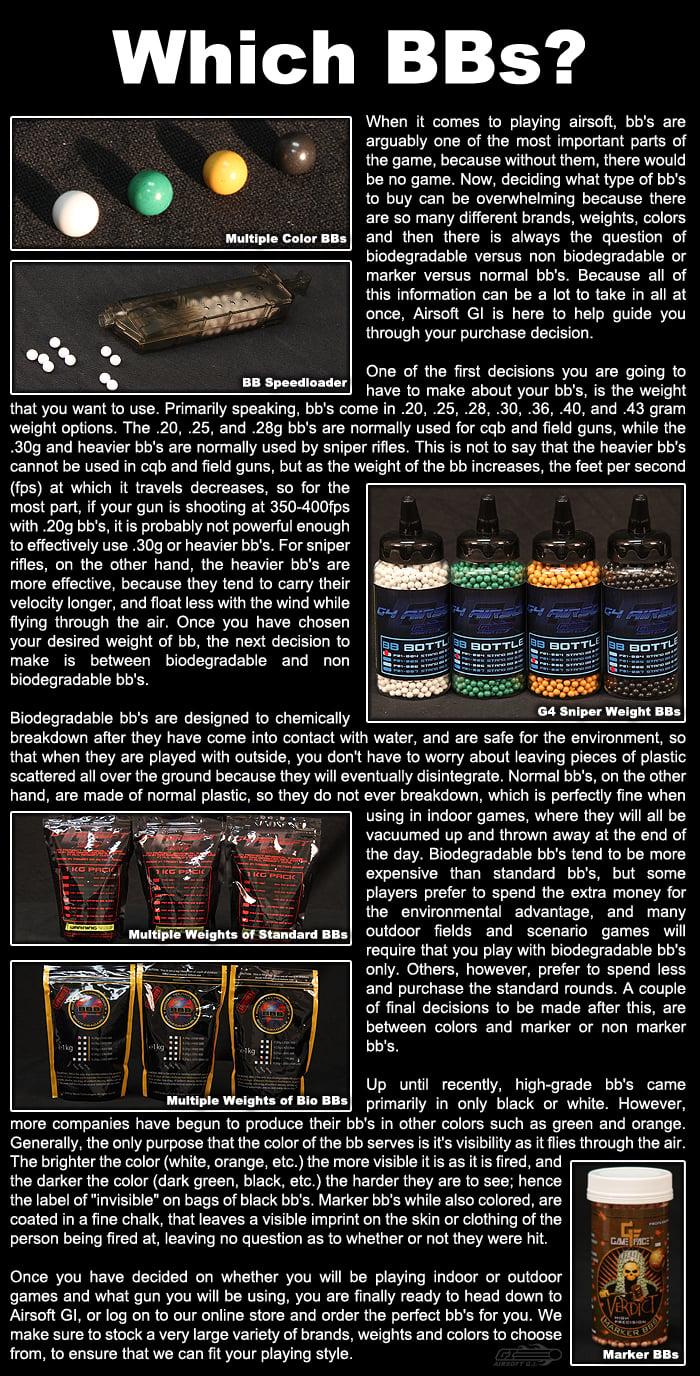 Specifications

Manufacturer: Elite Force / Umarex USA
Color: White
Material: Plastic
Package Includes: 2700 BBs
see 8 reviews
|
Write a Review
verified buyer
H. BOATMAN | 2014-02-02
Product Information:
These BB's are great. Very Accurate, good weight for CQB and Field. I used them in my AK74UN at a milsim game and they worked fantastic.

Pros:
Here are the Pros:

Very Accurate
Good for CQB and Field
The bottle they come in is a huge plus. way better than bags of BB's

Cons:
The only con is that when I used them in my L96, they weren't accurate at all..
B. SMITH | 2014-02-14
Product Information:
Bought these bb's a few weeks ago, wanted to review them to help people decide what to get. As the bottle says, there are ~2700 bb's, they're 0.20g bb's, and they are very smooth and solid.

Pros:
-Have yet to see a bad BB in the entire bottle.
-No problems feeding through my ~2 year old gun at all!
-Bottle makes for easy carrying, fits in most double-sized mag pouches.



Cons:
I honestly can't think of anything wrong with them. They're great!
R. KIM | 2014-04-19
Product Information:
A great product, works well and it's super smooth on my guns. Doing this partly for the well sniper giveaway. So yeah

Pros:
No jamming
Smooth
Great FPS
Best BBs ever

Cons:
None!
Search Tags: Low Cost Seasonal BBs High Quality Precision Grade Seamless Polished Ammo BBs 0.20g .20g BB Bag .20 20g 20 Bottle Bottles
People who bought this item also purchased: