Elite Force Premium .20g 5000 ct. BBs 5 Bottle Special (White)
[14270 / Elite Force 0.20 25,000]
( 2 Reviews )
❤ Add to Wishlist
Free Shipping for orders over $179
No Coupon needed
New to airsoft? Here are some
safety tips for airsoft guns
that we recommend following.
One of the newest BB brand on the airsoft market, and sure to be a huge hit. These BB's are as close to a perfect 6.00mm as you can get. Rather than keeping their bb's in a flimsy, hard to handle and reseal bag like other brands, Elite Force BBs come in an easy to handle and easy to store bottle so you don't have to worry about a bag tipping over and making a mess. The well known Elite Force BBs are now available in a bulk package. If you were to purchase each individual bottle separately, you would be spending much more.

Specifications:
Manufacturer: Elite Force
Dimensions: 5.98mm
BB Weight: .20g
Quantity: 25,000 rds
Design: All electric guns, high power spring guns, gas guns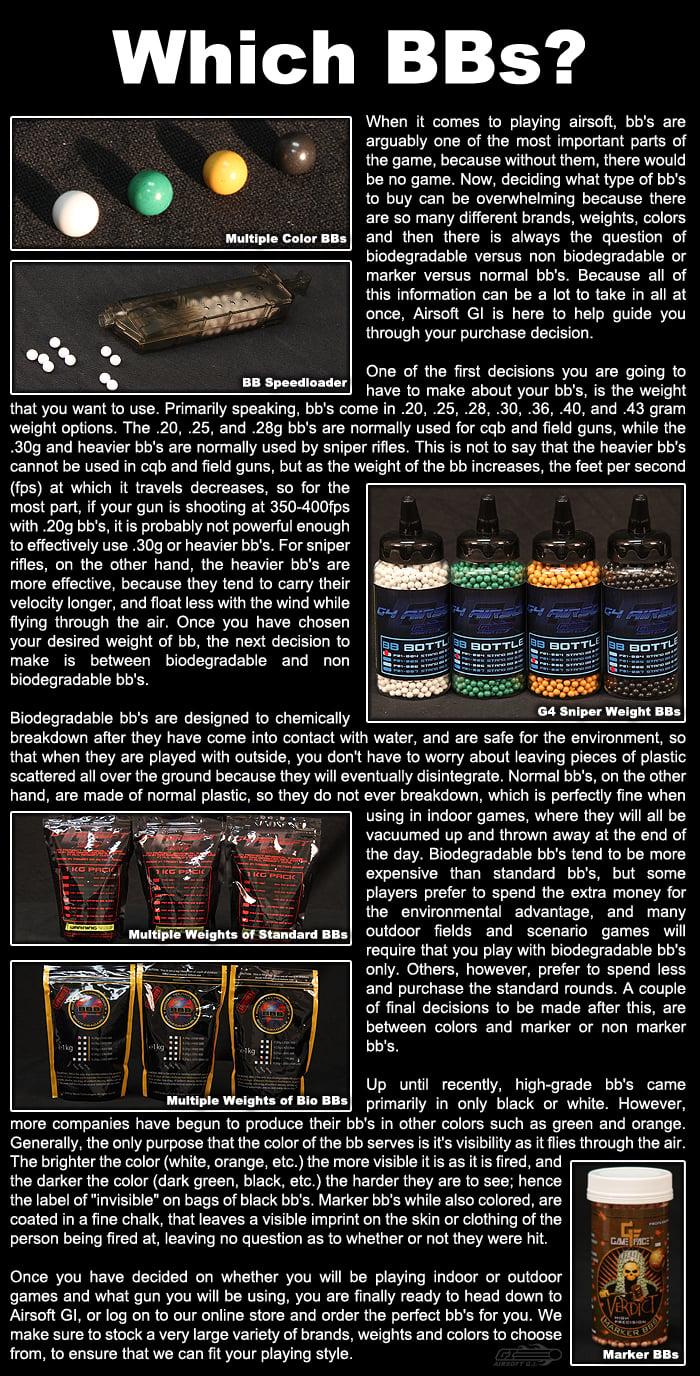 Specifications

Manufacturer: Elite Force / Umarex USA
see 2 reviews
|
Write a Review
verified buyer
J. WRIGHT | 2014-05-13
Product Information:
cant beat the price. Pay $0.0019 per BB ($0.00192 for 15,000 count) Compared to $0.0048 per BB for a 5000 count crosman .20gram at the local Dick's Sporting Goods. So im paying less than half buying here at Airsoft GI. Good quality and they really are seamless. Cant wait for New York Airsoft GI store to open!

Pros:
Seamless-the most important
Screw-on cap bottles are a lot nicer than messy plastic bags

Cons:
White in color. I believe non biodegradable BBs should be 'camo' or black colored. I shoot outside and after shooting several thousand white BBs you really start to notice them all over the place. After all they will be around for about 350 years before they completely degrade.
J. KNIPPERS | 2016-09-25
Product Information:
Really great brand of bbs. They're seamless and amazing

Pros:
-Superior price
-Seamless
-Quality bbs
-TWENTY FIVE THOUSAND
-Will not shatter in barrel

Cons:
-Bad for soup
--------------------
Are these biodegradable

Elite force bulk special .20 g/14270

3030 days ago

Stacy M

0

0

(I have this same question)

Staff Answer:

No.

3021 days ago

1 answers
1 asked
Search Tags: Low Cost Seasonal BBs High Quality Precision Grade Seamless Polished Ammo BBs 0.20g .20g BB Bag .20 20g 20 Bottle Bottles
People who bought this item also purchased: