Elite Force Premium .28g 2700 ct. BBs (White)
[M05D02][09723 / HK-2279058-028G / 2279058]
( 4 Reviews )
❤ Add to Wishlist
Free Shipping for orders over $149
No Coupon needed
One of the newest BB brand on the airsoft market, and sure to be a huge hit. These BB's are as close to a perfect 6.00mm as you can get. Rather than keeping their bb's in a flimsy, hard to handle and reseal bag like other brands, Elite Force BBs come in an easy to handle and easy to store bottle so you don't have to worry about a bag tipping over and making a mess.

Specifications:
Manufacturer: Elite Force
Dimensions: 5.98mm
BB Weight: .28g
Quantity: 2700 rounds per bottle
Design: All electric guns, high power spring guns, gas guns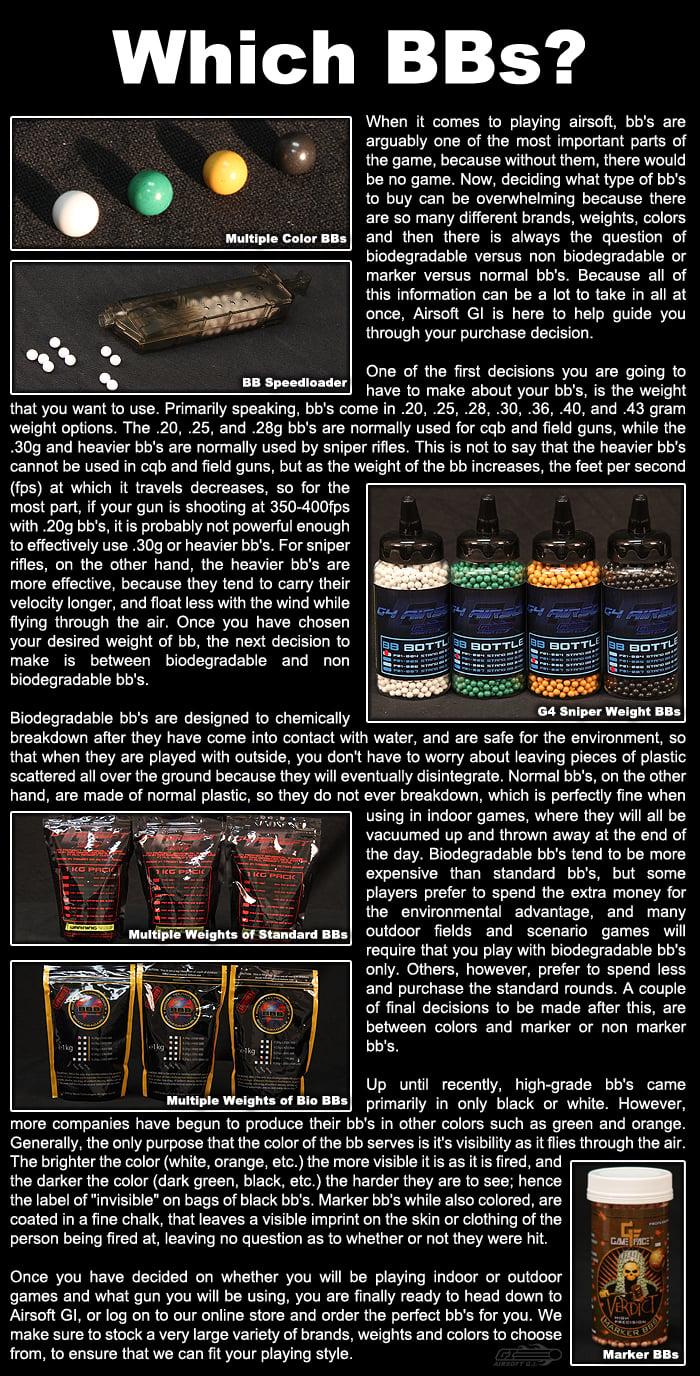 Specifications

Manufacturer: Elite Force / Umarex USA
Color: White
Material: Plastic
Package Includes: 2700 BBs
see 4 reviews
|
Write a Review
N. LETTIERE | 2013-12-06
Product Information:
Since getting into airsoft, I've used a few different brands of BBs, and Elite Force is the best! These are the best bang for your buck. I've bought about 30,000 and I've had not one defective bb at all. Elite Force bbs have an extremely high quality polish that will keep these from jamming your barrel (so long as your barrel is clean too.)

Pros:
Great prices.
Their Bulk Deals are even better if your buying for your friends or a team.
Very high quality polish.
Very consistent 5.95mm ±.01


Cons:
None at all. These bb's are simply the best you can buy.
verified buyer
J. HALEY | 2014-01-28
Product Information:
Awesome bb's for my airsoft sniper. I use the .20's in my aeg. Awesome Bottle they come in too. Easy to Fill mags and speed loaders

Pros:
-Awesome price
-sweet bottle they come in
-works great in my sniper

Cons:
None that I can think of. Just need 30 characters.
verified buyer
M. PHILLIPS | 2015-10-19
Product Information:
seems to work just fine. I don't see any problem with them. they are reliable. I would need to use them a little more to say that, but as far as I can tell they are just fine in the sence that you would be using them for in combat.

Pros:
seamless. they are not lying when they say seamless. they are all .28 grms and they all weight to that amount

Cons:
there is nothing I could really say about this exept it is a little more expencive compared to most of the other brands out there. they are worth the money by far though.
Bbs vs fps

If I were to use .28gbbs in a gun that clocks 400 with .2s, shouldn't it lower the fps to 350 as it is an aeg?

2616 days ago

joseph bloom B

0

0

(I have this same question)

Staff Answer:

The FPS should lower on the chronograph. However, the impact should still be at the same force.

2615 days ago

1 answers
1 asked

Sniper

Will these BBs work we'll with a sniper?

2956 days ago

Colton b

0

0

(I have this same question)

Staff Answer:

Sure

2954 days ago

1 answers
1 asked
Search Tags: High Quality Precision Grade Seamless Polished Ammo BBs BB Bag .28g .28 g 28 28g Bottle Bottles EF Elite Force
People who bought this item also purchased: