Elite Force Premium .25g 5000 ct. BBs (White)
[M05D05][09709 / 2279506]
( 26 Reviews )
❤ Add to Wishlist
One of the newest BB brand on the airsoft market, and sure to be a huge hit. These BB's are as close to a perfect 6.00mm as you can get. Rather than keeping their bb's in a flimsy, hard to handle and reseal bag like other brands, Elite Force BBs come in an easy to handle and easy to store bottle so you don't have to worry about a bag tipping over and making a mess.

Specifications:
Manufacturer: Elite Force
Dimensions: 5.98mm
BB Weight: .25g
Quantity: 5000 rounds per bottle
Design: All electric guns, high power spring guns, gas guns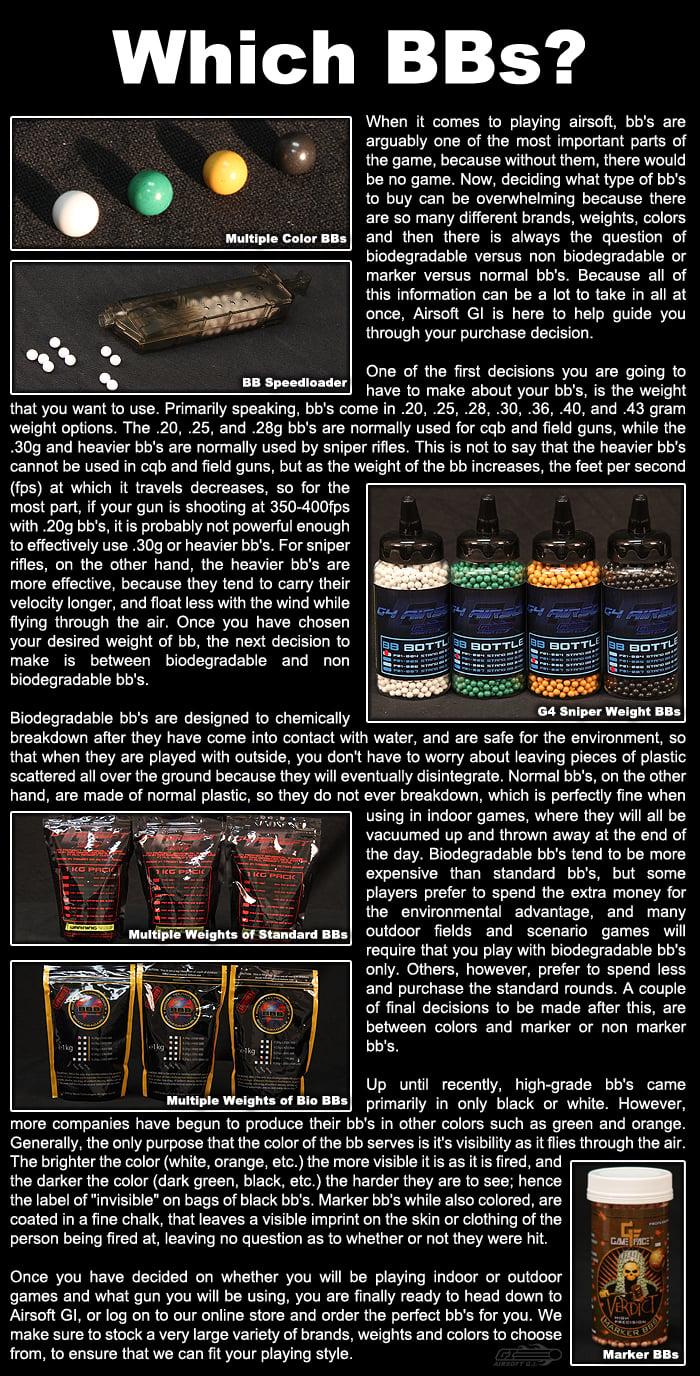 Specifications

Manufacturer: Elite Force / Umarex USA
Color: White
Material: Plastic
Package Includes: 5000BBs
see 26 reviews
|
Write a Review
verified buyer
N. KLAASSEN | 2014-08-08
Product Information:
These BB's are very accurate, I use them in my UTG Gen 5 Accushot, and they perform significantly better than the .20 BB's I had been using previously. These are Polished, Seamless, and they come in a resealable case, in the form of a bottle. Because these are heavier than standard .20g BB's, It will hit harder, although it is slightly slower.

Pros:
High Polished
Seamless
Sturdy resealable bottle
5000
Inexpensive
.25g
Hit harder, causing people to call hits easier.

Cons:
they weigh more than .20g bb's (Not really a con for me, but might be for some people who use cheaper Airsoft Rifles)
verified buyer
H. ZHANG | 2015-01-12
Product Information:
I've been searching all over the internet for good BB's. I've tried soo many different brands but these work best for me. Remember though, if your gun isn't powerful enough, these may be too heavy.

Pros:
Perfect weight in my opinion, great quality with no jamming issues in my Combat Machine M4.

Cons:
I can't think of any and these are the best BB's you could ever buy.
C. JONES | 2017-06-25
Product Information:
I have searched for high quality bbs that are in a good bottle to pour from and these bbs definitely are my overall favorite. I would recommend using these in AEGs because they are highly polished and won't damage your hop up like other bbs do.

Pros:
-highly polished
-Can't scrape off polish
-seamless
-bright white color to stand out and whatch them fly through the air and catch your target
-reasonably priced for the quality of the bb
-great trustworthy brand (Elite Force)

Cons:
I have no cons for these bbs because I have not had a problem with them and I don't see me having a problem with them in the foreseeable future
would the g&g combat machine m4 raider take advantage of these bbs

?

1792 days ago

Sam L

0

0

(I have this same question)

Staff Answer:

They will work with that gun

1789 days ago

1 answers
1 asked
Search Tags: High Quality Precision Grade Seamless Polished Ammo BBs BB .25 .25g 25g 25 g Bag Bottle Bottles
This product was added to our catalog on Wednesday 14 December, 2011.
People who bought this item also purchased: