Bioval Biodegradable .25g 4000 ct. BBs (White)
[S13C03][07799 / BBBBIO25 / BIOVAL25 / 804028]
( 17 Reviews )
❤ Add to Wishlist
Free Shipping for orders over $149
No Coupon needed
Bioval Biodegradable BBs are the only Bio BB approved for use by the USA Department of Natural Resources. Bioval BBs are some of the most consistent and high quality Biodegradable BBs on the market and are quickly becoming very popular with in the airsoft community. Each BB is perfectly spherical, contains no air bubbles and is constructed of 100% natural ingredients.
Please Note: Since BIO bb's use moisture to degrade into the environment, improper storage of bb's may lead to deformities, imperfections, etc, that can lead to damaging the internal working of an airsoft gun. Make sure they are stored in a cool, dry environment, within a sealed bag with all the air forced out. Damage caused from improper storage of bb's will not be covered by warranty
Specifications:
Manufacturer: Bioval Technologies
Size: 6mm
Weight: 0.25g
Quantity:4000 bbs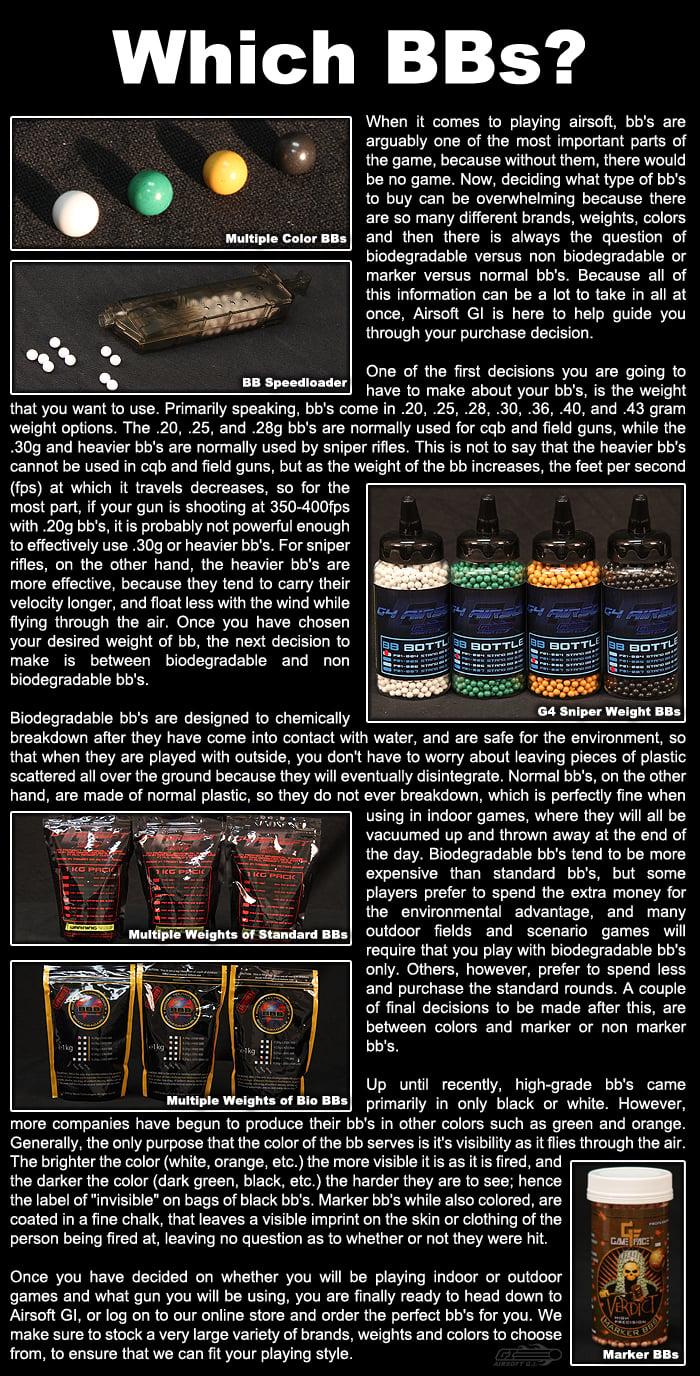 Specifications

Manufacturer: Bioval Technologies
see 17 reviews
|
Write a Review
verified buyer
M. CHAVEZ | 2014-02-01
Product Information:
Absolute best and favorite BBs, Never had any defective ammo over more than 50,000 BBs. Superior to KWA/KSC Perfects, SGM and Bio Shot. Never had a jam in a gun or in any magazine (mid cap or hi cap) I've ever used in multiple guns.Great flight, easy to predict, not bother too too much by wind, fly fast, no air bubbles (I've cracked some open to check) and at Airsoft Gi's proprietary price, everyone should use these BBs.

As a side note, I've used GoldenBall and Elite Force BBs, and I've had numerous defective ammo with both. least 3 in a bag with GoldenBall, 1 in a 5000 round bottle of Elite Force. That is not good enough for me. As stated above, never seen a defective round with these. These are the only BBs my team and I use.

These BBs deserve the Medal of Honor.

Pros:
No jams
Good feeding
Completely seamless
No air bubbles
Best consistency of any BB brand I've ever tried
Absolutely no defects
Price


Cons:
Should have drove other BB brands out of the market, but that is yet to happen :).
verified buyer
C. CAUTHEN | 2014-02-03
Product Information:
used these with my p90 (376 fps .2) shot 356 with these went about 150 of effective range

Pros:
Great product
very accurate,
wont break up in your barrel
biodegradable
very cheap for these porformance bbs

Cons:
Dont like the bag hard to load up a speed loader
none
verified buyer
C. MUNIZ | 2014-03-25
Product Information:
These Bioval bbs are outstanding! They've never jammed on me, they were cheap, and they came to my door extremely quick and were even shipped via UPS. That's pretty great. Overall, I would highly recommend these bbs because they are cheaper than Elite Force, are biodegradable, have better consistency than Elite Force, and are overall just great bbs!

Pros:
Feed Well
Cheap
Shipped fast
Very consistent (weight wise)
Overall just very good!

Cons:
None!
The bbs were absolutely amazing! No cons to speak of!
stock?

Any eta for these to be back in stock?

2703 days ago

Naz been I

0

0

(I have this same question)

Staff Answer:

We are currently working to get these back in stock

2703 days ago

1 answers
1 asked
Search Tags: High Quality Precision Grade Seamless Polished Ammo BBs BB .25 .25g 25g 25 g Bag bio bios biodegradable
People who bought this item also purchased: