G&G PSBP .25g 1kg. 4000 ct. BBs (White)
[M05E02][03300 / GNG-G-07-097 / G-07-097]
( 15 Reviews )
❤ Add to Wishlist
Free Shipping for orders over $179
No Coupon needed
New to airsoft? Here are some
safety tips for airsoft guns
that we recommend following.
Description:
G&G BBs quickly became one of the most popular BBs available because of their excellent quality, quantity, and affordability. G&G offers 4000 rounds per bag for a lesser price than some other brands. .25g BB are highly recommended for outdoor play with AEGs and high powered pistols.
Specifications:
Manufacturer: G&G
Color: White
Dimensions: 5.95mm
Quantity: 4000 rounds per bag
Design: All electric guns, high power spring guns, high powered gas guns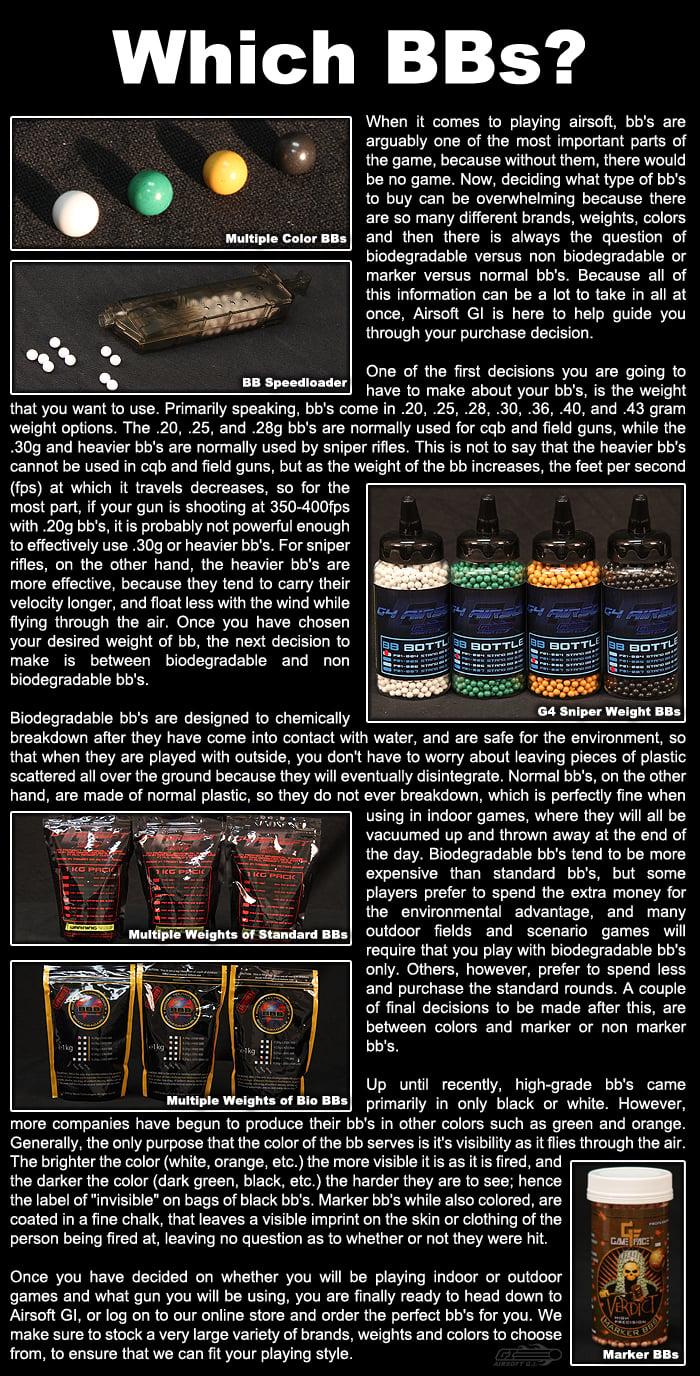 Specifications

Manufacturer: G&G
see 15 reviews
|
Write a Review
verified buyer
W. CHEN | 2013-11-25
Product Information:
Excellent BBs G&G is my top favorite for .25 and .28 BBs which is also amazing. Consistent result very low chance of jamming ( Full auto one and half bag worth of BBs in a game with 6.01 455mm only jam once because I didn't cleaned for 5 games). Perfect weight for Support gunner also Has enough weight to stabilize for longer distant shots.

Pros:
-very smooth
-no seams
-very low chance of jamming
-Good for 340-390 fps on .25
-Excellent Quality
-Consistent grouping.
-very good price point

Cons:
-Sold out pretty often
-doesn't come in .30 or heavier weight BBs.
D. SKINNER | 2014-03-26
Product Information:
Just put simply get these BB's aside from the quality that you expect with any G&G product these BB's Run at just under 10 bucks per bag and anyone who plays airsoft knows that you usually don't skimp when it comes to your ammo But these BB's are superb!! i Used to use the TSD brand but they were running at about 15 bucks a bag so i wanted to try the G&G's and they did not disappoint. Have had no jamming or feeding issues with them. Haven't checked as far measuring them myself to see how percise they are as far as the 5.95 +/- claim on the bag, but they shoot awesome out of my G&G MP5A5!! do not pass these up.

Pros:
just under 10 bucks
had no jamming or feeding issues with them




Cons:
Come in a Bag
Only 4000 rounds (compared to the typical 5000 in the TSD ones)
verified buyer
L. BENNETT | 2014-04-04
Product Information:
These are some grade A, high quality BB's. Not a single miss feed, jam, deformity, or blemish to be found. I bough two bags of these and so far a bag and a half have been spot on perfect. Honestly though, Airsoft GI carries very high quality BB's, and I've had great experiences with Airsoft Elite, TSD, and Madbull BB's. For the cost, these BB's are one of the best deals of .25's that you can get, especially if you can get them on sale!

Pros:
-High quality
-great finish
-polished
-cheap
-They went on sale!

Cons:
-Honestly, the only thing I can think of that could possibly be a con for these is that the bag is kind of crinkly, so don't try to bring it with you if you're going super silent.
Work with JG M4 S-System Airsoft Gun (Enhanced Version/TAN)

JG M4 S-System Airsoft Gun (Enhanced Version/TAN) ?

3284 days ago

Gokalp I

0

0

(I have this same question)

Staff Answer:

Yes

3284 days ago

1 answers
1 asked

Will they work?

Will they work on a spring powered bolt action sniper?

3360 days ago

David T

0

0

(I have this same question)

Staff Answer:

They should

3359 days ago

1 answers
1 asked
Search Tags: High Quality Precision Grade Seamless Polished Ammo BBs BB .25 .25g 25g 25 g Bag G and G G&G Guay 2
People who bought this item also purchased: