Lancer Tactical Extreme Precision .25g 4000 ct. BBs (White)
[N-05-D-04][14714 / CA-103]
( 14 Reviews )
❤ Add to Wishlist
High quality, 6mm precision grade 4000Rd BBs from Lancer Tactical. These bb's are perfectly spherical and as close to a perfect 6mm as you can get. They are suitable for use in any high end AEG, gas gun, or spring gun, and are a great option for any player looking for high grade ammunition at an incredible price.

Specifications
Manufacturer: Lancer Tactical
Color: White
BB weight: .25g
Quantity: 4000 rounds per bag

Features:

High Quality

Affordable

Perfect Spherical design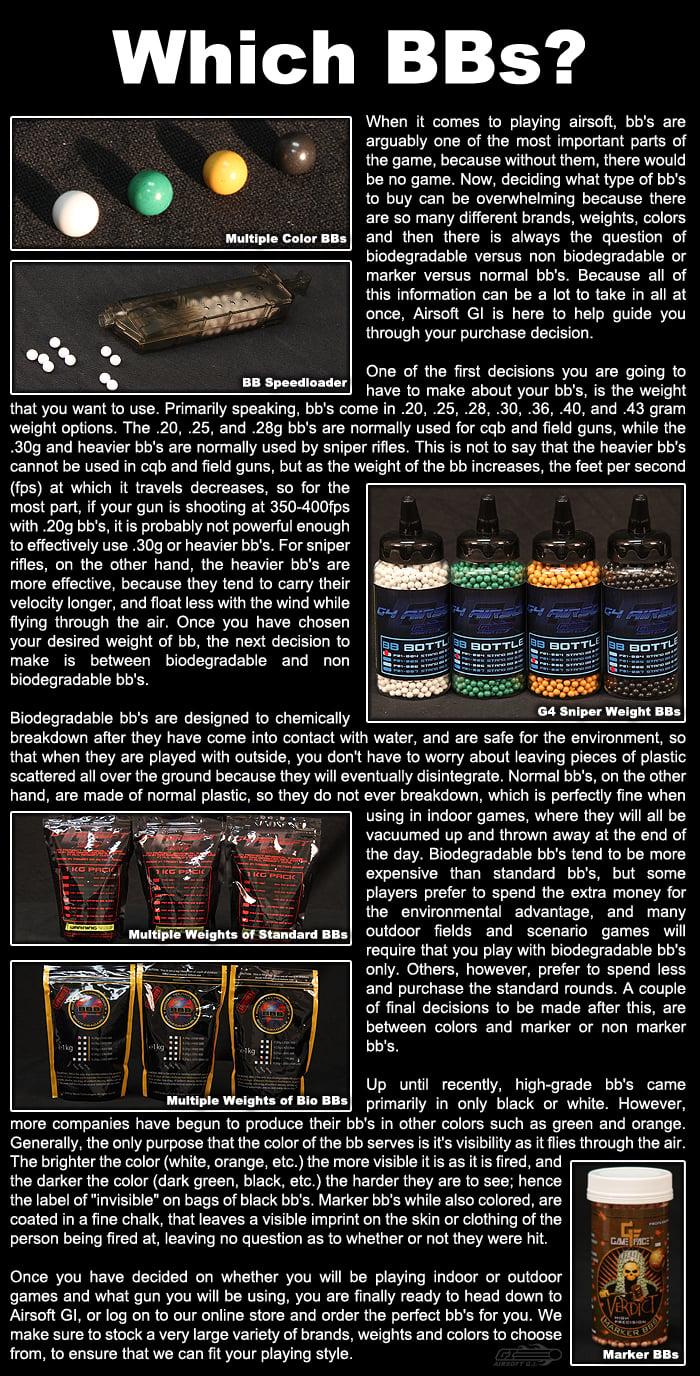 Specifications

Manufacturer: Lancer Tactical
see 14 reviews
|
Write a Review
verified buyer
V. OLSON | 2014-01-28
Product Information:
Description nails it, white BBs, .25g, although I did not actually count them all to make sure I got my 4000, but who would?
Resealable bag, and they work nicely.

Pros:
Seamless
No jamming
Easy to pour bag
Very inexpensive

Cons:
None to speak of, except I keep running out...still waiting on the never-ending bag of BBs...
J. WALLER | 2014-02-02
Product Information:
The Lancer Tactical 0.25g 4000rds BBs are an exceptionally quality BB backed by a cheap price and trusted name brand. The amount of BB's you get with the price they're sold for and size is an absolute steal of a deal in all of BB sales for a quality .25 gram. They provide a slightly better accuracy and better grouping and are ideal for a slightly abnormally powerful gun such as 400 FPS and above however you could use with a 350 FPS gun with them and it'd do just fine.

Pros:
-Pro
.25 gram
Great build
Backed by Lancer Tactical name
provide better accuracy and grouping
comes in a nice storage reseal able container
Epic deal on pricing

Cons:
-Cons
limit three per customer
M. LUJAN | 2014-03-27
Product Information:
I love these bbs there the only ones I use for being such a low cost you get so much more

Pros:
help accuracy
no jams
consistent
I use them in my custom dmr that shoots 440 fps and they still fly straight

must buy!!

Cons:
none ive used em for about 8 months wit no problems I will never use another =)

must buy!
Search Tags: High Quality Precision Grade Seamless Polished Ammo BB's BB BBs BB .25 .25g 25g 25 g Bag LT Lancer Tactical Tac
People who bought this item also purchased: