Madbull Sniper .30g 2000 ct. BBs (White)
[R02E01][04707 / BB MB .30X2K]
( 9 Reviews )
❤ Add to Wishlist
One of the most popular BBs out in the market, it's as close to a perfect 6.00mm as you can get. The Madbull 0.30g BBs come in bottles of 2000 rounds. Using a 0.30g BB will drop fps but increase the kinetic energy and overall accuracy, which is especially useful for outdoor play. Also, 0.30g BB are the perfect weight for use with sniper rifles.
Mad bull has made a name for themselves with the quality of their wide range of airsoft parts and accessories. These Madbull BBs are constructed from ABS plastic and go through a multi-polish process to remove any imperfections. The precise craftsmanship of the 5.98 diameter make these BBs accurate without the jamming and smashing that can occur with lesser BBs.
Specifications:
Manufacturer: Madbull Airsoft
Dimensions: 5.95 mm
Quantity: 2000 BBs per bottle
Design: High power electric guns, high power spring rifles, high power gas rifle
Features:
Multi-Polish Process
Accurate without Jamming
ABS Construction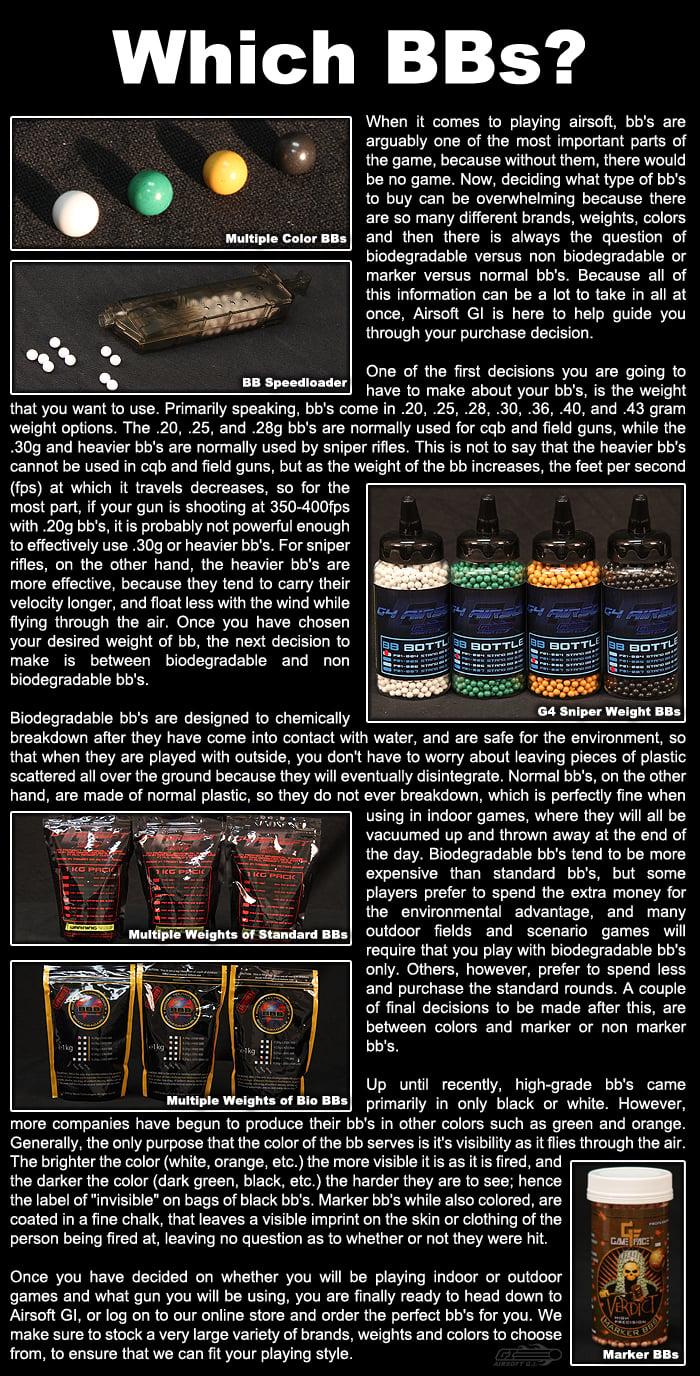 Specifications

Manufacturer: Madbull Airsoft
see 9 reviews
|
Write a Review
verified buyer
R. LARUE | 2013-07-31
Product Information:
Got these bbs when I ordered my Echo 1 M28 and was very impressed with the quality. My gun shoots very straight with these bbs, I can easily hit a man sized target at 150ft without any effort thanks to these guys.

Pros:
Very well made
Improves accuracy of your sniper
White so you can easily trace your shots

Cons:
Enemy can trace you with the white bbs if you aren't careful
A little pricy (but worth it)
J. HARRIS | 2013-08-01
Product Information:
First off these bbs are great and accurate.
My Utg mk96 stock hop up system hops these bbs very well. I looked them over and there were no imperfections that i could find, they were polished very well.
Extremely accurate in weight.
2000 bbs are more than you think.
Ive been using these for about 3 months now.
These are overall great bbs and i would give them a 8 out of 10. Based on performance and accuracy. 10 out of 10 on looks and quality.
If you want 10 out of 10 performance bbs, buy madbull .36s or .40s for best accuracy and performance.
.30s are good to use but if your shooting over 450 i would recommend .36 gram bbs or .40 but be sure your hop up and internals are upgraded to use .40 gram bbs.


Pros:
Polished very well.
Found no imperfections.
Very accurate.
Good price.
High quality.



Cons:
None so far.
verified buyer
M. CHANG | 2014-03-02
Product Information:
What can I say about these BB's? It's from Mad Bull which is already a brand name you can trust to make high quality BB's that'll work perfectly with your airsoft guns! Since these are of higher weight, I recommend using these for higher FPS guns of any kind (I use these with my M24), but you can use them for whatever you want since the heavier weight does mean better accuracy!

Pros:
-They're Mad Bull BB's
-Nice weight for sniper rifles.
-BB's are perfect and have no imperfections that I could notice in them.


Cons:
-None at all! Other than the fact they might be a little pricey, that's what we got the GI coupon codes for! ;D Have fun with them!
Are these recommended for a JG SR-25?
0 answers
1 asked
Search Tags: High Quality Precision Grade Seamless Polished Ammo BBs Bag .30g .30 .3 .3g g 30 30g Madbull
People who bought this item also purchased: