KWA Full Metal LM4 PTS Magpul Edition GBBR (M4 A1) Airsoft Gun
[Q09A01][10891 / 103-00101]
( 2 Reviews )
Description:
KWA is a well known airsoft manufacturer that has been creating high quality airsoft guns for some time. From airsoft electric guns to gas blow back airsoft guns, Engineered to Outperform, defines the quality of their products. Externally, the material they use is designed to withhold a serious amount of stress giving the gun the utmost durability. Internally, the parts used in their airsoft guns are matched to the highest degree for the smoothest operation over long periods of operation. Overall, their product truly performs on the field, KWA products stick to their motto, Engineered to Outperform.

The KWA LM4 PTR GBBR was a game changer for the airsoft world, and KWA has yet again raised the bar with the KWA Full Metal LM4 PTS Magpul Edition GBBR. This gun brings together two characteristics of gas blowback rifles that traditionally remain separate, affordability and reliability. The KWA LM4 PTR has taken many years to engineer and assemble and it's finally ready to come to market. The upgrade factor is something that KWA aims to address with every gun they release, they don't want the player to have to upgrade their guns in order for them to have a good time, and that's exactly the type of mentality that built the LM4 PTS Magpul Edition. The majority of the gun is constructed of aluminum, such as the receivers, barrel, and buffer tube, while the stock hand guard, pistol grip, stock, and even magazine have been replaced with high quality Magpul PTS furniture. What sets this particular model apart from other custom Magpul GBBR's out there is that it is actually significantly less expensive to purchase this one pre-built by KWA than it would be to purchase an LM4 and build it yourself. On top of all that, the bolt movement is crisp and the recoil is very direct giving the gun a feeling during use that is unmatched by any other gas blowback M4 on the market. The construction and feel of the gun are second to none.
One of the most impressive features of the LM4, and a key component in making the gun operate smoothly is the magazine. The magazine holds the gas to operate the gun and the 40 rounds of ammunition. KWA have taken their years of experience in constructing high quality gas pistols and magazines, and used their extensive knowledge to engineer the LM4 PTR magazine to be as powerful, efficient, and user friendly as possible. For example, the top of the LM4 PTR magazine is made of high impact polymers whereas the rest of the magazine is made of metal. KWA designed it this way for two reasons; first, the top of the magazine will be much more resistant to breaking if dropped, and second, the top of the magazine and feeding lip can be replaced, and the magazine can be rebuilt should it become necessary. Overall, the KWA Full Metal LM4 PTS Magpul Edition is an amazing rifle that has been engineered from the ground up to be the first and last gas blowback M4 that you will ever need to buy, because as it says on their box, all KWA guns, including the KWA Full Metal LM4 PTS Magpul Edition and even their magazines, are engineered to out perform.
Specifications:
Manufacturer: KWA
Model: LM4 PTS Magpul Edition
Muzzle Velocity: 360-380FPS
Magazine Capacity: 40 rounds
Package Includes: Gun, Magazine, Manual, BB Loader

Features:
Full Metal Construction
Magpul PTS furniture
Removable Rear Sight
Very Realistic Operation

Please Note: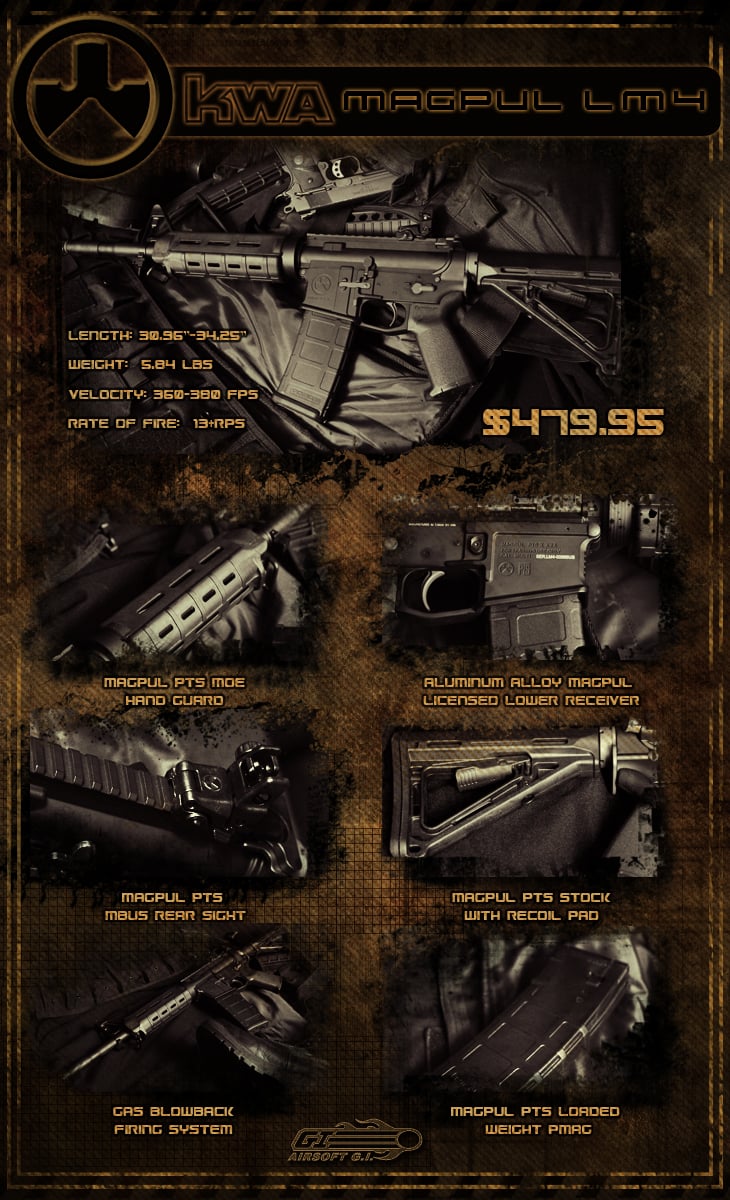 Specifications

Manufacturer: KWA
Muzzle Velocity: 360-380
Magazine Capacity: 40 Rounds
Fire Mode: Safe, Semi, Full-Auto
Color: Black
Material: Full Metal Construction
Package Includes: One (1) Magpul LM4 PTS, One (1) Included Magazine
Stock Type: Magpul MOE Stock
Handguard: Magpul MOE Handguard
Sight: Standard Triangle Front Sight, Flip-Up Rear Sight
External

Primary Build Material: Full Metal Construction
Internal

Gear Box: None
see 2 reviews
|
Write a Review
verified buyer
J. MENDENHALL | 2012-11-16
Product Information:
This gun is a master piece! I just received and have limited play with it, but as of now I am extremely pleased with the construction and performance. After going to gas I don't think I will go back to AEG. The realism of this platform makes it a pleasure to play with.

Pros:
Great power
Great accuracy
Realism is second to none
Very well constructed

Cons:
None come to mind, but if you have to pick anything it would be the price of the mags. Which really aren't that bad.
verified buyer
D. ASARNOW | 2013-05-22
Product Information:
Really good gun! The kick is hard and it looks really cool.

Pros:
Good kick
already comes with magpul features
VERY loud
doesn't weigh to much
No cool down what so ever
smooth action
sights are good

Cons:
Magazines are delicate
magazines are expensive
magpul fourgaurd so you have to buy rails to put on it
Not good at all in fully automatic
gas guzzler
can't put on saftey unless you rack the bolt
magazines sometimes don't go all the way in so they fall out and break
Weather
0 answers
1 asked

Handguard
0 answers
1 asked

Will this be restocked?
0 answers
4 asked
Other Great Deals and Accessories:
Select the item from the Drop Down Menu and click add.
Search Tags: M4A1 Field Carbine Retractable Stock Gas Blow Back 40 Round GBB Magpul PTS M4 Polymer Ergonomic Compact AR15 AR 15 AR-15
People who bought this item also purchased: