G&G GR16 79 rd. AEG Mid Capacity Magazine (Black)
[03276 / G-08-051]
( 18 Reviews )
❤ Add to Wishlist

This magazine is recommended for use with the A&K, Echo 1, JG, Tokyo Marui, Classic Army, VFC, ICS, G&G, and G&P M4/M16 series AEGs, it may work with other brands AEG but cannot be guaranteed by Airsoft GI.
Specifications:
Manufacturer: G&G
Magazine Capacity: 79 rounds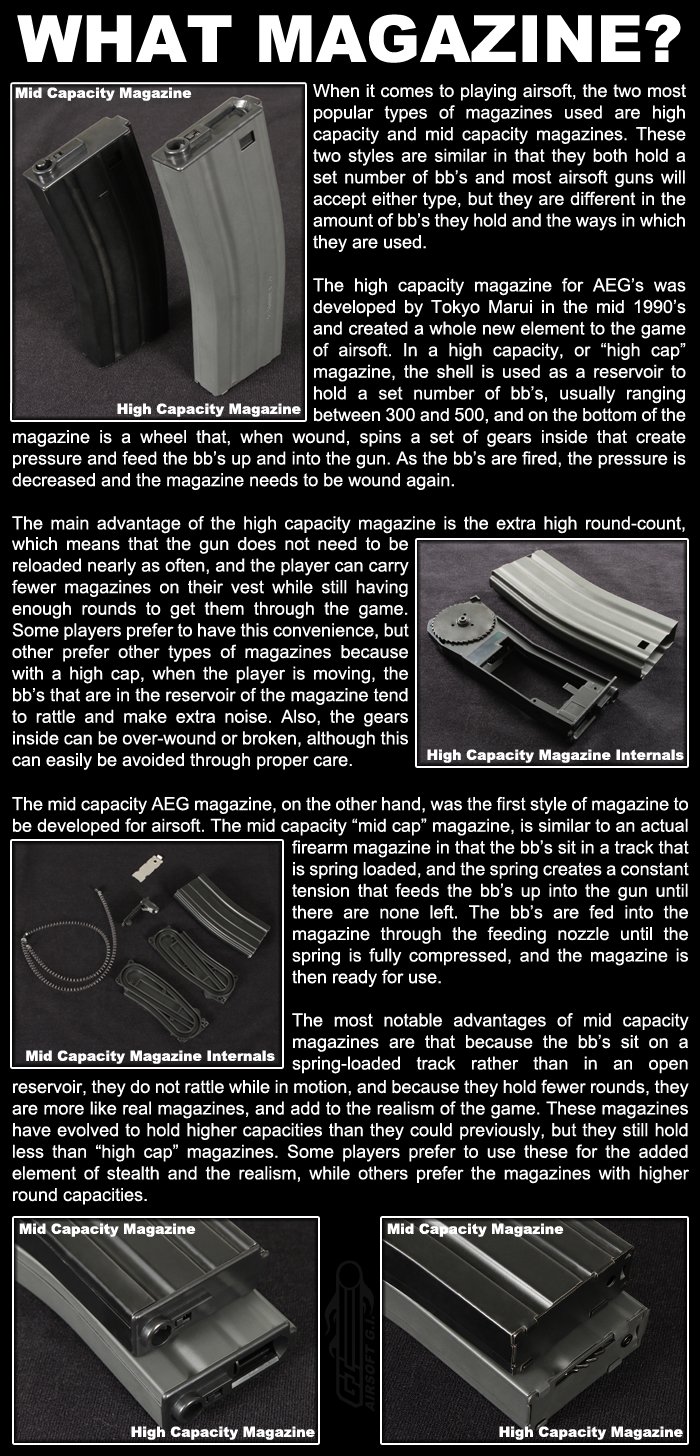 Specifications

Manufacturer: G&G
see 18 reviews
|
Write a Review
J. WATTS | 2014-04-02
Product Information:
Love it! Honestly it's much better than the high cap that came with my G&G m4, would've been happier if this is what came with it instead!

Pros:
Reasonable capacity even for an aeg mid cap
Price is reasonable for something so good too

Cons:
None! Love it don't have any qualms as of yet about this product
verified buyer
A. GRINER | 2015-01-18
Product Information:
I absolutely love these G&G mags. That perfectly in my M4 and work like a charm.

Pros:
1.Great fit, no mag wobble
2. Good weight
3. Metal
4. Spring fed (no winding necessary)
5. Easy to load


Cons:
Haven't found any so far other that the off color. (looks strange with some gun metals)
verified buyer
B. PRZYBYCIEN | 2015-07-03
Product Information:
Finally found a midcap the feeds perfectly! Definitely my go-to magazine now!

Pros:
Good price for a good mag
Feeds perfectly every time
Metal


Cons:
I feel like I'm accidentally going to break off the feeder, but it's not a major concern in the least, as the plastic seems very strong.
G&G predator

does it work with the predator

1654 days ago

Edwin K

0

0

(I have this same question)

Staff Answer:

Yes it will work.

1653 days ago

1 answers
1 asked

G&G CM16 Raider L

Will this mag work with CM16 Raider L

2941 days ago

Austin B

1

0

(I have this same question)

Staff Answer:

Yes, these magazine should be compatible, as well as fit, function, and feed.

2941 days ago

1 answers
1 asked

mag use

will these work for a lancer tactical m4?

2944 days ago

Michael c

0

0

(I have this same question)

Staff Answer:

Yes, there should be no compatibility issue.

2943 days ago

1 answers
1 asked

Mag Composition

Are these mags metal?

2980 days ago

Ben M

0

0

(I have this same question)

Staff Answer:

Yes

2978 days ago

1 answers
1 asked

Magazine Height

Is It Longer Than Other STANAG Mags?

3153 days ago

Nate G

0

0

(I have this same question)

Staff Answer:

It should be the same size

3152 days ago

1 answers
1 asked

G&G F2000 Compatibility

I was told these magazines fit into the G&G f2000 without the need to modify them. Is this true?

3243 days ago

Josh B

0

0

(I have this same question)

Staff Answer:

They should work with that gun.

3243 days ago

1 answers
1 asked
Search Tags: Stock Replacement OEM MilSim AEG Rifle M4 M16 SCAR Mag Clip Mid Cap 79 Rounds Round mid cap midcap medium capacity aeg automatic electric gun airsoft mag magazine clip
People who bought this item also purchased: