VFC PEQ15 Illuminator Laser & LED Light Combo (Dark Earth)
[06543 / VFC PEQ FLASH FDE / VFC PEQ FLASH FDE]
( 2 Reviews )
❤ Add to Wishlist
Description:
The VFC PEQ15 Illuminator Laser & LED Light Combo is not a battery box, it is a real aiming aid device. Up until now every airsoft PEQ15 has been an empty box made to look like a laser, but this is the real thing. VFC have combined a high intensity laser and LED flashlight in a high impact plastic case. The laser and light are powered by one CR123 lithium battery. On top of the box is an activation switch, but included is a remote pressure switch that the user can opt to plug in or leave it off. Next to the activation button is a switch where you can select laser only, light only, or both of them on at the same time. Also included are realistic warning laser that can be placed on the PEQ15 for an even more authentic look. The mount to secure this PEQ15 is sturdily constructed of metal for a firm foundation on any rail that it's mounted on.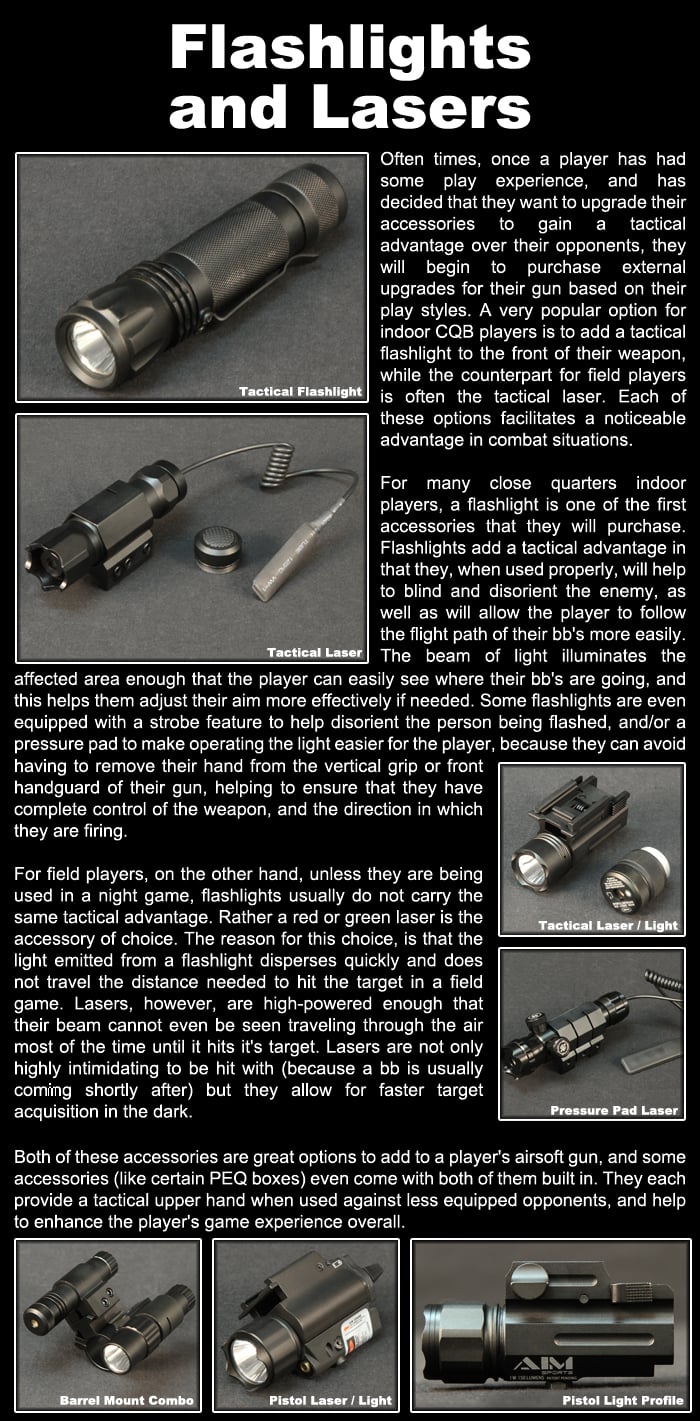 Specifications

Manufacturer: VFC
see 2 reviews
|
Write a Review
verified buyer
E. RAMIREZ | 2013-09-22
Product Information:
In all reality this serves no purpose other than looks. The actually light isn't bright enough to actually flash blind someone. However it is bright enough to navigate in the field during a night game or look at your map with out giving your position away.

The laser is decent enough for fast target acquisition in a CQB scenario taking place in doors. For field play during the day, don't even bother with this. Even though it is light it's added weight that you don't need. The laser is adjustable for elevation and windage.

The over all look is very nice and made of decent quality. The pressure pad however is rather big for such a small pressure point, which is directly in the middle of the pad.

Overall if you have money to blow and pretty much have everything else you want/need, nice little product to give your gun that little extra tactical look to stand apart from every one else.

Pros:
Light Weight
Quality Build
Color Matches With Magpul products and the Tan VFC Scar
Gives your gun a very tactical look that will turn heads.


Cons:
Price
Light only good for navigation during nigh or reading your map
C. POWELL | 2014-08-06
Product Information:
My team uses this product, as well as other related devices. I personally use a Sightmark Lopro Green Laser Designator in place of an ATPIAL/PEQ, seeing as it's main purpose is visible laser usage (probably 95% of the time, unless NODs are utilized). I have used real AN/PEQ-15's, and as far as looks go, it's close. Very close. This is without question the best quality AN/PEQ-15 replica I've seen on the market, and is a pretty close competitor to the G&P replica PEQ-2 for the best overall ATPIAL device replica on the Airsoft Market in our opinions. It's functions are usable, and is a great addition to a rifle to add an element of realism for MILSIM. It is among the best out of the group of similar devices that we use.

Pros:
Appearance is very accurate.
Solid in construction.
Works well in conjunction with both the VFC (and other) replica M3X flashlights, and other flashlights, with the appropriate dual switch.
Functions work well;
Navigation light is just that - DO NOT expect it to function as a tactical flashlight for other purposes.
Laser is adequate - but not nearly as effective as our devices from Laserlyte, or even Sightmark, let alone our higher price bracket equipment.


Cons:
Laser windage and elevation is very hit or miss. I've seen it vary from unit to unit.
$120 price tag is a bit extreme. We purchased ours for $100, and I find that to be a fair price for the unit.
The rail clasp is in fact the same heavy duty polymer, and not metal. This SHOULD NOT necessarily be a "Con," but I know how the "kids" are.
VFC does not manufacturer a Dual Switch, although they manufacture an M3X and PEQ-15. Element, or in the case of Surefire style lights, Night Evolution are appropriate stand-ins.
I feel that the appropriate stickers should be correctly placed at factory. My personal opinion, and a pet peeve.
IR?

Does the product emit an Infrared Laser?

614 days ago

Alex M

0

0

(I have this same question)

Staff Answer:

It should through the lens cover

498 days ago

Does the product emit an Infrared Laser?

614 days ago

Alex M

0

0

(I have this same question)

Staff Answer:

This product emits a visible red laser.

498 days ago

2 answers
1 asked

Red or Green?
0 answers
1 asked
Search Tags: CQB Distraction Range AEG GBB Pressure Switch Switch PEQ
People who bought this item also purchased: