The Top 10 Red Dots Right Now
If you've even played a first person shooter in the last quarter century, you are likely familiar with the concept of a red dot. These wonderful little devices allow you to remove some of the hang ups that slow down aiming your rifle at your target. By eliminating the process of lining up front and rear sights, you can snap to your target faster, and get to pulling that trigger quicker, which will help you win BB Battles!
We've compiled a list of our ten favorite red dots below! These dots all do a fantastic job at helping you sight in your targets fast and make your rifle look awesome! Some even pack in a couple of extra features for those of you wanting a little flair!
VISM SPD Solar Combat Red Dot Reflex Optic (Black) - $119.99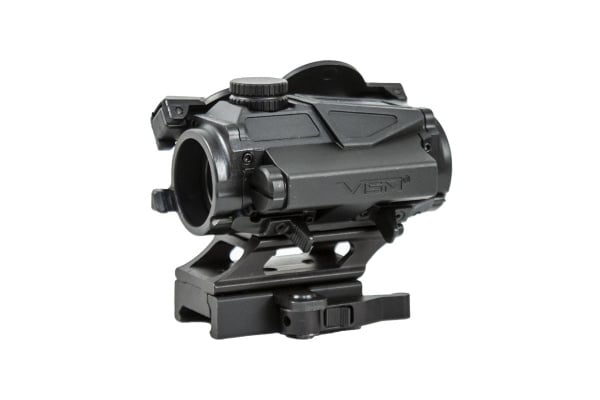 This slick small form factor optic has a dual power source option, allowing you to power the optic via solar power or AAA battery. This optic provides you with five brightness settings when battery powered, and the lens covers even completely fold out of the way! Mount it quickly and easily with the included QD mount as well!
VISM Micro Red And Blue Dot (Black) - $60.99
If you want something even smaller, the VISM Mirco line is perfect. These are roughly the size of the T1, but relocate the battery compartment to the riser, where it will utilize a CR123 battery. It's simple, without any fancy extra features, but it is very rugged, and budget friendly without any concern for whether or not it will hold up to on the field abuse.
VISM 1.7"H 30mm Micro Blue & Red Dot Reflex Optic With Green Laser/Locking Quick Release Mount (Black) - $87.99
This option from VISM is the same as the previous option, but with the added option for a green laser on top. This will help you in close quarters situations where you can't always get down the sights of your rifle, or help you point out targets to your teammates in low light situations. We also find it very handy for zeroing your dot as well!
VISM Red And Green Reflex Sight with Quick Release Mount (Black) - $54.99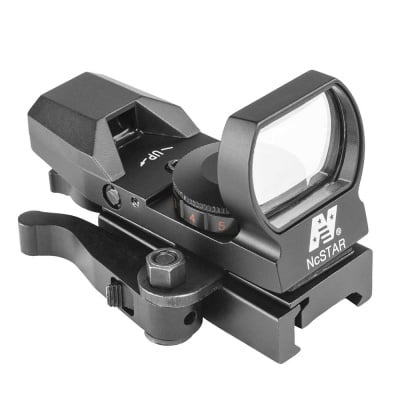 The classic Modern Warfare red dot had to make an appearance on this list. Panoramic style dots like this are perfect for players that need the fastest possible dot solution. The single pane design means it's easier to fight from non-standard firing positions, as you can still see and place the dot on target and expect a reasonable amount of accuracy.
VISM Flipdot Pro Red Dot Reflex Optic (Black) - $99.99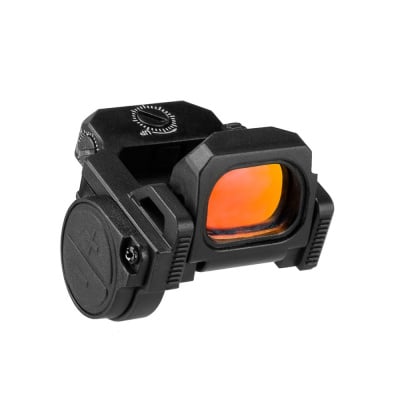 It wouldn't be an article about red dots if we didn't include some options for you pistol guys out there! The VISM Flipdot Pro is an excellent optic choice for G style handguns, or anything that accepts an RMR plate ( the optic includes adapters to slot into the rear sight notch on Glock style pistols ) so that you have plenty of options for mounting. A battery compartment for a CR2032 rides on the side, placing it down the slide to keep the optic low profile, and with the flick of a lever, the lens swings into place and kicks the dot on! Pistol optics take some getting used to, but with a little training this will speed up your pistol game as well!
Lancer Tactical Mini Red Dot Reflex Sight - $45.00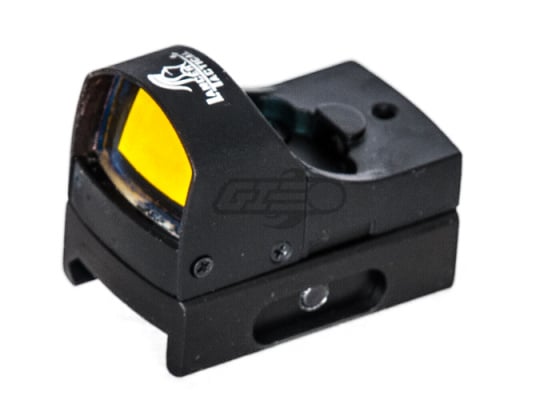 Sticking with the miniature theme, this Micro dot is perfect for the SMG and AK users of the world. It is lower profile than most of the other optics on this list, making it ideal for the gun in your collection that already has a height-over-bore issue to deal with. This is a simple no frills optic with only two options for lighting, high and low. With the included picatinny mount you can install it easily and dial it in fast!
Lancer Tactical Red & Green Dot Sight - $40.99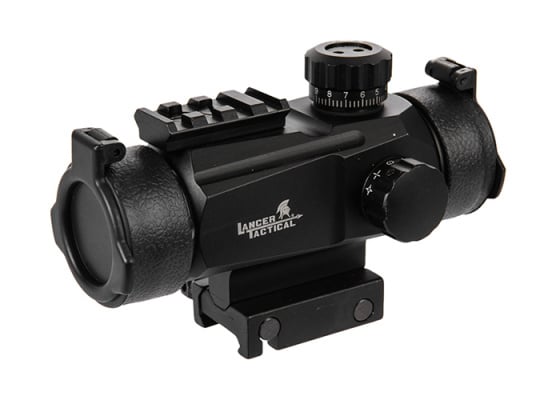 Moving from tiny micro optics to something a little different, this large tubular optic is perfect for a more old school vibe. It provides a picatinny rail on top for mounting lasers, action cameras or another red dot. It features options for brightness and color, but has an extra party trick up its sleeve. Lancer Tactical has included the option to alter your reticle shape with the flick of a knob on the left side of the housing. Whether you want a dot or one of three different cross hair options, you're covered!
Lancer Tactical Mini Red & Green Dot Sight With 1" Riser Mount (Tan) - $59.99
Moving back to the T1 style optics, we've got a multi-use option from Lancer Tactical, in good ol' tactical peanut butter! This Optic includes a riser mount you can choose to ignore for rifles that don't need the extra height, but with the riser it is the perfect height for your M4. Brightness options also include options for red and green dots making it very versatile for your rifle.
VISM Cantilever Dot Sight (Urban Grey) - $54.99
Cantilever sights are the definition of old school cool. The slanted mount is designed to allow you to keep a magnifier or night vision device behind your scope, while still keeping it mounted as far rearward as possible to save space for other accessories. This optic even comes in a less common gray colorway to keep your rifle looking spicy and unique.
VISM By NcSTAR SPD Solar Red Dot/QR Picatinny Mount (Black) - $98.99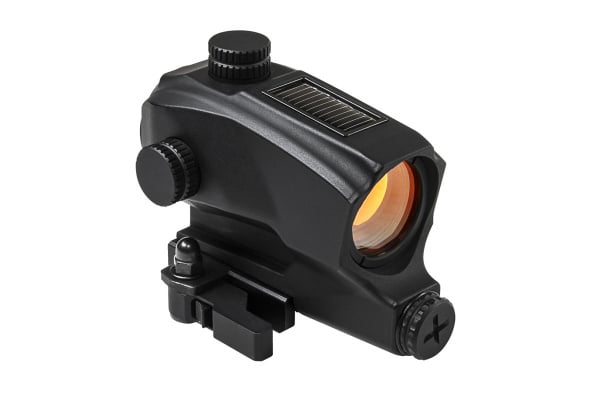 We started with solar, so we're going to end with solar. If the first optic on this list was a little big for you, this SPD solar dot is a much smaller form factor to keep your rifle high speed and low drag. Much like the first optic in this list, you also have five brightness settings when using the AA battery, but also have the option of solar to conserve power. A QD mount makes slipping this onto any rifle a breeze.
Did we show your favorite optic? Reach out to us and let us know what you think we should have included in this list! If you'd like to purchase any of these for yourself, make sure you check out www.airsoftgi.com or click on any of the links above!