Tenergy 9.6v 1600mAh NiMH Stick Battery
[J03H00][07739 / 11425 / NIMH9.6V1600S]
( 3 Reviews )
❤ Add to Wishlist
Free Shipping for orders over $149
No Coupon needed
The 9.6v 1600mah NiMH stick battery is designed to fit the range of airsoft guns that have a minimal amount of space for a battery pack. This battery is longer than an 8.4v stick battery and will not fit in all AEGs that require stick batteries. Please check to make sure you have sufficient battery space in your AEG to accommodate this battery.
Specifications:
Manufacturer: Tenergy
Voltage: 9.6v
Milliampere Hours: 1600mAh
Cell Type: Nickel-metal hydride (NiMH)
Connector Type: Mini
Recommended fit: Some folding stock AK series AEGs

Airsoft GI Battery Disclaimer:
Airsoft GI is not responsible for batteries that have been damaged as a result of improper operation, storage, misuse or abuse, accident or neglect, such as physical damage resulting from misuse; contact with liquid, water, rain, extreme humidity or heavy perspiration, sand, dirt or the like, extreme heat, or food; use of the battery for commercial purposes or subjecting the battery to abnormal usage conditions, or other acts which are not the fault of Airsoft GI. Make sure you understand how your battery should be used and how long it should be charged. If you have any doubt regarding the operation, charging, or storage of your battery and/or charger, ask. A charging battery should not be left unattended and should be picked up periodically while charging to check for overheating. Do not charge batteries near flammable material. For more information regarding batteries please refer to the Frequently Asked Questions or the Airsoft GI Airsoft 101 Guide.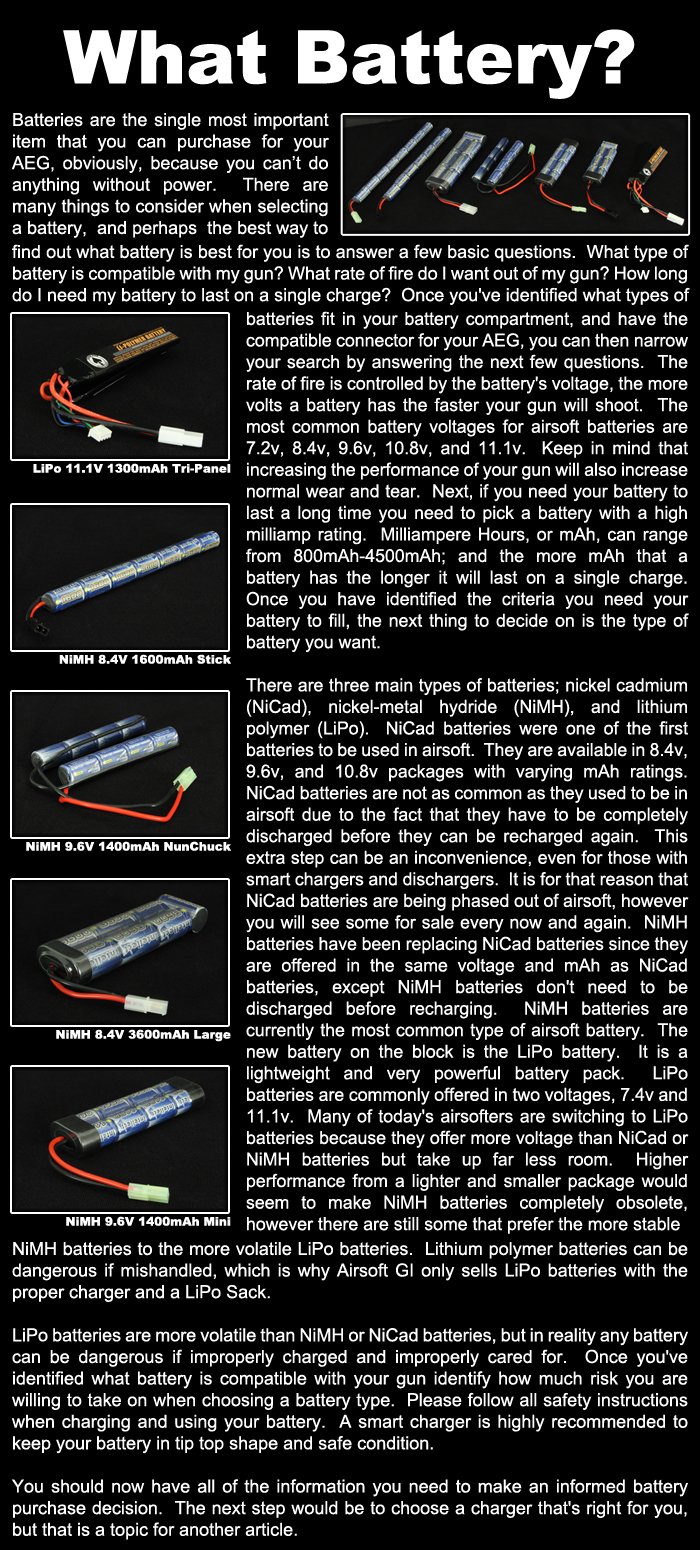 Specifications

Manufacturer: Tenergy
see 3 reviews
|
Write a Review
verified buyer
N. KRAUDEL | 2014-03-25
Product Information:
Ordered to use in my Lancer Tactical LT-11t. Battery seems good, and works good, However the Tamiya connector is loose. not a problem for me as I'll be rewiring to deans. Just something to note.

Pros:
-Great ROF with m100 and high torque motor
-Good battery life
-Quick charging with smart charger

Cons:
-Loose Tamiya connector
-Sometimes disconnects from guns vibrations
verified buyer
K. YOUNG | 2014-05-09
Product Information:
This is the perfect upgrade from your standard stick battery. It has enough power in it to feel the difference but not so much that it would wear your gun out like something in the LiPo family might on lower end/stock guns. The Charge held is excellent and lasts quite a long time. Even in the four hour blocks I play CQB in i'm not changing out the battery which lets me focus on the game and not on the sidelines changing out batteries for a round. If your gun uses a stick battery or your looking to pick one up for a change, pick this up as the affordable upgrade to your battery your looking for.

Pros:
Excellent upgrade from stock batteries
9.6v is the perfect middle ground
Tenergy rocks!
Long life

Cons:
None. This battery has exceeded my expectations and I will stick with this company
verified buyer
I. MITCHELL | 2019-01-28
Product Information:
Honestly, this one is really all you need. Fits in my ICS Galil ARM and runs like a dream. Get a Tenergy smart charger and you're all set.

Pros:
Reliable.
Powerful.
It's Tenergy 9.6v, get any of those and you\\\'re covered.

Cons:
You won't find any here, just buy one already.
Does it fit into the apex fast attack 912 keymod carbine aeg?

I want to get into airsoft and need to know if it fits

1496 days ago

Cheryl C

0

0

(I have this same question)

Staff Answer:

No, you need to get the Nunchuck style battery.

1496 days ago

1 answers
1 asked

can i modify my LT-728C to fit this battery?

I bought a 9.6v from lancer tactical but it was too long.

1540 days ago

Ken L

0

0

(I have this same question)

Staff Answer:

If you rewire it to the top of the gearbox yes

1540 days ago

1 answers
1 asked

Will this fit the APEX Bison PP-19?

Will it fit that gun???

1575 days ago

Adam B

0

0

(I have this same question)

Staff Answer:

No. Use an <a href=" https://www.airsoftgi.com/product/I-Power-7-4v-1100mAh-2s-20c-LiPO-Stick-Battery-34609/ "target=blank�> <font color=blue> I Power 7.4v 1100mAh 2s 20c LiPO Stick Battery</font></a>

1552 days ago

1 answers
1 asked

Will this fit CM028U Full Metal Tactical AK47 RIS Folding Stock AEG Airsoft Gun?

Will this fit CM028U Full Metal Tactical AK47 RIS Folding Stock AEG Airsoft Gun or do I need 8.4v. I lost my battery need replacement or upgrade.

1679 days ago

Chris G

0

0

(I have this same question)

Staff Answer:

Yes that will fit the CM028U.

1537 days ago

1 answers
1 asked

Will is work in a Umarex UMP Sportline?
0 answers
1 asked

Will this fit?

Will this fit in my E&L AKM? Thanks ASGI :)

2521 days ago

Josiah P

0

0

(I have this same question)

Staff Answer:

It should fit

2521 days ago

1 answers
1 asked

Will it fit an Amoeba CCP
0 answers
1 asked

Will it fit in my ak
0 answers
1 asked

Fit a H&K UMP competition series
0 answers
3 asked

Will it fit
0 answers
1 asked

Stoner lmg

Will it fit in a stoner?

2823 days ago

Cool G

0

0

(I have this same question)

Staff Answer:

no

2822 days ago

1 answers
1 asked

Will it fit in a stoner LMG

?

2824 days ago

Cool G

0

0

(I have this same question)

Staff Answer:

no

2822 days ago

1 answers
1 asked

wit it fit my G&G GR4 G26

i need to now plz

2830 days ago

josh v

0

0

(I have this same question)

Staff Answer:

This battery is not designed for most m4 type airsoft guns.

2829 days ago

1 answers
1 asked

will this fit in the cyma cm045?
0 answers
2 asked

will this fit?

will this fit in a sopmod stock/

2888 days ago

calum w

0

0

(I have this same question)

Staff Answer:

It will be too long most likely

2885 days ago

1 answers
1 asked

Will this battery fit the cyma aks104d?

Will this type of battery fit into the folding stock cyma aks 104D

2899 days ago

Tama P

0

0

(I have this same question)

Staff Answer:

It should

2896 days ago

1 answers
1 asked

Will This Fit

Will this fit an APS Urban Assault Rifle?

2905 days ago

Danny S

0

0

(I have this same question)

Staff Answer:

It should be able to fit

2904 days ago

1 answers
1 asked

would this fit in a lancer tactical ak aeg?

i currently have a lancer tactical ak aeg and want to know if this will fit in my gun.

2929 days ago

Zane P

0

0

(I have this same question)

Staff Answer:

It might be too long, you will most likely need an 8.4v battery

2926 days ago

1 answers
1 asked

will this fit

will this fit in the hand guard of the a&k masada

2934 days ago

Jesse S

0

0

(I have this same question)

Staff Answer:

No it will not.

2934 days ago

1 answers
1 asked

Will this fit an echo 1 ER-25KR

2942 days ago

Drew M

0

0

(I have this same question)

Staff Answer:

It will not work with that gun

2941 days ago

1 answers
1 asked

Will this fit

Will this fit an echo 1 ER-25K

2942 days ago

Drew M

0

0

(I have this same question)

Staff Answer:

No, it will not fit

2941 days ago

1 answers
1 asked

what charger should i buy for this??

what charger should i buy for this??

2943 days ago

daniel p

0

0

(I have this same question)

Staff Answer:

Any smart charger should be fine

2941 days ago

1 answers
1 asked

Would this fit in a CYMA SVD?

I recently acquired a CYMA SVD and I want to put a M140 spring in it and decrease the response time. will this battery fit in the gun?

2949 days ago

Art I

0

0

(I have this same question)

A battery will help but most likely you will need a better

2615 days ago

1 answers
1 asked

buffer tube

Will this fit in a m4 buffer tube with a fully extended stock

2959 days ago

Michael N

0

0

(I have this same question)

Staff Answer:

It will be too long and hang out of the buffer tube

2959 days ago

1 answers
1 asked

Would this stick battery fit in the Echo 1 Full Metal RED STAR AK Covert?

I am thinking into getting into air soft but I'm researching before I do and I'm trying to see if this battery would fit into the Echo 1 Full Metal RED STAR AK COVERT.

3014 days ago

Gabriel R

0

0

(I have this same question)

Staff Answer:

It should fit.

3011 days ago

1 answers
1 asked
Search Tags: Nickel Metal Hydride NiMH NiHM Low Voltage 2/3A VFC AK ICS SIG 551 AEG 8 Cell 9.6 1600
People who bought this item also purchased: