Classic Army 500rd AK74 High Capacity AEG Magazine
[SF24][01367 / P209P]
( 4 Reviews )
❤ Add to Wishlist

New to airsoft? Here are some safety tips for airsoft guns that we recommend following.
This magazine is recommended for use with the Classic Army and VFC AK74 series AEGs, it may work with other brands AEG but cannot be guaranteed by Airsoft GI.
Specifications:
Manufacturer: Classic Army
Magazine Capacity: 500 rounds

High Capacity Magazine Operation:
Find the trap door, usually located on the top of the magazine near the loading nozzle.
Open trap door and fill reservoir with high quality BBs.
Wind the wheel at the bottom of the magazine (notice the pitch and volume of the click).
Continue to wind wheel until pitch changes. Once the click gets louder, or begins to "double click," the magazine is fully wound.
Insert magazine into gun and fire. You may need to rewind the wheel during play.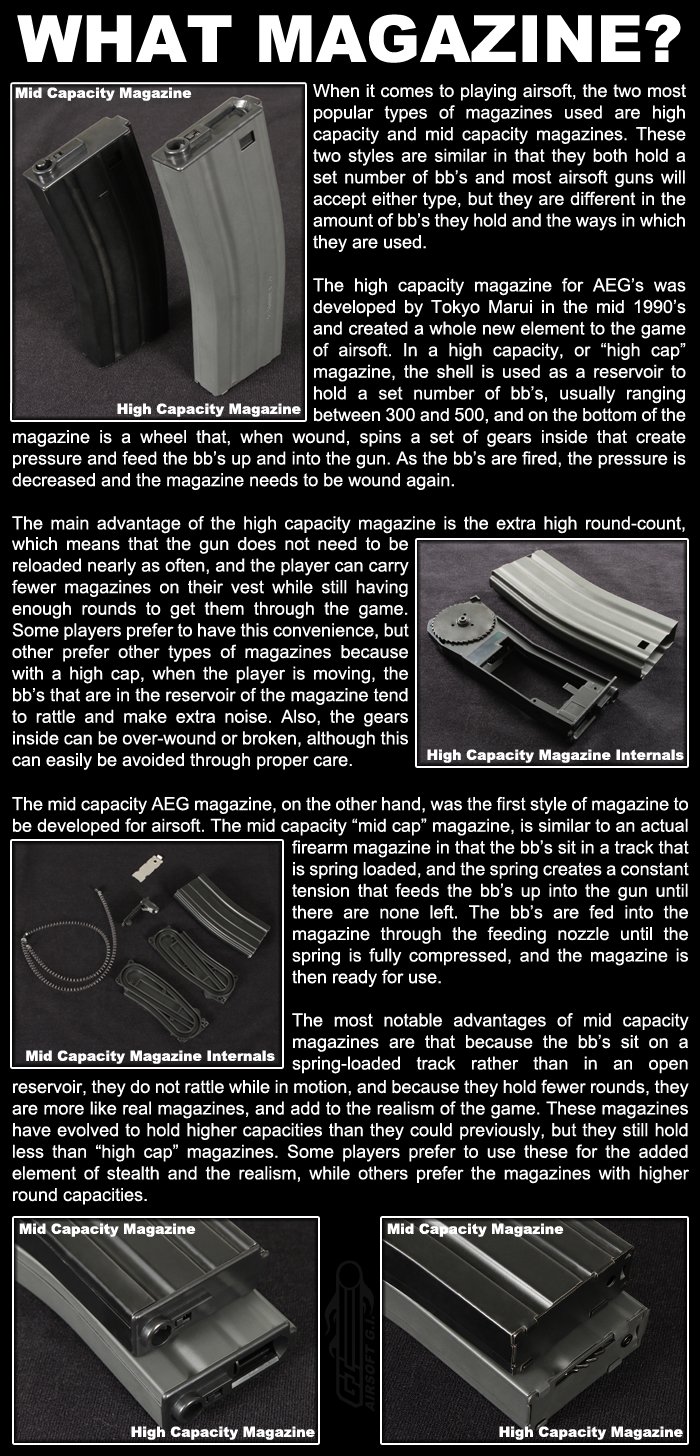 Specifications

Manufacturer: Classic Army
Color: Black
Size: 500 Rounds
Material: Plastic
Package Includes: One (1) Magazine
see 4 reviews
|
Write a Review
Z. ROHDE | 2007-01-22
I like the mags look in my Tm Spetz, but its not quite the CA quality i was expecting.
Although it is plastic, which is really no big deal...The filling hatch at the top has no "lock" to keep it from opening up on its own when not in your gun. I dont know if ASGI screwed me or if i just got a factory reject..Not only that, the box was opened when I got the mag, which does not look good for ASGI's part of the deal. By opened I don't mean that the mag and the box wer not together in teh shipped package, but the box had a tear or cut of somekind in the plastic of the CA box.

Also, doesn anybody know if the mag is supposed to have a CA marking on ti somewhere, because mine does not.

as far as performance goes, it feeds perfect, and by perfrect, i really do mean perfect. I havent used it in a match yet, I just got it today, but i have put about 300ish bbs through it, and it works great.

It also fitts very snug in the magwell, no shaking around like you get with some TM mags, nice snug, no-rattle fit....Wel, it fit perfect after i shaved a little bit off of the thing that holds the mag in, the part that "clicks" with the mag release.
C. BURNES | 2008-05-02
Well I have the CA SLR105, and this is the mag that came with it, I love this mag it feeds well and is very close in feel to the real AK-74 mags, and for everyone who complains about them being polymer has never dealt with a real AK-74 as the real weapons mags are polymer as well
S. BARKER | 2009-11-25
Product Information:
OK mag. Feeds ok, have had one jam, but wobbles quit a bit. Also, the top pops open quite a bit which is annoying. The metal on the bottom gets bent REALLY easily but mostly this mag is just freaking expensive. The echo 1 ak74 mag fits wayyy better, and doesnt have any of the problems and its wayyy cheaper. Get the Echo 1!!! (never had a jam with mine)

Pros:
1. Feeds ok
2. Nice Finish
3. Winds toward the body unlike m4 mags, making winding during shooting a LOT less akward

Cons:
1. wobbles
2. EXPENSIVE (could get 2 echo 1 mags for the price)
3. reservoir top pops open
4. Metal bottom is too bendy
Search Tags: Mil Sim CA Gun Field AK Mag Clip
People who bought this item also purchased: