Tenergy 8.4v 3800mAh NiMH Large Battery
[K13D00 / SF11][07736 / 11311 / NIHM8.4V3800]
( 3 Reviews )
❤ Add to Wishlist
Free Shipping for orders over $149
No Coupon needed
The 8.4v 3800mAh NiMH High Output Battery pack fits into most solid stocks and allows for longer playing times similar to other 8.4v large battery packs. However, the battery's higher output will give your gun a faster rate of fire then other batteries of the same size. This battery pack fits well in guns with solid stocks like the M16, Ak, or the MP5A4.
Specifications:
Manufacturer: Tenergy
Voltage: 8.4v
Milliampere Hours: 3800mAh
Cell Type: Nickel-metal hydride (NiMH)
Connector Type: Large
Recommended Fit: M16, SR16, Full stock AK series, and Full stock MP5 series

Please Note:
This battery will fit VERY snug into the battery compartment of some AEGs.
Airsoft GI Battery Disclaimer:
Airsoft GI is not responsible for batteries that have been damaged as a result of improper operation, storage, misuse or abuse, accident or neglect, such as physical damage resulting from misuse; contact with liquid, water, rain, extreme humidity or heavy perspiration, sand, dirt or the like, extreme heat, or food; use of the battery for commercial purposes or subjecting the battery to abnormal usage conditions, or other acts which are not the fault of Airsoft GI. Make sure you understand how your battery should be used and how long it should be charged. If you have any doubt regarding the operation, charging, or storage of your battery and/or charger, ask. A charging battery should not be left unattended and should be picked up periodically while charging to check for overheating. Do not charge batteries near flammable material. For more information regarding batteries please refer to the Frequently Asked Questions or the Airsoft GI Airsoft 101 Guide.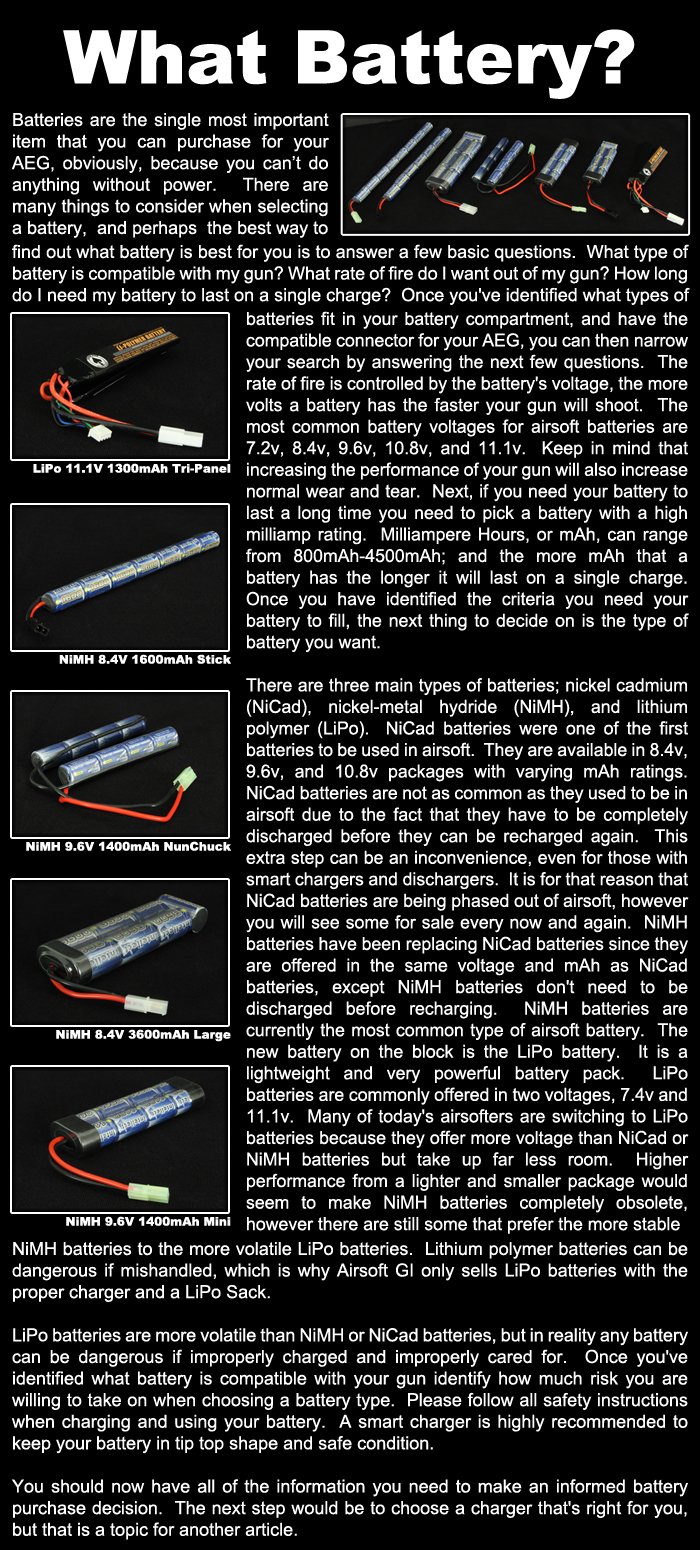 Specifications

Manufacturer: Tenergy
see 3 reviews
|
Write a Review
verified buyer
M. BARTOS | 2012-11-10
Product Information:
This battery will last you basically forever. It packs a lot of power. This went several months without a single charge. This will fit in most M16 type rifles. I run an G&G M16-A3 with a solid stock and it fits perfectly. Overall, you don't ever have to worry about this dying on you. It almost alleviates the need for spare batteries on the field. I wouldn't recommend this for close-quarters guns, however. Due to the fact it will put too much torque on the gearbox and wear parts down much, much faster.

Pros:
Lots of power, large type, and packs a good punch, and has good wiring.

Cons:
May not fit well in most guns, and has large type connector, and may require an adapter.
B. MOK | 2013-10-17
Product Information:
This battery lasts forever no matter what your situation is. It is good to bring a spare battery just in case this one fails!

Pros:
Very long battery life
Increase ROF
Increase trigger response
Doesn't heat up quick

Cons:
Adds too much weight to the gun
Takes forever to drain
Gigantic
K. BRAKEFIELD | 2014-03-25
Product Information:
I bought this with my M4 and have been very happy with it. Lasts a long time and hasn't had any issues. With a full stock on the M4 I can run mostly all day and not have to worry about my batteries! Would recommend

Pros:
Large, lasts all day.
Steady output, no random variation in fire rate.
Charges quickly, I suggest getting a smart charger.

Cons:
Tight fit in my full stock, but fits none the less.
Will this fit in the battery compartment of a CYMA M14 rifle?

Not SCOOM, full rifle version

1544 days ago

Christopher G

0

0

(I have this same question)

Staff Answer:

Yes, it will.

1371 days ago

1 answers
1 asked

Discharge
0 answers
1 asked

Dimensions
0 answers
2 asked
Search Tags: Sub-C Nickel Metal Hydride NiMH NiHM Low Voltage Brick M16 AK FS3 MK5A4 MP5A4 M14 Full Stock AEG 7 Cell 8.4 3800
People who bought this item also purchased: