Save Phace Grunt Series Goggle (Black)
[X-1B01][11178 / Grunt]
( 6 Reviews )
❤ Add to Wishlist
Free Shipping for orders over $179
No Coupon needed
New to airsoft? Here are some
safety tips for airsoft guns
that we recommend following.
The Save Phace Grunt Series Goggle is another great eye protection option from one of the most popular tactical mask companies on the market. These goggles feature 100% UVA/UVB protection, as well as a distortion free field of view. Save Phace also offers tear away lens protectors for them, and they are both scratch and fog resistant. Save Phace has proven that they are a force to be reckoned with by producing some of the highest quality facemasks available, and their goggles are sure to follow suit.
Specifications:
Manufacturer: Save Phace
Model: Grunt Series Goggle
Color: Black
Size: One size
Package Includes: One (1) pair of goggles

Features:
Completely fog free
Adjustable strap
Scratch resistant
Speed sleeve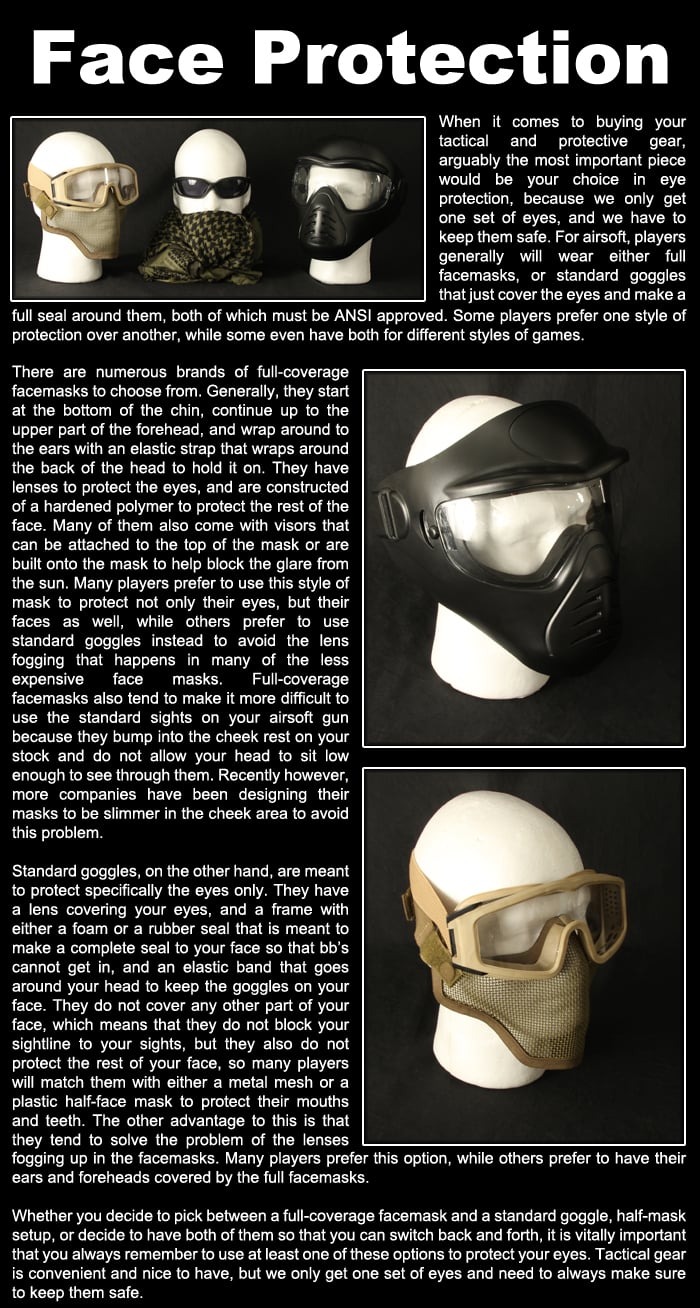 Specifications

Manufacturer: Save Phace
Color: Black
Size: Adjustable
Material: Polymer
Package Includes: One (1) Goggle
see 6 reviews
|
Write a Review
M. CULLEN | 2014-01-29
Product Information:
Don't be fed up with "anti-fog" goggles that fog anymore! These are the only anti-fog goggles that actually work! These have a special design where air can flow through efficiently.

Pros:
They actually work! No more fog! Great fit. Air flows smoothly.

Cons:
The strap is a little uncomfortable, but it isn't a problem. Other than that, no complaints.
A. BURKHARDT | 2014-01-30
Product Information:
These goggles are pretty darn good for the price they have a nice field of view and don't scratch easy. The strap is comfortable with a nice lens sleeve. The padding isn't very comfortable at all and starts making your sinus area sore after several hours of usage. The lense also popped off when I was taking the goggles off my face but it snapped back in easily. All in all a pretty good pair of goggles for the money that haven't fogged up after half a dozen games.

Pros:
Price
Comfortable strap
Hasn't fogged yet after several games in varying power
Pretty low profile
Lens doesn't scratch easy
Nice lens sleeve


Cons:
Padding is quite uncomfortable after awhile
The lens is in a place were you can somewhat easily pop out when taking the goggles on and off your face
verified buyer
B. BAGGETT | 2014-09-13
Product Information:
So I bought these to seeing that the reviews seemed great and the price was too. I used them twice, both times it was humid, both times they fogged. These WILL FOG, as I moved the fog disappeared quickly and the first time I played with them the fog was nothing to worry about, it was just the top of the lense. The second time they fogged up extremely to where I couldn't see out of them, at some points there would be drops of, either sweat or condensation, going down the inside of the goggles. However, the seal the goggles give is great, you wont have to worry about that if you are. They fit pretty comfortable, sometimes they felt weird on my face but it was fine. The cover on the strap of the goggles is a nice addition. For $20 they are good, I would recommend them for the price, However, because they did fog on me and are guaranteed not to fog, I have to give them a 1.

Pros:
Cheap
Fit well
Nice Seal
Cover is nice to have and convenient

Cons:
Fogged, they fogged on me, thats really it.
Are guaranteed not to fog, but did anyway.


Conclusion: They are good for the price and I would recommend them, unless you play in high humidity.
If you play in high humidity often invest in a better pair.
Face mask

Will these goggles fit well with a bravo lower face mask

3222 days ago

Brian B

0

0

(I have this same question)

Staff Answer:

Possibly

3221 days ago

1 answers
1 asked

Fit?

Will these fit a bravo mesh mask

3222 days ago

Brian B

0

0

(I have this same question)

Staff Answer:

Possibly

3221 days ago

1 answers
1 asked

Glasses compatibility?
0 answers
1 asked

Do these fit over glasses?
0 answers
1 asked
Search Tags: Face Eyewear Goggle Anti-Fog Anti-Scratch UV Protection Sure Grip Adjustable Strap Face Ear Eyes Mouth Polymer Plastic Anti-Fog Anti Fog Full Rubber Seal TX800 Tx-800 T-800 T800 X-800 X800 Bolle
People who bought this item also purchased: