Echo 1 FAT M4/M16 850 rd. AEG High Capacity Magazine (Tan)
[X08B08][10156 / MAG-ECHO M4 FAT TAN]
( 2 Reviews )
❤ Add to Wishlist
Free Shipping for orders over $89 No Coupon needed
This magazine is recommended for use with the Echo 1, JG, Dboy, SRC, and Cyma M4/M16 series AEGs, it may work with other brands of AEGs, but this cannot be guaranteed by Airsoft GI.
Specifications:
Manufacturer: Echo 1
Magazine Capacity: 850 rounds
Color:Tan

High Capacity Magazine Operation:
Find the trap door, usually located on the top of the magazine near the loading nozzle.
Open trap door and fill reservoir with high quality BBs.
Wind the wheel at the bottom of the magazine (notice the pitch and volume of the click).
Continue to wind wheel until pitch changes. Once the click gets louder, or begins to "double click," the magazine is fully wound.
Insert magazine into gun and fire. You may need to rewind the wheel during play.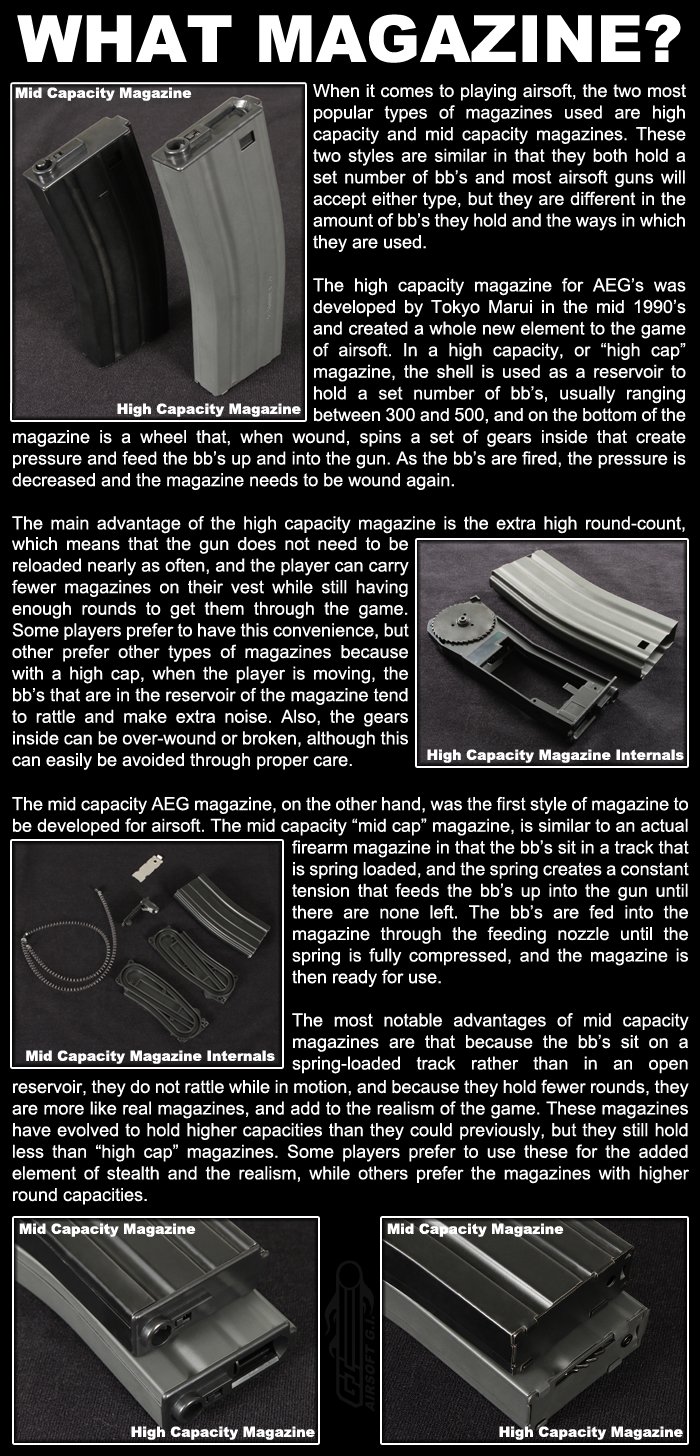 Specifications

Manufacturer: ECHO 1
Color: Tan
Size: 850 Rounds
Material: Metal
Package Includes: One (1) Magazine
see 2 reviews
|
Write a Review
A. BURKHARDT | 2014-01-30
Product Information:
This is a great concept magazine but the actual product failed after 2 games in the middle of a firefight. It isn't very loud or big. I've heard the newer generations are better but I wont be buying one anytime soon.

Pros:
Huge capacity
Doesn't rattle as much as you would think
Fits in most 2x mag pouches
Nice fit and finish

Cons:
Broke after 2 games
Other then the fact it broke I cant really think of a con. If you have extra money and want to see if they're better now go ahead but I can't recommend them.
verified buyer
K. HANSEN | 2015-10-11
Product Information:
Snazzy snazzy snazzy. Solid. Awesome. Beautiful.

Pros:
Solid
High-Capacity
Beautiful

Cons:
Will not knock your enemy out unless you hit them with it...
is this tan?

366 days ago

Caedmon E

0

0

(I have this same question)

Staff Answer:

Yes, it is tan.

365 days ago

1 answers
1 asked

Will this fit a Lancer Tactical MMC?

I am looking for some new magz that hold a lot of ammo, if this fits im getting it.

1303 days ago

Benedict A

0

0

(I have this same question)

Staff Answer:

It should

1302 days ago

1 answers
1 asked

fit

will it fit the valken battle machine mod-m?

1659 days ago

Mack M

0

0

(I have this same question)

Staff Answer:

It should fit

1658 days ago

1 answers
1 asked

fitting

Will this mag fit in a scar-h

2004 days ago

Ethan H

0

0

(I have this same question)

Staff Answer:

No

2004 days ago

1 answers
1 asked

Fit

Will this fit a VFC M27 IAR?

2091 days ago

Martin P

0

0

(I have this same question)

Staff Answer:

Yes

2089 days ago

1 answers
1 asked

will this mag work with the G&G Combat Machine CM16 MOD0 Carbine AEG Airsoft Gun?

Need one

2153 days ago

eric b

0

0

(I have this same question)

Staff Answer:

It should work.

2152 days ago

1 answers
1 asked
Search Tags: Mil Sim Gun Field M4 M16 SCAR Mag Clip Echo1
People who bought this item also purchased: