NcSTAR Green Laser with Weaver Mount
[W09B01][03760 / APRLSG]
( 4 Reviews )
❤ Add to Wishlist
Description:
This NC STAR Green Laser with Mount comes with everything you need to use and mount this on your rail system. The rail mount is secured by 3 hex screws. The laser is powered by 1 CR123 (included) battery and comes with a pressure sensitive tail cap and remote pressure switch. The remote switch is already set up to be mounted to your gun or vertical grip via Velcro.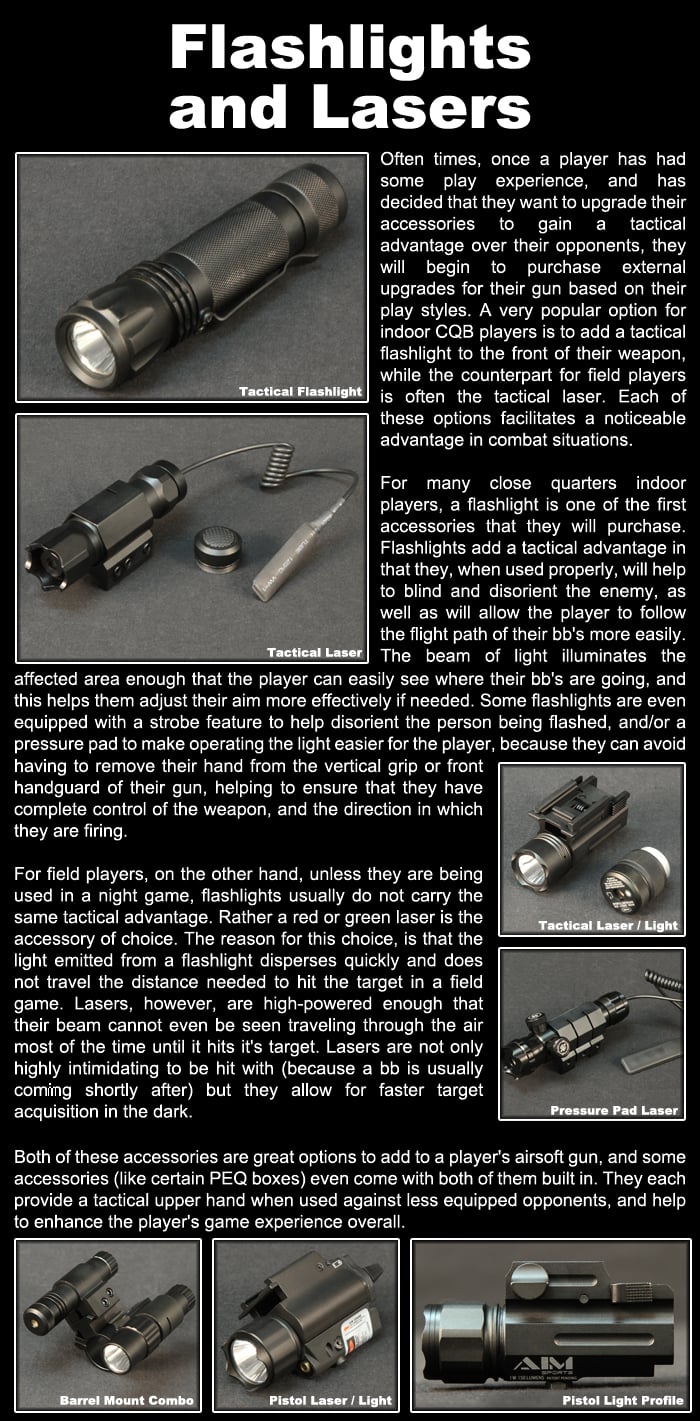 Specifications

Manufacturer: NC Star
Color: Black
Material: Metal
Package Includes: One (1) Laser
see 4 reviews
|
Write a Review
verified buyer
M. SMELLIE | 2008-12-21
Product Information:
I just got this today, so i'm not to sure on how long it will last.

well i got this as an early Christmas present and it took me about 20 minutes to sight it in on my Echo 1 G36C. it wasn't working so bad that i had to flip it over but it worked perfect after that.

its EXTREMELY ACCURATE. i can easily hit this soda bottle from about 80ft.

the laser can be seen from my grandma's house at my house which is about 1000 feet away. i don't know its maximum distance but i'm guessing its far.

Pros:
-all metal
-bright
-green
-intimidating (i haven't played with it but yesterday i played cqb with a guy who had one and it scared everyone)
-cool
-you can see the beam
-fun to mess with cats
-comes with laynard with push button thing for light and cap where you can just push a button on the back and a cap where you screw it in and it turns on like a flashlight.
awesome
-useful

Cons:
front cover that you screw off to adjust was in my pocket and got scratched so it messed up the beam like in the way when when it hits its target the beam kinda scatters not bad doesn't effect it AT ALL just might be a con for some people. it lights everything up, i like it.
J. LEVISTON | 2009-02-10
Product Information:
This is a cool laser. Now for pros and cons:

Pros:
High grade aluminum
Pressure switch cap or tape switch
Continuous laser setting
You can even mount this on a USP without an adapter :)
instructions
easy to zero
easy to mount all you need is an allen wrench

Cons:
gives your position away in night games. :(
verified buyer
S. GOFF | 2009-02-06
Product Information:
This is a great green laser for pros or newbes bright and for the price u are gettin your moneys worth , thinkin abought getin 1 more for my tm psg-1 .

Pros:
all metal
bright
easy to mount to a ris or rail system
comes with mount and pressure switch
and looks very very cool on eny airsoft gun

Cons:
none so far
laser specs
0 answers
1 asked

M1911?

would it fit my M1911?

2663 days ago

Joshua R

0

0

(I have this same question)

Staff Answer:

If your 1911 has a rail

2662 days ago

1 answers
1 asked

warranty?

Does this come with the Nc Star lifetime warranty?

2883 days ago

David T

0

0

(I have this same question)

Staff Answer:

All NC star products should come with a warranty once registered with their company.

2881 days ago

1 answers
1 asked

Will it fit

Will this fit my 15xt pistol

2921 days ago

David T

0

0

(I have this same question)

Staff Answer:

Possibly

2920 days ago

1 answers
1 asked

What is the diameter of the tube

Looking for a new mount so i need the diameter

3107 days ago

Zach R

0

0

(I have this same question)

Staff Answer:

1".

3105 days ago

1 answers
1 asked
Search Tags: CQB Field Distraction Range AEG GBB Pistol Pressure Switch Nc Star
People who bought this item also purchased: