NcSTAR 45" Scoped Gun Case (Black)
[S11C04][05222 / CVS2907-45]
( 4 Reviews )
❤ Add to Wishlist

New to airsoft? Here are some safety tips for airsoft guns that we recommend following.
Description:
This 45" Gun Bag is a great way to store and transport your long rifle. The rifle compartment is padded to protect your gun and on the outside there are smaller compartments to carry magazines or other miscellaneous accessories.
Specifications:
Manufacturer: NC Star
Model: Scope Ready Gun Bag
Color: Black
Length: 45"
Features:
Foam Lined
Carry Handle
Exterior Magazine compartments
Durable Nylon Construction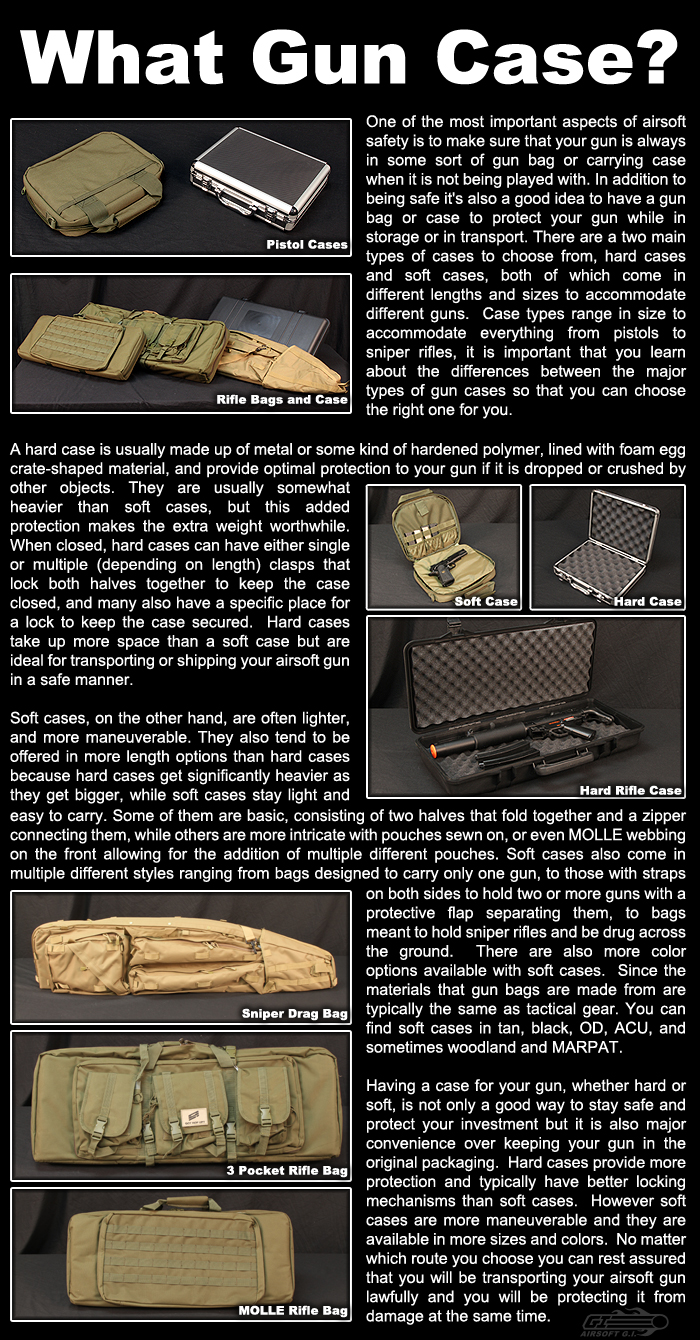 Specifications

Manufacturer: NC Star
Color: Black
Size: 45"W x 14"H
Material: Nylon Webbing
Package Includes: One (1) Scope Ready 45" Rifle Bag
see 4 reviews
|
Write a Review
verified buyer
Q. CARTER | 2010-06-29
Product Information:
You pay for what you buy, and this follows that statement fairly close. I mistakenly read this as a 46" bag, so my M14 which measures at 45" would've fit no problem, but alas I was mistaken. If I removed my flash hider, and can fit it into the bag no problem, and there is room enough for any small accessories, and the side pouches offer decent fit options for any size magazines. My M14 mags fit in too well, and so it will be a bit of trouble getting them out, but I know any larger mags will fit if I so choose. The bag I got had a small dent in the zipper, but it seems to open and close fine.

Otherwise this bag is simple, and decently put together. The carry handle offers a nice grip, and the padding offers a modest amount of protection for your AEG. Just make sure not to leave anything sensitive in it, unless it's properly packed.

Pros:
Cheap long rifle bag
5 Mag pouches (holds M4/M16 and AK mags just fine) to hold any mags or accessories
Modest padding and carry handle

Cons:
Decent Product quality
Pouch Velcro is set to offer a bit high overhead, so make sure your stuff is secure in the pouches
No Sling/shoulder carry options
M. SABBAH | 2010-08-26
Product Information:
A good solid and cheap gun bag, I recommend you get it over those fancy expensive ones if all you want to store is your gun and some mags. Just be careful with AKs, because AK mags are banana-shaped they wont fit right into the pouch and will eventually end up tearing the bottom. I lost 2 mags that way :( other than thats its a good bag

Pros:
Cheap
Solid
Cheap
Does its Job


Cons:
Just that problem with the AK mags
verified buyer
K. PRITSKER | 2012-05-22
Product Information:
This is an inexpensive bag that does it's job. It fits my M4 with an ACOG scope with pleanty of room to spare. The bag has pouches on the side where you can keep mags, batteries etc. The bag has 2 straps and a sling for carrying. The bag has been sturdy for the 3 months that I have owned it.

Pros:
Does it's job
Has pouches on the side for mags
Pleanty of room inside
Sturdy


Cons:

None
Search Tags: Rifle Accessories Equipment Carry Transportation Storage Multiple Pockets 45 Inch Inches Padded Pad Pads NCstar Nc Star
People who bought this item also purchased: