NcSTAR 3-9x40 Scope (Green Lens/P4 Sniper)
[SF15][03993 / SFB3940G]
( 25 Reviews )
❤ Add to Wishlist

New to airsoft? Here are some safety tips for airsoft guns that we recommend following.
Description:
Founded in Southern California in 1997, NcSTAR's mission is to consistently provide superior quality optics and sporting accessories at affordable prices. They are dedicated to providing superb customer service, setting the highest standard in the industry, with a warranty that is second to none. They provide innovative and cutting edge optics and accessories by following the latest industry trends and listening to their customer's feedback. Innovation and Technology have always been key elements behind NcSTAR's Product Development. Their products are designed in America using the latest state of the art software and rapid prototyping equipment. Their expert development team creates, evaluates, and tests every aspect from conception to the finished product, designing products By Shooters - For Shooters.

The NC STAR 3-9x40 Black Scope is a perfect inexpensive solution to magnified optics on your airsoft gun. Similar to the leapers 3-9x40 scope, it's adjustable for windage and elevation, and magnifies from 3-9x. This scope comes with see through lens covers and scope rings, everything you need to use it.
Specifications:
Manufacturer: NC Star
Lens Color: Green
Objective Lens Diameter: 40mm
Tube Diameter: 1"
Package Includes: Scope, Scope Rings, Lens Covers

Features:

Aluminum Construction

3-9x Magnification

1" Outer Diameter

Multi-Coated Lens

Includes Scope Rings / Lens Covers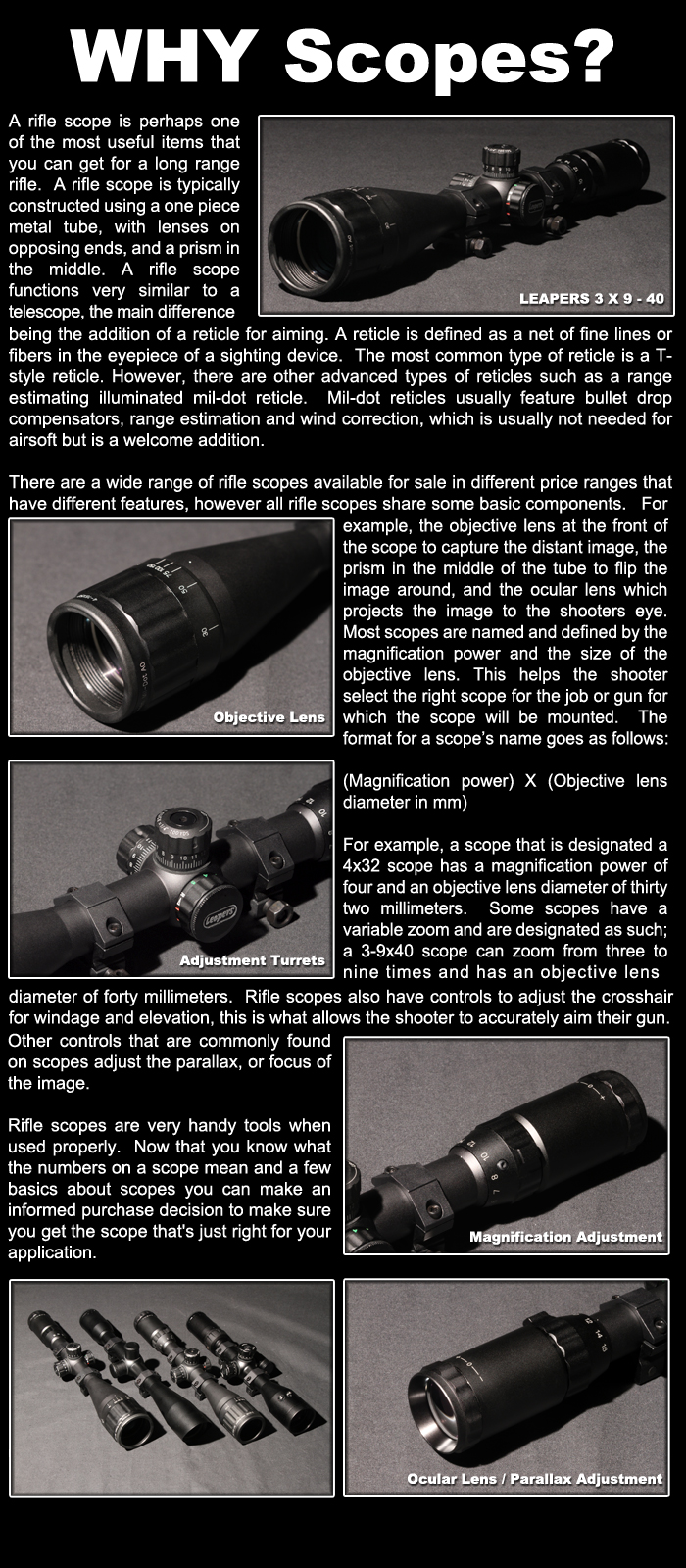 Specifications

Manufacturer: NC Star
Color: Black
Material: Aluminum
Package Includes: Scope, Scope Rings, Lens Cover
see 25 reviews
|
Write a Review
verified buyer
E. WICKER | 2014-11-05
Product Information:
When I first opened this, the thing that first impressed me was its marvelous packaging. It has some decent scope covers, and a lot of foam to protect it during transportation. II mounted it on my brothers M&P 15, and although I had not sighted it in, it looked marvelous and had little or no blurriness when in full zoom! I am very impressed. Can't wait to mount on my m28 sniper rifle! Thank you NC Star!

Pros:
Great zoom
No blur
Solid metal
Scope covers
beast looking
Solid scope mounts, no wiggle

Cons:
No ability to make quick windage/elevation changes in the middle of battle. Not a problem for me though
Other then a slight, foreseen inconvenience, great scope!
verified buyer
C. TAYLOR | 2015-01-07
Product Information:
O. M. G. YESS$S$SSSSS$SS$SS$SS!!!

First off, When I opened the package, The box it came in was fantastic. It looked professional (beast and awesome), and the packing was very good.

Secondly, when I laid eyes on this beauty, My heat heat popped out of my chest. It is sleek, smooth, and looks rad. It doesn't look cheep. AT ALL. for the $30, Its totally worth it.

Third, the sights are excellent. It has "crossed" cross hairs, to make it look pro and beast. The magnification is excellent, as in clear, and not hard to see through. the eye relief is good too.

Pros:
_awesome sexy beast design, not too dull, or high tech.
_excellent magnification. I could hit my targets much better.
_package was complete, came with everything that they said it would come with.

Cons:
_didn't come with 100 dollar bill.
A real shame....

JK.....
T. MUNNO | 2015-06-23
Product Information:
I bought this scope really exited to have one i put it on my gun and tried to adjust it. It would not move no matter how far i adjust: nothing. I guess you get what you pay for.

Pros:
variable zoom
comes with mounts
good size
cheap

Cons:
didnt adjust
variable zoom got stuck
Will this fit on the AGM MP-001 rifle?

I planed on buying the rifle and I need a good scope to go with it. So I wanted to know if this scope will fit the 20mm rail it has.

1872 days ago

Caleb A

0

0

(I have this same question)

Staff Answer:

It should fit.

1872 days ago

1 answers
1 asked

Riser

Would I need a riser for a triangle sight M16a4?

2120 days ago

Ethan H

0

0

(I have this same question)

Staff Answer:

You should not need a riser.

1990 days ago

1 answers
1 asked

compatible

is this can be compatible with an M24 or codename VSR-10?

2191 days ago

Ricardo Z

0

0

(I have this same question)

Staff Answer:

Yes, this will fit any sniper rifle rail.

1973 days ago

1 answers
1 asked

When will this come back in stock?

When can I buy this again through this web site to save money if I buy the scope and gun I want here instead of gi tactical I get better free gifts and less shipping

3184 days ago

Caleb S

0

0

(I have this same question)

Staff Answer:

We currently do not have an ETA at this time

3183 days ago

1 answers
1 asked

What is the diameter

Plz

3276 days ago

Joe B

0

0

(I have this same question)

Staff Answer:

Please see the description

3274 days ago

1 answers
1 asked

Mil dot
0 answers
4 asked

If I put this on an m4 will the front sight be in view of the scope and if so what riser should I buy

1/2 inch 3/4 or 1

3386 days ago

Evan A

0

0

(I have this same question)

if it is a flip up sight than no if it is a triangular front sight than yes they make higher rails designed to raise optics but I am not sure if they sell them here

3353 days ago

1 answers
1 asked
Search Tags: DMR Sniper Optic Long Range Gun Rifle Scope Nc Star Magnified Zoom Adjustable
People who bought this item also purchased: