Mechanix Wear M-Pact2 Gloves (Black/L)
[L10B00][05149 / MP2-55-010]
( 2 Reviews )
❤ Add to Wishlist
Description:
Back in 1991, Mechanix knew right away they had a good thing going with Mechanix Wear Gloves. They had no idea what kind of revolution they would start. From the first use of Mechanix Wear "Original" Gloves by pit crew teams at the Daytona 500, Mechanix Wear gloves have been the leader in the high performance work glove market. Before they knew it, they had 41 NASCAR teams asking for Mechanix gloves along with just about every other high profile motorsports team in every type of racing! As a result of the exposure, everyday mechanics, technicians, construction workers, Do-It-Yourselfers, industrial safety, emergency services, and military professionals all benefit from Mechanix products.

Every Mechanix Wear product represents a total commitment to its intended use. They consider everything: fit, feel, function, durability, quality, style and value. There is a lot of dedication and pride in everything Mechanix does, and it all adds up to superior performing products for you, their valued customer. Whether you're jumping the pit wall at Daytona or just doing a little tune up in the garage, you can have complete confidence that Mechanix Wear products offer you the best protection in the industry. Mechanix Wear gloves are for more than just racing, they are for toolboxes everywhere.

Mechanix Wear gloves are the best designed and most trusted brand of protective hand wear by the worlds top racing teams. The experience and exposure gained in the racing world has lead Mechanix Wear to branch out its R&D and develop some of the best hard use tactical gloves in the world. This is the M-Pact 2 Covert Glove; it's a heavy duty, hard use, glove with a lot of padding throughout. The palm has even more foam padding sewn into it than the M-Pact. The padding on the palm is placed with an emphasis on pressure point areas that may feel fatigue when holding a gun for long periods of time; additionally there is extra padding opposite the thumb with leather for protection when crawling. The thumb, pointer finger, middle finger, and ring finger have leather at the tips for grip and control. The back features spandex for a comfortable fit and breathability with thermal plastic rubber to protect the back of hand and finger knuckles, above the first knuckles are thick rows of foam for protection and flexibility. Mechanix Wear is dedicated to their craft and their hard work is evident in the excellent products they produce.
Specifications:
Manufacturer: Mechanix Wear
Color: Black
Size: Large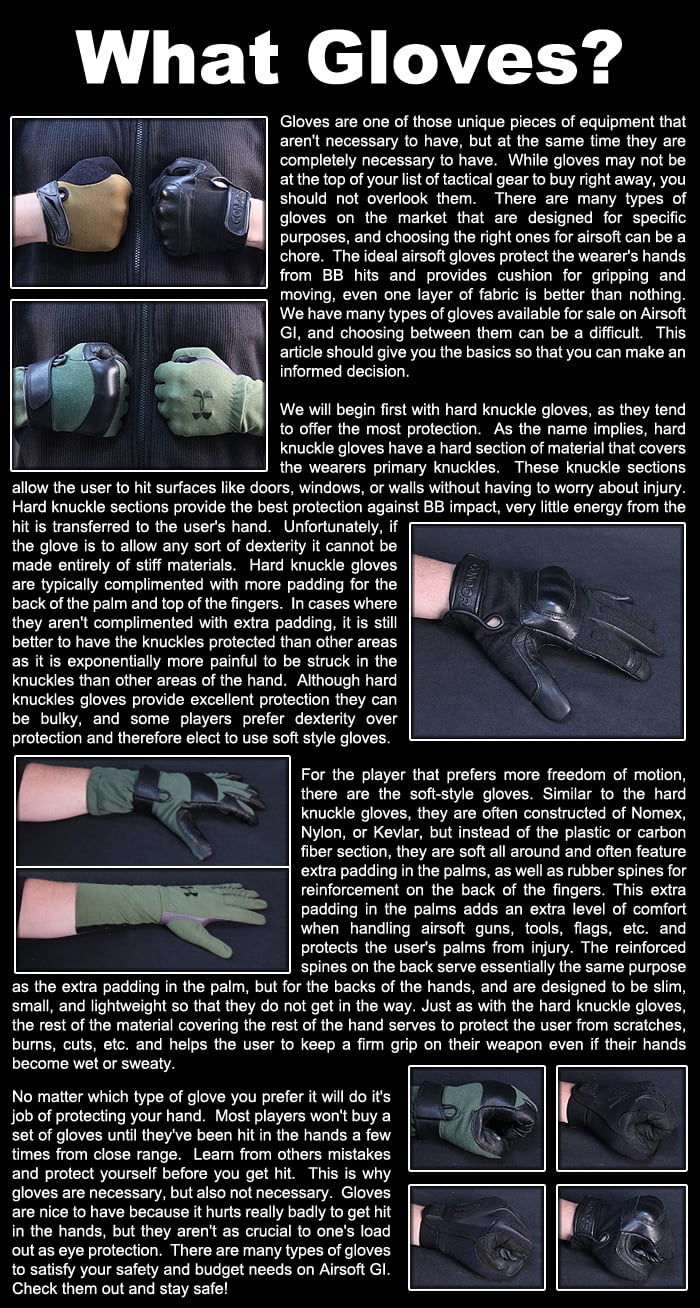 Specifications

Manufacturer: Mechanix Wear
Color: Black
Size: L
Material: Synthetic Learther & Spandex
Package Includes: One (1) Set of Gloves
see 2 reviews
|
Write a Review
F. CUENCA | 2011-07-22
Product Information:
I've had these gloves since Christmas 2010, when I received them as a gift. The fit is perfect, if you follow the instruction for proper size found at the Mechanix website. The padding is very nice, I don't know if I have been hit in the hand because I've never felt anything. They are somewhat waterproof, it'll take a game in the rain or snow for the water to go through but they won't warm your hands at all.

I use these for airsoft only and the stitching in one of the thumbs came apart after 4 months or so. Easy fix but I wasn't happy, I'm glad they were a gift or that would have pissed me off.

Pros:
Perfect fit if you follow instructions.
Padding performs as designed.

Cons:
Stitching not strong enough, considering the higher price it should be better.
verified buyer For: Mechanix Wear M-Pact2 Gloves ( Black / M )
A. HADLEY | 2013-03-24
Product Information:
Just bought these gloves, I have only had one pair before these but I have to say that I am impressed. I would recommend these to anyone wanting to make sure they had good protection for the hands without sacrificing too much flexibility.

Pros:
Good flexibility, nice material, decent knuckle protection

Cons:
my friend said his hands were a little fat in them and he did not even need to tighten the strap yet his fingers did not touch so possibly a minor sizing issue. still they fit me fine.
Search Tags: Protection Grip Hand Mechanic Mechanics Traction Knuckle Protection Rubber Padded Pad Pads Impact M Pact
People who bought this item also purchased: