Lancer Tactical Mini Red/Green Dot Sight
[SF14][14589 / CA-407B]
( 5 Reviews )
❤ Add to Wishlist

New to airsoft? Here are some safety tips for airsoft guns that we recommend following.
The Lancer Tactical Mini Red/Green Dot Sight is an awesome piece of tactical equipment. Reflex sights, once properly zeroed, will allow the user to quickly acquire multiple targets in rapid succession. The sight is parallax corrected to provide great eye-relief, and features both green and red dots. These dots are available in six different intensity levels, giving the user maximum flexibility in cqb and field play. The dot is capable of being adjusted via windage and elevation adjustment knobs. While the red dot device is already capable of mounting on a picatinny rail already, this product will come with a riser in order to give more flexibility to user comfort. This reflex sight is powered by a single Cr2032 battery.
Specifications:
Manufacturer: Lancer Tactical
Color: Black
Reticle Color: Red & Green
Package Includes: One (1) Lancer Tactical Mini Dot, One (1) mount riser, One (1) Cr2032 Battery
Features:
Six Levels of Reticle Intensity
Parallax Corrected
Red & Green Reticle Sights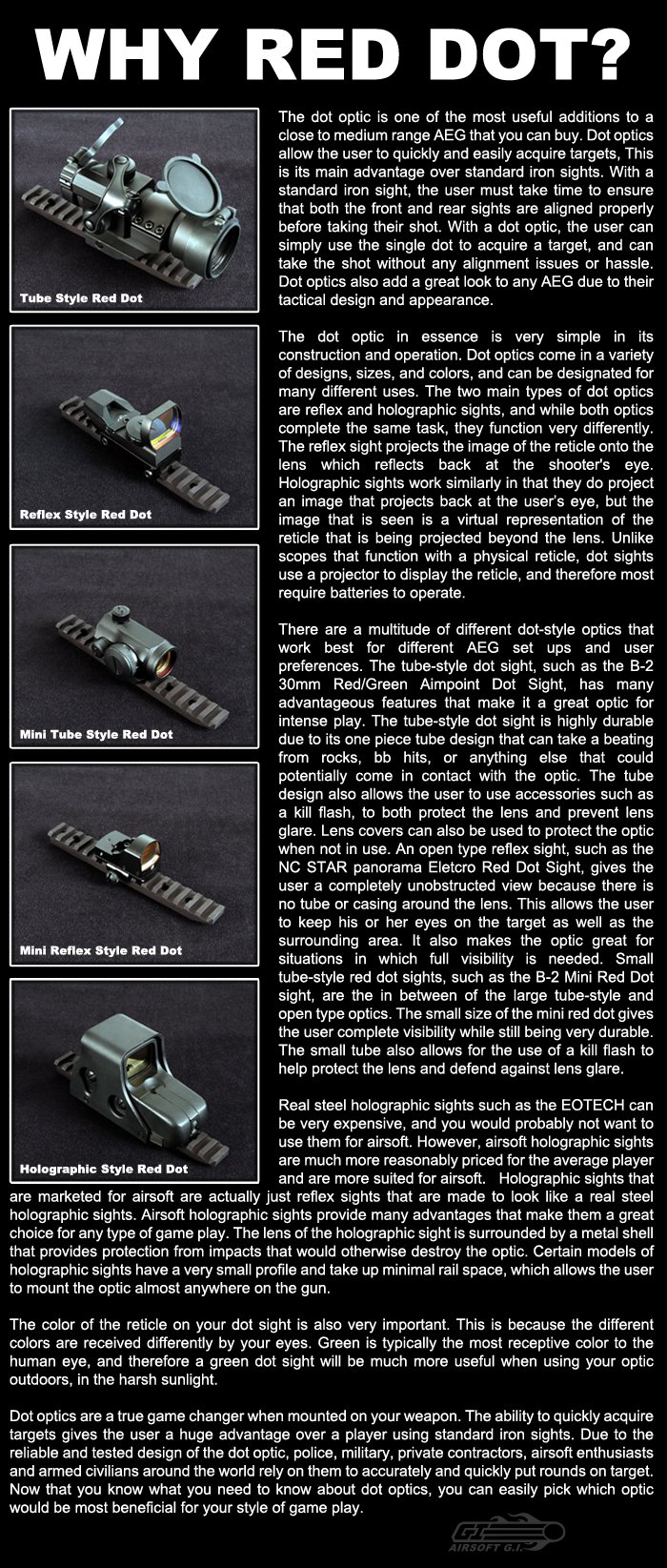 Specifications

Manufacturer: Lancer Tactical
see 5 reviews
|
Write a Review
verified buyer
M. PELTO | 2014-09-11
Product Information:
When I got this sight, I was looking for a sturdy sight that could hold out in a variety of different scenarios. It delivered in all of the categories. Its full metal with a green/ red dot design, and its a mini tube sight, even better.

Pros:
Full Metal
Red/Green Dot
5 brightness levels to adapt to indoor/outdoor scenarios.
Unlimited eye relief.
Mini tube red dot style
Comes with a battery, riser mount, and a cleaning rag.
Great value

Cons:
The riser went to high above my post sights and a bit to the left, so i couldn't see my sights because it was too high up. However I just took off the riser and used the "both eyes open trick", and it worked perfectly.
verified buyer
T. TAN | 2019-08-16
Product Information:
The sight doesnt take too long to adjust once you get used to it. I like not really needing to close one eye to use it. I put it on my friends gbb m4 and it was able to handle the recoil without being all finicky

Pros:
Came with a rise mount and battery
Green and red dot with different lighting
Its smaller so hopefully a bb doesnt hit it


Cons:
Got to use an allen key to put it on
verified buyer
L. | 2019-08-23
Product Information:
Super cool optic for an even cooler price! Mounted this optic onto my Krytac PDW and couldn't be happier. The dot holds its zero well and doesn't move.

Pros:
-metal
-holds zero
-adjustable brightness

Cons:
-not a huge fan of the big lettering on the side but whatever
Kill flash
0 answers
1 asked

Killflash
0 answers
3 asked

Hight

Do you have to put the riser on to mount this scope?

3171 days ago

Howard E

0

0

(I have this same question)

Staff Answer:

No

3170 days ago

1 answers
1 asked

Killflash?
0 answers
6 asked

What's the height of the riser and sight together when mounted?

I have a red dot sight protector and I want to make sure it's tall enough

3352 days ago

Jonathan S

0

0

(I have this same question)

Staff Answer:

3".

3352 days ago

1 answers
1 asked
Search Tags: Reticle Optic Scope Reflex AEG GBB M4 M16 High Raiser Mount Red Dot Sight Scope Reticle Reflex Optic
People who bought this item also purchased: