Lancer Tactical 9.6v 1600mAh NiMH Stick Battery
[G06A01][21938 / LT9.6V1600S]
( 1 Reviews )
❤ Add to Wishlist
The 9.6v 1600mah NiMH stick battery is designed to fit the range of airsoft guns that have a minimal amount of space for a battery pack. This battery is longer than an 8.4v stick battery and will not fit in all AEGs that require stick batteries. Please check to make sure you have sufficient battery space in your AEG to accommodate this battery.
Specifications:
Manufacturer: Lancer Tactical
Voltage: 9.6v
Milliampere Hours: 1600mAh
Cell Type: Nickel-metal hydride (NiMH)
Connector Type: Mini
Recommended fit: Some folding stock AK series AEGs

Airsoft GI Battery Disclaimer:
Airsoft GI is not responsible for batteries that have been damaged as a result of improper operation, storage, misuse or abuse, accident or neglect, such as physical damage resulting from misuse; contact with liquid, water, rain, extreme humidity or heavy perspiration, sand, dirt or the like, extreme heat, or food; use of the battery for commercial purposes or subjecting the battery to abnormal usage conditions, or other acts which are not the fault of Airsoft GI. Make sure you understand how your battery should be used and how long it should be charged. If you have any doubt regarding the operation, charging, or storage of your battery and/or charger, ask. A charging battery should not be left unattended and should be picked up periodically while charging to check for overheating. Do not charge batteries near flammable material. For more information regarding batteries please refer to the Frequently Asked Questions or the Airsoft GI Airsoft 101 Guide.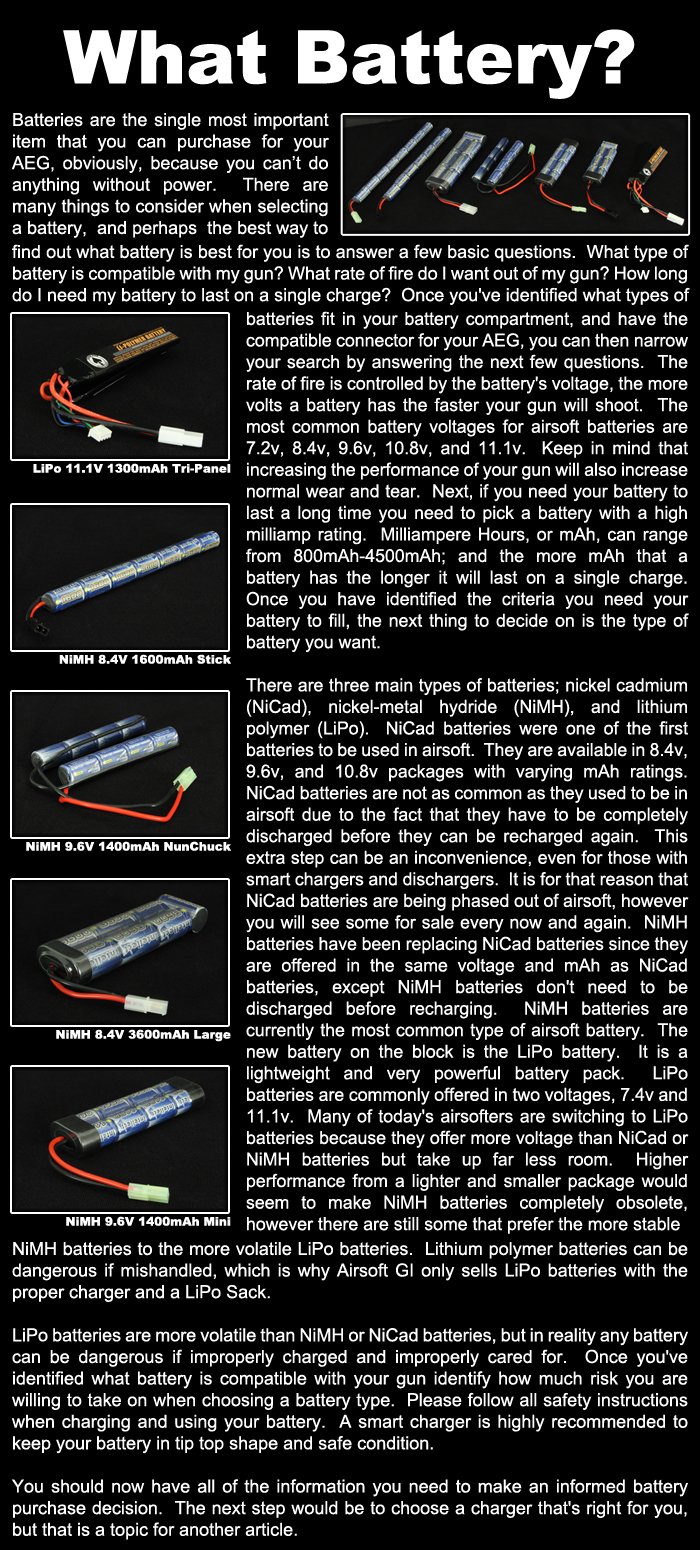 Specifications

Manufacturer: Lancer Tactical
see 1 reviews
|
Write a Review
verified buyer
A. CANNE | 2019-10-09
Product Information:
perfect for a buffer tube

Pros:


Cons:

will this fit the lancer tactical lonex AK
0 answers
1 asked
Search Tags: Nickel Metal Hydrate Hydride NiMH NiHM Low Voltage 2/3A VFC AK ICS SIG 551 AEG 8 Cell 9.6 1600
People who bought this item also purchased: