G&G M4/M16 450 rd. AEG High Capacity Magazine (Grey)
[E13D00 / SF24][00312 / GNG-G-08-008 / G-08-008]
( 22 Reviews )
❤ Add to Wishlist

New to airsoft? Here are some safety tips for airsoft guns that we recommend following.
This magazine is recommended for use with the A&K, Echo 1, JG, Tokyo Marui, Classic Army, VFC, ICS, G&G, and G&P M4/M16 series AEGs, it may work with other brands AEG but cannot be guaranteed by Airsoft GI.
Specifications:
Manufacturer: G&G
Magazine Capacity: 450 rounds

High Capacity Magazine Operation:
Find the trap door, usually located on the top of the magazine near the loading nozzle.
Open trap door and fill reservoir with high quality BBs.
Wind the wheel at the bottom of the magazine (notice the pitch and volume of the click).
Continue to wind wheel until pitch changes. Once the click gets louder, or begins to "double click," the magazine is fully wound.
Insert magazine into gun and fire. You may need to rewind the wheel during play.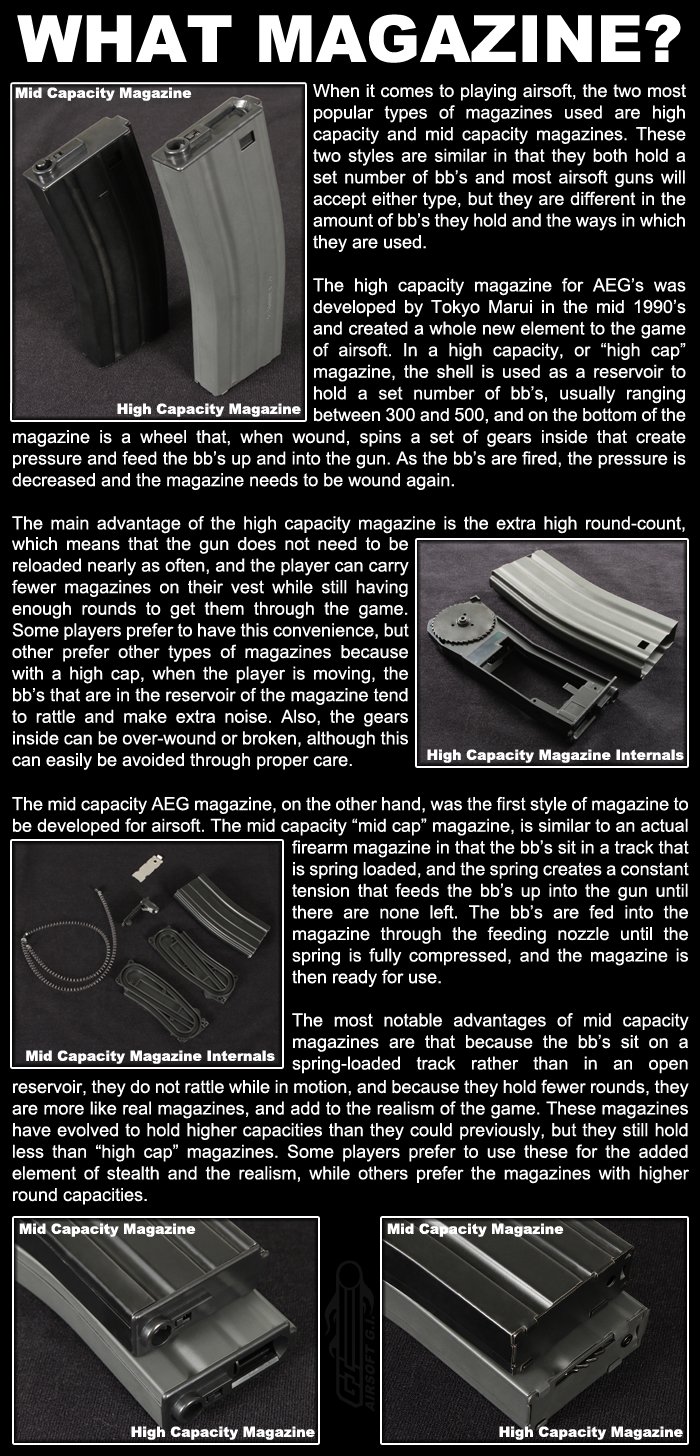 Specifications

Manufacturer: G&G
Color: Grey
Material: Metal
Package Includes: One (1) Magazine
see 22 reviews
|
Write a Review
verified buyer
B. WEAVER | 2014-09-09
Product Information:
Fits my M4 perfectly. I have a tan M4 and this comes in gray and looks super sick... I may spray paint it later but I don't know yet it just looks fine the way it is... great investment.

Pros:
color is cool.
metal and great durability


Cons:
literally no cons
M. LEMING | 2014-10-15
Product Information:
Capacity: 408 bbs. Fully winding spring: 107 spins. BBs fed when fully wound: 307 before misfeed (+6 before empty). Magazine fully rewound. 41 bbs fed before unwind. 5 more bbs before misfeed. 9 more bbs were fired before magazine would not feed. 40 bbs left in magazine.

These are my field's go-to rental mags, for good reason. They hold a lot and feed well. The finish wears nicely. We have some of these magazines that are 6+ years old. Sometimes a screw will go missing from the bottom, Hard to go wrong with these.

Pros:
Feeds ~310 bbs without rewinding. Feeds reliably. Looks good. Solidly built. Fairly large capacity.

Cons:
Does not hold as many bbs as advertised. 40bbs left that it would not feed. Takes a little while to wind the spring all the way.
verified buyer
N. DUMOND | 2017-03-17
Product Information:
What can I say that isn't in the discription? High quality metal G&G hi-cap mags that should work in about any M4 style gun. I've yet to put these through any extended use but the results from test shooting indicate that these should preform flawlessly. Let it be known that I use a G&G Raider xl and the mags are lose in the mag-well. Not overly lose, but enough that there is room to wiggle. I will come back to update as soon as I get a few hours with these mags.

Pros:
So pros: 1 metal construction makes these mags feel very sturdy. I would have no worries about taking bb hits to the mag.
2: The price is a little high, but for the quality, I doubt you'll find many magazines out there for less that won't have feeding issues. You can also use coupons to bring the price to a reasonable amount.
3: As stated above, I have done test shooting with these mags and was fairly impressed. No misfeeds at all and they kept up with the rate of fire.

Cons:
On to the cons. As previously mentioned, the price can be steep for some. Why buy these when Lancer Tactical or Elite Force will do? Well, simply put, you get what you pay for with these mags. Yes, you could save seven or eight dollars, but the money spent is repaid with fewer jams and misfeeds while playing.
KWA KM4 SR10

Will this work and feed well my my KWA KM4 SR10? Thanks.

3379 days ago

Mike M

0

0

(I have this same question)

I have a KWA SR7 and it works fine.

3274 days ago

Will this work and feed well my my KWA KM4 SR10? Thanks.

3379 days ago

Mike M

0

0

(I have this same question)

Staff Answer:

Possibly

3377 days ago

2 answers
2 asked

Scar

Will this work with the VFC SCAR STD? If not what would? Thanks.

3413 days ago

Andrew H

0

0

(I have this same question)

Staff Answer:

This magazine should be compatible with most M4/M16 guns like the one you have mentioned.

3412 days ago

1 answers
1 asked
Search Tags: Mil Sim GG Gun Field M4 M16 SCAR Mag Clip g&g 450rd 450 rd round hicap hi cap highcap high capacitymetal
People who bought this item also purchased: