G&G GR16 79 rd. AEG Mid Capacity Magazine - 5 Pack (Black)
[03277]
( 15 Reviews )
❤ Add to Wishlist

This magazine is recommended for use with the A&K, Echo 1, JG, Tokyo Marui, Classic Army, VFC, ICS, G&G, and G&P M4/M16 series AEGs, it may work with other brands AEG but cannot be guaranteed by Airsoft GI.
Specifications:
Manufacturer: G&G
Magazine Capacity: 79 rounds
Package Includes: 5 Magazines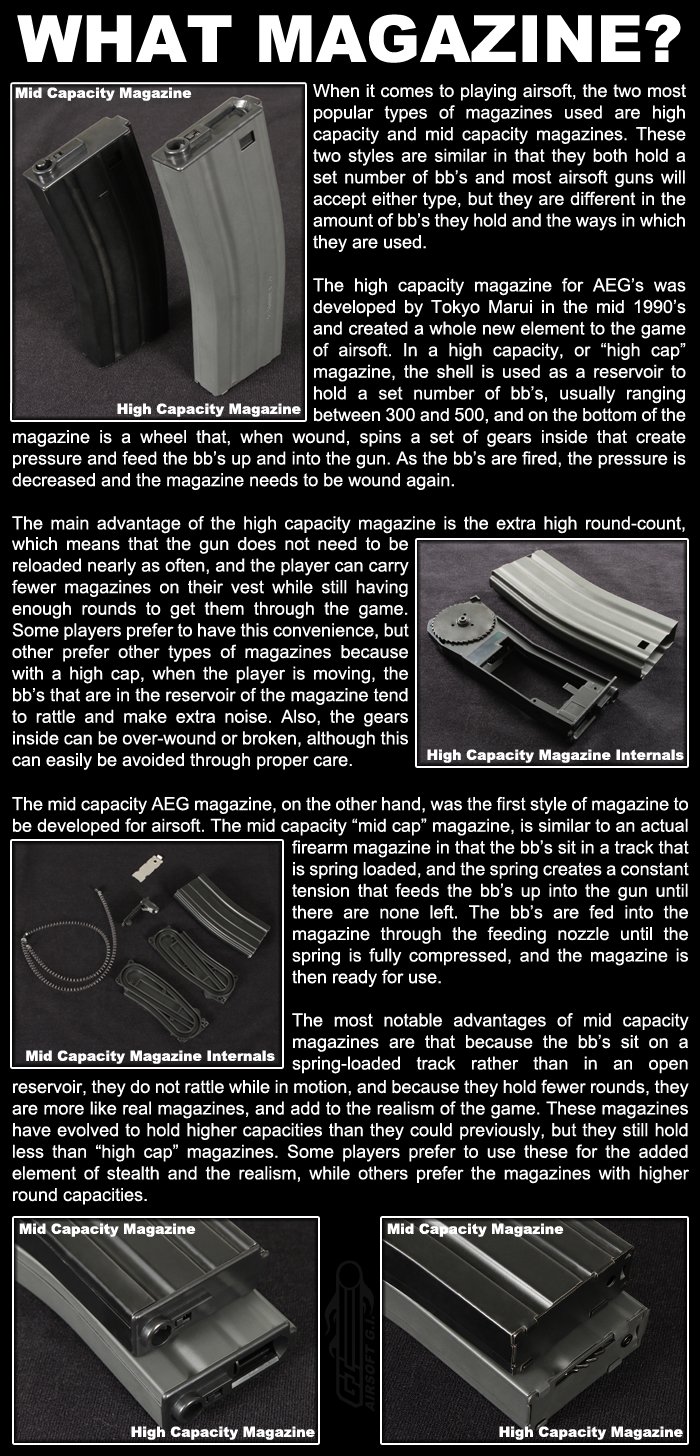 Specifications

Manufacturer: G&G
see 15 reviews
|
Write a Review
verified buyer
T. SMOOTS | 2010-09-15
Product Information:
Nice solid magazines for your ArmaLite. They fit in my KWA M4A1 however, it was a tight fit when I first got them. They broke in quickly but are still snug enough that they have no wobble.

Pros:
-Feed consistently but when new, don't feed all 80 rds (lubricating helps)
-Metal body makes them indestructible & awesome looking.
-Good price for 5 well made magazines.

Cons:
-Don't feed all 80rds when new into a KWA M4
verified buyer
J. DOIRON | 2013-03-30
Product Information:
I finally broke down and bought these succulent examples of G&G quality. For years I've used other brands in my G&G M4, envying these finely-engineered delicacies from afar; the culmination of that has been WAY too many instances of yelling "HIT!" out on the field. I've used them many times, but never owned them.

You know that feeling you get when your gun spats air as your mag runs out or jams up? You wouldn't if you had these mags. These are _99% reliably-feeding, and they feed down to the LAST shot due to the unique plastic follower that pushes the last bb out into the hop up. Leave them DRY--you don't need any sort of lubricant to make these feed well!

You ABSOLUTELY get what you pay for with these mags. Reliability of your gear (or lack thereof) should be the last thing on your mind, and NOTHING sucks more than mags jamming up and misfeeding. These will step your airsoft game up more than a few notches!

Pros:
-RELIABILITY!!! I cannot stress this point enough. They feed perfectly, down to the last shot, so you can tell when the mag is actually 100% spent.
-Sturdy construction. Rough-and-tumble is the name of the game for these mags. Drop 'em, fall on them when they're in your mag pouches, get dirt in them, it will not phase them.
-Feeding follower that extends the last bb into the hopup. I have yet to see any other mags, anywhere, that have this feature, and it is very useful.


Cons:
-Cost. Can't get around it being expensive, but these will last forever and satisfy you 100%
-They apparently don't work very well with Echo-1 m4's and some KWAs. Try a friend's if you're unsure whether they'd work in your gun.
C. ZABEL | 2014-05-08
Product Information:
G&G 79rd GR16 Mid Capacity AEG Magazine ( 5 Pack ) I don't have ANY problems with these, they are just amazing. They feed perfectly and are very reliable. If you can get past the price and the basic look, I would highly recommend these over any mid cap any day.

Pros:
Feed Perfectly.
Have a plastic tab that feeds the last bb all the way into the hop up, which isn't featured in any other mid cap to my knowledge. The tab sticks out too, so it's easy to tell when it's empty.
Metal, I'm pretty damn sure it's a metal construction with the exception of the actual system inside the magazine, making them closer to any other real STANAG mag out there.
79rds perfect for MilSim, have a little bit less then the 120rd competitors, with a capacity closer to real 30rd STANAG. Making it the best of both worlds.




Cons:
Price, a hefty $80 for five but you have to take into account the metal construction and the plastic tab feature.
Design is very basic, a PMAG version of this would have me throwing my wallet at the computer.
Capacity. Doesn't hold 120rds or doesn't hold 30rds which is what one might want. I like it because it's a combination of the two.
Are they metal?

?

2333 days ago

Dylan F

1

0

(I have this same question)

Staff Answer:

yes

2333 days ago

1 answers
1 asked

Fit?
0 answers
1 asked

ASGI custom next gen gun?

Will this work in a ASGI next gen custom gun? I just bought one and need some more mags for my loadout. Thanks!

3160 days ago

Catherine Y

0

0

(I have this same question)

Staff Answer:

If it uses M4 magazines, these should work fine

3159 days ago

1 answers
1 asked

Can I use these in a Ares gun?

I am going to buy an Ares gun soon, but I cannot find any extra mags for the gun. I would like to know it I need to look harder, if this will work or if there is a universal magazine that I can buy. Thanks for your time!

3164 days ago

Nathan F

0

0

(I have this same question)

Staff Answer:

They should work with that gun

3161 days ago

1 answers
1 asked

M4?

will these work in a airsoft gi G4? I ask this because I got midcaps from a different company, and they didn't work. I sent them in, got new ones, and they STILL don't work. they don't feed or shoot all the advertised 140 rounds

3225 days ago

Michael A

0

0

(I have this same question)

Staff Answer:

It should fit.

3224 days ago

1 answers
1 asked
Search Tags: Mil Sim Gun Metal GG Field M4 M16 Scar Mag Clip Box Set Mid Cap 70 Round Rounds mid cap midcap medium capacity aeg automatic electric gun airsoft mag magazine clip
People who bought this item also purchased: