G&G GR-25 50 rd. AEG Mid Capacity Magazine (Black)
[C05H02][02859 / G-08-045]
( 2 Reviews )
❤ Add to Wishlist

This magazine is only recommended for use with the G&G GR-25 series AEGs, it may work with other brands AEG but cannot be guaranteed by Airsoft GI.
Specifications:
Manufacturer: G&G
Magazine Capacity: 50 rounds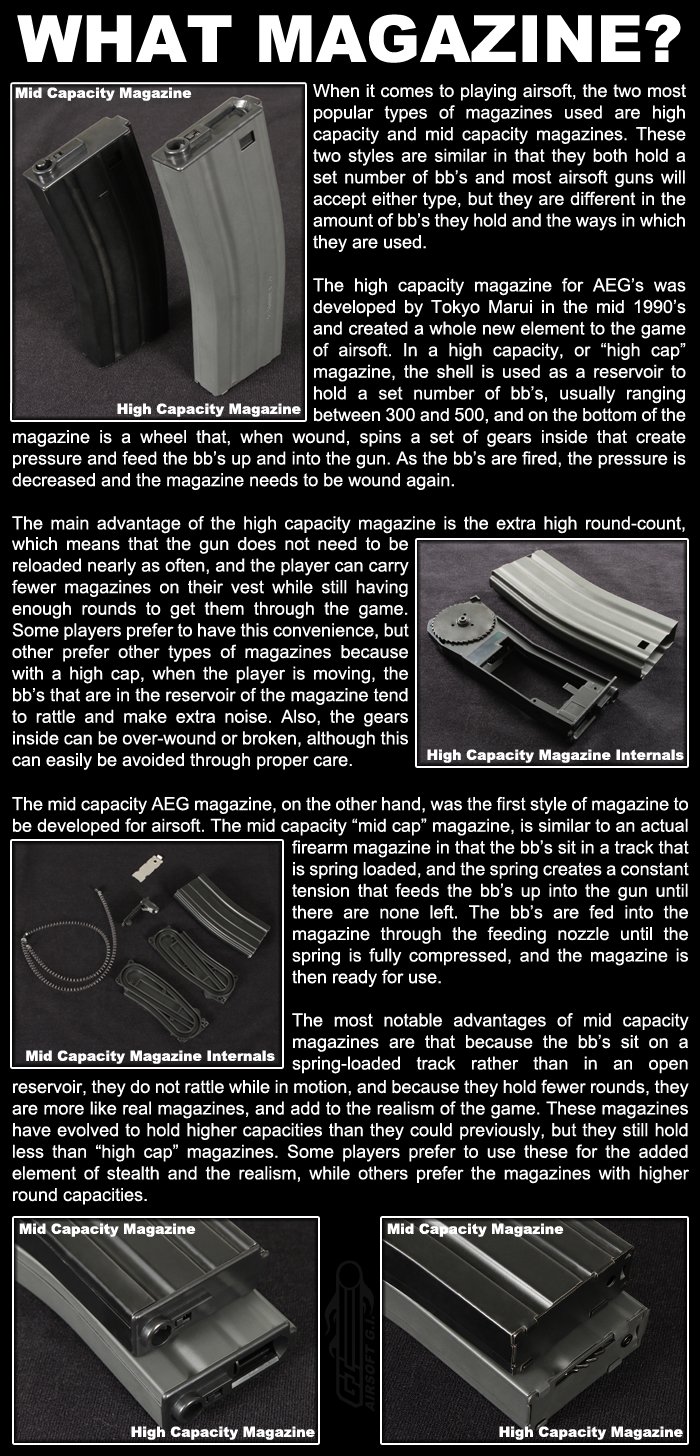 Specifications

Manufacturer: G&G
see 2 reviews
|
Write a Review
verified buyer
M. VELLUCCI | 2008-06-17
At first it looks good, however it has plastic internals, the pinch welds on the mag didnt hold up very well, the bottom fell out and the plastic top isnt the best in quality. Not to mention, it wont fit in a Classic Army CA-25
K. URANYI | 2009-04-21
Product Information:
A very nice mag. Has good metal externals and a nice looking finish on it. Has plastic internals but that doesnt effect the feeding quality of the mag. Also most midcaps are plastic internals anyway.

Pros:
Looks good
Metal Externals
Holds 50 Rounds

Cons:
Plastic internals but that doesnt really matter.
Can it fit to my echo 1 er 25?

It holds a smaller sized m4 mag and if there is a conversion kit for the mag well . I am open ears

1868 days ago

Joey H

0

0

(I have this same question)

Staff Answer:

It will not

1815 days ago

1 answers
1 asked

Feeding?
0 answers
1 asked

Can it be used with ECHO 1 M110"s?

need to find a mid capacity magazine for a milsim.

2772 days ago

christopher c

0

0

(I have this same question)

Staff Answer:

No.

2771 days ago

1 answers
1 asked

echo 1 er-25kr
0 answers
2 asked

Compatability

Can these be used with m4 style aeg's?

3204 days ago

Alex O

0

0

(I have this same question)

Staff Answer:

No, it is specifically for the SR25 style gun by G&G

3204 days ago

1 answers
1 asked

tac gear

What pouches could fit these

3240 days ago

andrew w

0

0

(I have this same question)

Staff Answer:

SR25 magazine pouches or a standard M4 / M16 magazine pouch will work if you place the magazine on it's side.

3240 days ago

1 answers
1 asked
Search Tags: Stock Replacement OEM MilSim AEG Rifle SR25 Mag Clip Mid Cap 50 Round Rounds SR-25 GR25 mid cap midcap medium capacity aeg automatic electric gun airsoft mag magazine clip
People who bought this item also purchased: