Emerson Armored Half Finger Gloves (Black/L)
[09104 / AC-222L]
( 1 Reviews )
❤ Add to Wishlist
Free Shipping for orders over $89 No Coupon needed
The Emerson Armored Half Finger Gloves are an excellent form of protection from both BBs and heat for the palms and backs of your hands. The knuckles and back of the hand feature a hard plastic cover, and there is a double layer of leather reinforcement on the palm. The cuff is adjustable for a secure fit on any size wrist. These are the perfect option for hand protection for airsoft.

Specifications:
Manufacturer: Emerson
Color: Black
Size: Large

Features:
Padded Palm
Hard Knuckle and back
Adjustable Cuff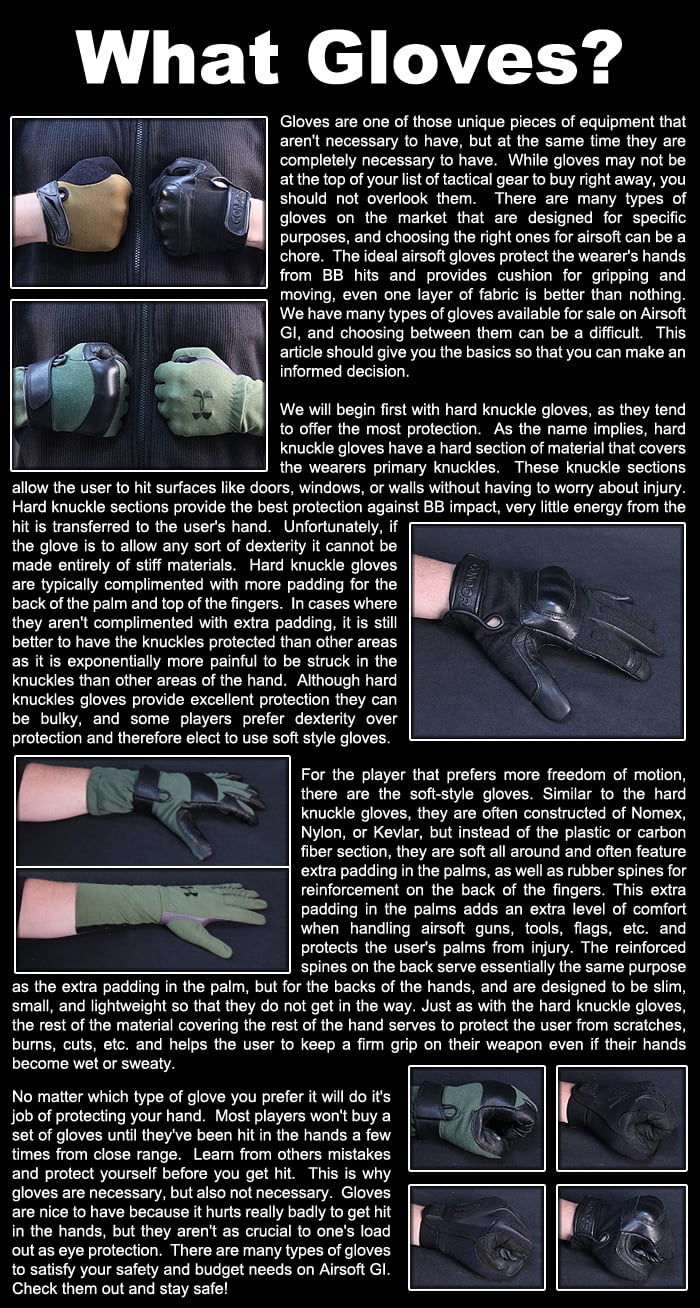 Specifications

Manufacturer: Lancer Tactical
Color: Black
Size: Large
Material: Synthetic Leather / Polymer
Package Includes: One (1) Pair of Armored Half Finger Gloves
see 1 reviews
|
Write a Review
A. SUGAR | 2013-12-15
Product Information:
Snagged a pair from my (not-so) local shop, GI was out of stock. Good fit the armor is malleable so it moves well with your hand. The palm side is padded, great for those rough falls that don't leave your hands all bruised and cut up. The top layer is breathable so you don't have too worry about getting too hot. Nice gloves, they do all the things I want and nothing I don't.

Pros:
- Light
- Cheap
- Good Quality
- Nice fit
- BBs make a lovely sound hitting the soft plastic panels, the kind that says I bet you're glad you weren't going hand commando.
- Hook and loop system allows for you to clip them together when not using to help alleviate the; OMG where is my other glove?! syndrome

Cons:
I'm looking hard for something not to like about these...

- Can be a little tough to take off at times. But really that could only be bad if you quickly need to take your glove off to challenge someone to a duel.
Search Tags: Protection Grip Hand Glove Rubber Armor Knuckle Finger Less Fingerless Black SWAT Urban
People who bought this item also purchased: