Classic Army M4 VMS 330 rd. AEG High Cap Magazine - 6 Pack (Blk)
[CA (Bottom Rack)][38373 / P521P-B-1]
( 1 Reviews )
❤ Add to Wishlist
Free Shipping for orders over $99 No Coupon needed
Few things in airsoft are more necessary than extra magazines! Stock up on one of the best hi cap magazines around with this box set of Classic Army VMS 330 round magazines. This polymer magazines feature a unique texture and design on their exterior. This pack contains six magazines at a discounted price so that you can get in the game easily with plenty of extra ammunition!
Specifications:
Manufacturer: Classic Army
Magazine Capacity: 330 round Hi-Cap Magazine
Color: Black
Package Includes: 6x Magazines
Features:
Winding Wheel Design
Unique Exterior Texture
High Capacity to reduce reloading
High Capacity Magazine Operation:
Find the trap door, usually located on the top of the magazine near the loading nozzle.
Open trap door and fill reservoir with high quality BBs.
Wind the wheel at the bottom of the magazine (notice the pitch and volume of the click).
Continue to wind wheel until pitch changes. Once the click gets louder, or begins to "double click," the magazine is fully wound.
Insert magazine into gun and fire. You may need to rewind the wheel during play.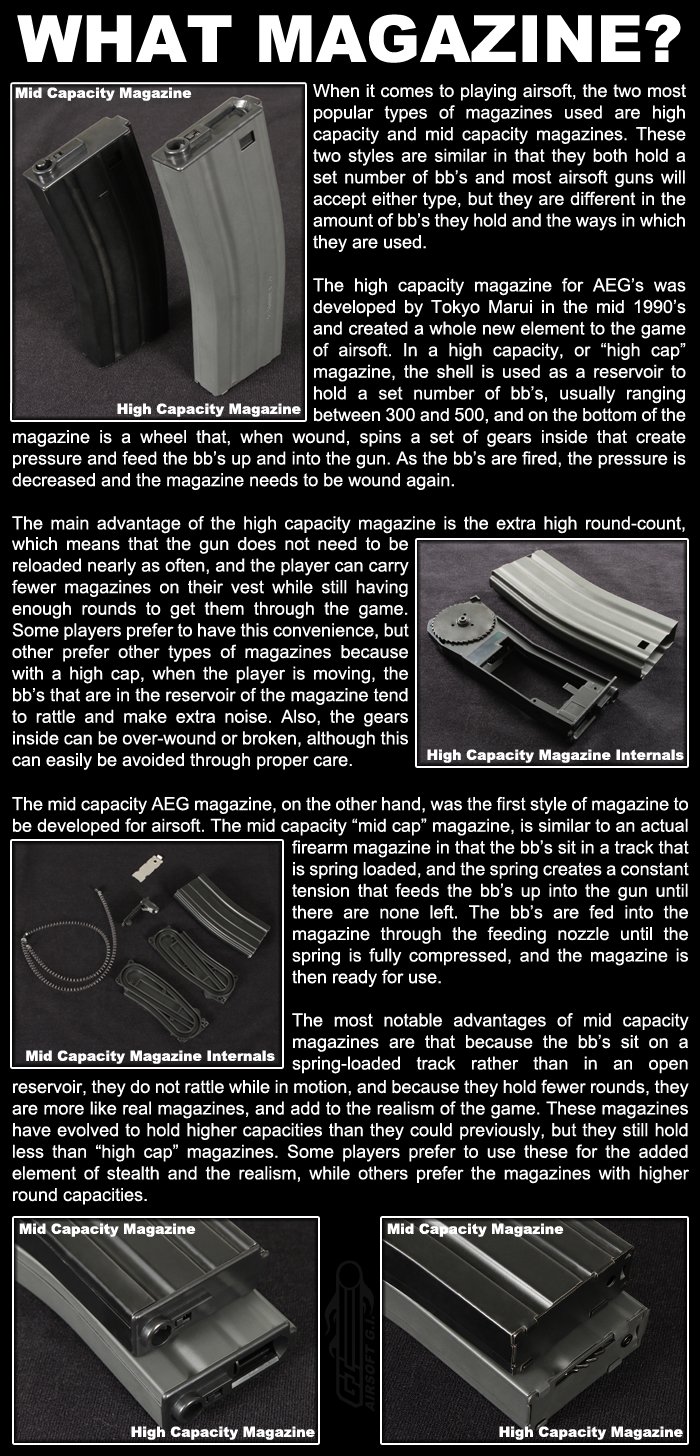 Specifications

Manufacturer: Classic Army
Color: Black
Package Includes: 6x Magazines
see 1 reviews
|
Write a Review
verified buyer
R. YANKOVITZ | 2019-10-17
Product Information:
Normally I'm not a big fan of high caps, but these dont rattle nearly as loud as my metal ones. They even feed on most of my AEGs (just not the ones that are finicky with mags in general). Id say if you really want high cap mags, these are a good bet.

Pros:


Cons:

Search Tags: AEG high cap capacity mag magazine clip clipazine airsoft polymer plastic black 330 round rounds rd box set bundle boxset clasic army CA m4 magazines pack 6 epm m16 Black Blk Capacity Magazines
People who bought this item also purchased: