Classic Army M4/M16 470rd High Capacity AEG Magazine
[CA Bottom Shelf][19916 / P362M]
( 1 Reviews )
❤ Add to Wishlist
Free Shipping for orders over $89 No Coupon needed
The Classic Army M4/M16 470rd High Capacity AEG Magazine is made specifically for the CA M4 / M16 / Scar series of rifles. Take a couple of magazines onto the field with you to make sure you have enough fire power to take on the enemy. This Magazine may fit other similar patterned rifles from other brands but cannot be guaranteed by Airsoft GI.
Specifications:
Manufacturer: Classic Army
Model: M4/M16 High Capacity AEG Magazine
Magazine Capacity: 470 rds
Package Includes: Magazine
Features:

Winding Wheel Design
470rd Capacity
High Capacity Magazine Operation:
Find the trap door, usually located on the top of the magazine near the loading nozzle.
Open trap door and fill reservoir with high quality BBs.
Wind the wheel at the bottom of the magazine (notice the pitch and volume of the click).
Continue to wind wheel until pitch changes. Once the click gets louder, or begins to "double click," the magazine is fully wound.
Insert magazine into gun and fire. You may need to rewind the wheel during play.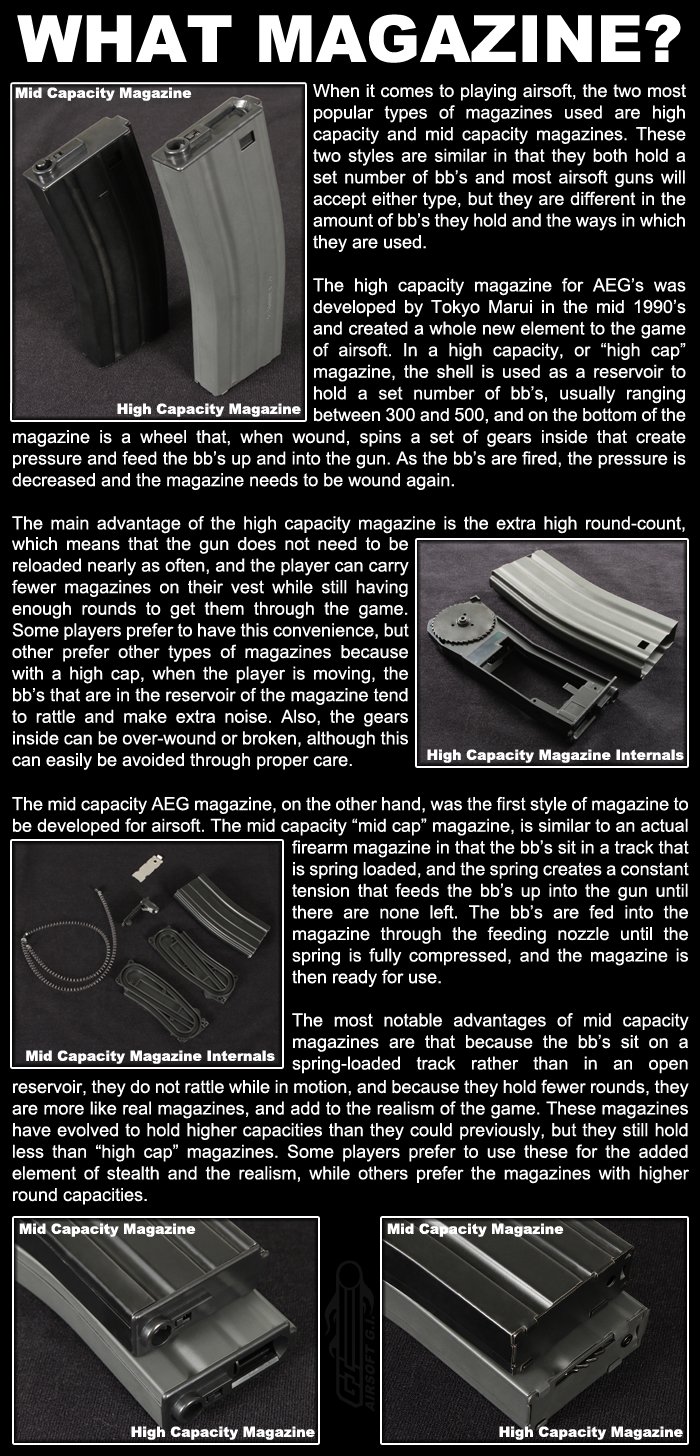 Specifications

Manufacturer: Classic Army
Color: Black
Package Includes: Magazine
see 1 reviews
|
Write a Review
G. NELIS | 2018-08-10
Product Information:
ive had a hard time finding a high cap that fits and feeds in my tippman commando but this works great no wobble. It also fits the g&g cm and the krytac trident mk2

Pros:
Feeds in just about every aeg i tried it on

Cons:
The fit in a krytac trident was a little tight i was worried id scratch up the magwell but i think it just scratched the mag a little instead
feed

will they feed well in the apex fast attack ?

752 days ago

Matt M

0

0

(I have this same question)

Staff Answer:

Yes, they will feed in the apex fast attack.

752 days ago

1 answers
1 asked

fit

will it fit the apex fast attack 702 keymod

752 days ago

Matt M

0

0

(I have this same question)

Staff Answer:

Yes, it will fit the Apex Fast Attack.

752 days ago

1 answers
1 asked

Fit

Would these fit/work well in my Apex Fast Attack M4

752 days ago

Matt M

0

0

(I have this same question)

Staff Answer:

Yes, they will fit the Apex M4.

752 days ago

1 answers
1 asked
Search Tags: Hicap Highcap Winding Wheel M4 M16 AR
People who bought this item also purchased: