Bravo Airsoft Super Tactical LED Flashlight (Dark Earth)
[A09G01][16620 / BRAVO FL SUPER TAC DE]
( 1 Reviews )
❤ Add to Wishlist
Free Shipping for orders over $99 No Coupon needed
If you're competing in an outdoor airsoft environment in the early morning, late evening or in the dead of night, you need a flashlight for your weapon. A mountable flashlight will give you the ability to see terrain and targets and will also give you a chance to momentarily disorient your opponents. When choosing a flashlight for your rifle, you'll want to consider several factors, including brightness, durability and ease of use. The Airsoft Super Tactical LED Flashlight from Bravo has all of these attributes and more.
Equipped with an extra-bright LED bulb that generates 180 lumens of blinding white light for more than two hours on a single battery, this flashlight brings best-in-class brightness and visibility to any arena. The LED bulb in the Bravo Airsoft Super Tactical LED Flashlight not only shines brighter than incandescent bulbs - it also lasts longer and emits a better color temperature to promote heightened visibility.
The Bravo Airsoft Super Tactical LED Flashlight is made of rugged anodized aluminum and O-ring sealed to prevent water or dirt from getting inside the light. This makes it a great choice for even the most demanding outdoor environments. The Bravo Airsoft Super Tactical LED Flashlight features thumbscrew mounts that will securely attach to many 1913 Picatinny rails. It is powered by two CR 123A or a single 16430 battery. Order yours in a tactically-specialized dark earth coloration here at Airsoft GI today!
Specifications:
Manufacturer: Bravo
Light Type: CREE LED
Length: 16cm
Weight: 7.6oz
Output: 180 Lumens
Beam Distance: 100m
Beam Diameter: .8m
Powered By: 2x CR123A or 1x 16430 Switch: On/Off Click Tailcap or Remote Pressure Activation

Features:
Narrow Throw for CQB Use CNC Aluminum Construction
Integrated Tactical Rail Mount
Remote Pressure Switch Included
Please Note:

This flashlight does not come with Batteries.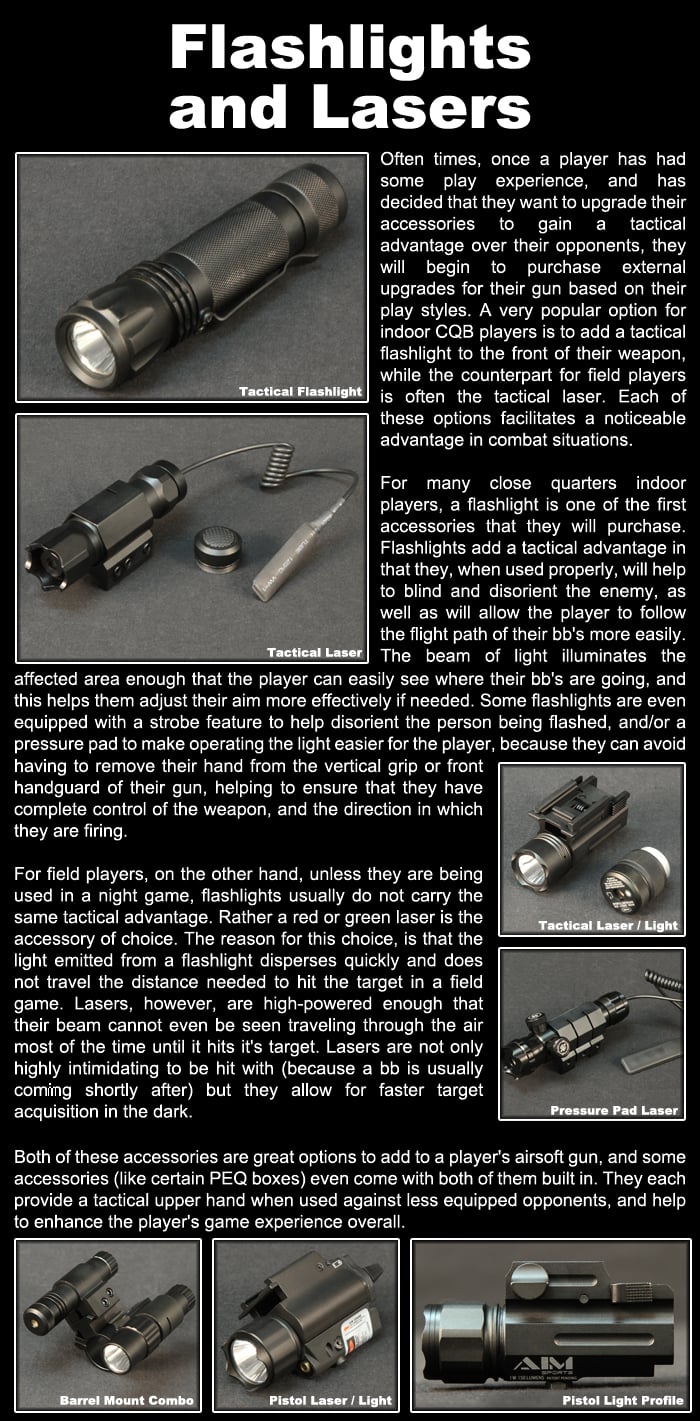 Specifications

Manufacturer: Bravo
Color: Dark Earth
Size: 6.25"L
Material: Metal
Package Includes: One (1) Flashlight, One (1) Remote Pressure Switch
see 1 reviews
|
Write a Review
A. WOODARD | 2014-03-25
Product Information:
One of the best flash lights you can get.and fo4 a decent price you get such a high quality light I would exspect it to be around $100nothing bad at all....

Pros:
Bright and ruggad.look awsome on a lot of guns

Cons:
None at all beside dont come with battery
Does it come with batteries?
0 answers
1 asked

how long does the battery last?
0 answers
1 asked

Velcro?

Does it come with Velcro strips For the pressure pad?

2051 days ago

Gilbert C

0

0

(I have this same question)

Staff Answer:

No

2051 days ago

1 answers
1 asked

LED
0 answers
1 asked

strobe
0 answers
1 asked

Do you have the nut and bolt speculations?

The nut comes loose very easy, after a long tiring game I sad down in the dead zone and fell out. My goggles have great view except for down so I couldn't find it. I need a new bolt, so I need the specs if you have them. Or provide replacements if u have them.

2371 days ago

Anamaria B

0

0

(I have this same question)

Staff Answer:

We do not have spare parts for those, however I would recommend going to a hardware store for extra nuts and bolts

2370 days ago

1 answers
1 asked

Does this color match the magpul pts moe stock and pistol grip
0 answers
1 asked
Search Tags: Light Illumination Mount Pressure Switch CQB Field AEG GBB Flash Light Tan Desert
People who bought this item also purchased: