Bravo AK-47 520 rd. AEG High Capacity Flash Magazine (Black)
[E05D00][09994 / B-06-04 / MAG-BRAVO AK FLASH]
( 5 Reviews )
❤ Add to Wishlist
Free Shipping for orders over $149
No Coupon needed
The Bravo AK-47 High Capacity Flash Magazine is an amazingly simple innovation that makes using a high capacity magazine quickly and efficiently much easier. On a traditional high capacity magazine the user must wind a wheel on the bottom of the magazine to feed the BBs into the loading tube. The Flash magazine uses a simple string that when pulled winds the magazine with only a few pulls. This system makes winding the magazine much quicker and easier as well as removing the wheel from the bottom of the magazine which can take away from the realism of the magazine.
Specifications:
Manufacturer: Bravo
Capacity: 520 rounds
Design: AK-47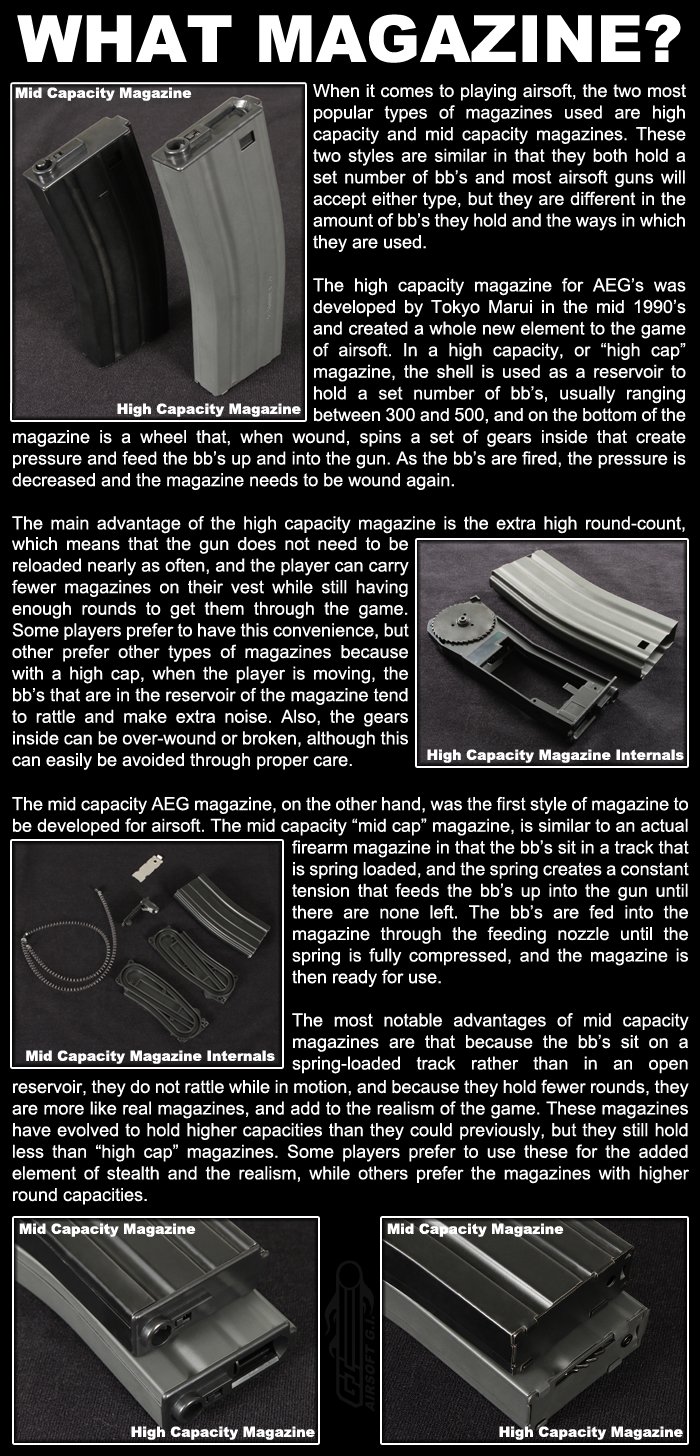 Specifications

Manufacturer: Bravo
see 5 reviews
|
Write a Review
verified buyer
K. WEBB | 2013-11-05
Product Information:
This product is a Bravo 520rd Flash AK-47 High Capacity AEG Magazine. The mag is black and full metal. The flash refers to the cable in the bottom (under a trap door) which is pulled to provide tension for BB feed versus traditional bottom wheel winding.

Pros:
Can I just start with Wow. This mag is awesome. Loads in nice and snug and looks absolutely real. I had to do a double take when I got it out of the box. Very sturdy construction with no wobble at all.

Cons:
Only one con (with full disclosure that I haven't full tested this mag out yet). It is a bit cumbersome to get at the pull cable when bare handed or gloved. I imagine that this will improve with practice.
verified buyer
U. RUIJSENAARS | 2013-11-26
Product Information:
Mag seems to be well made. My bravo m4 flash mags are awesome. This one , however, does not feed reliably in either my echo 1 or dboy AK's.

A real bummer.

Pros:
-Well made, rugged steel construction

Cons:
-does not seem to work in two of the main AK AEG lines.
verified buyer
J. RAMSEY | 2016-01-16
Product Information:
I bought one last year for MSRP, just notice a flash sale while checking airsoft gi for 50% off the magazine, I had to get two more (price of the first one I paid!!!!!) Going to get rid of my high cap wheel ones.

Few minor problems could be user error, as I didn't have this many problems at home.

4/5 It's not perfect but better than any high cap wheel winding.

Pros:
It's a little finicky but once it works, you are good to go. I was able to throw cover down 200-300 bb's in a short period of time, no problems. Best to own 2 or more, I had to keep reloading this from my bag in the field, which takes about 30 seconds to a minute and I got hit a lot trying to reload....


Cons:
Had problems seating it and it would reset the (string) bb's would shoot out the top,
It's prone to "reset/unwind" if you do not seat it properly. Sometimes it works best to pull the string once it is inside your gun.
I had less problems when I was at home testing it, I guess when I was playing I wasn't paying attention like I do at home taking my time.
Magazine

Well this work with the Echo 1 RED STAR AKM AEG Airsoft Rifle I want to know before hand.

1534 days ago

Christopher P

0

0

(I have this same question)

Staff Answer:

Yes it should work.

1533 days ago

1 answers
1 asked

Type of gun
0 answers
1 asked

How often do you have to pull the string on the mag.
0 answers
1 asked

AK-74u

Should this work for a GameFace GF76 AEG ? (It's a AK-74u)

3137 days ago

Gage T

0

0

(I have this same question)

Staff Answer:

It may work, however we cannot confirm 100%

3136 days ago

1 answers
1 asked

G&G

Can this work with the G&G RK-47?

3206 days ago

Logan F

0

0

(I have this same question)

Staff Answer:

This should work.

3206 days ago

1 answers
1 asked
Other Great Deals and Accessories:
Select the item from the Drop Down Menu and click add.
Search Tags: Mil Sim Gun AK Metal Field Mag Clip
People who bought this item also purchased: