Bobster Shooting Glasses w/ 3 Interchangeable Lenses
[D01G02][04954 / ESB115AC]
( 3 Reviews )
❤ Add to Wishlist
Free Shipping for orders over $89 No Coupon needed
The Bobster Shooting Glasses have wide lenses and adjustable ear pieces. The lenses are interchangeable and this kit comes with three different colors; amber, smoked, and clear. These glasses are not sealed therefore note recommended for use during game play.
Specifications:
Manufacturer: Bobster
Model: Shooting Glasses
Color: Black with Clear, Amber, and smoked lenses

Features:
Wide lenses
Interchangeable lenses
Adjustable ear pieces3
Anti-Fog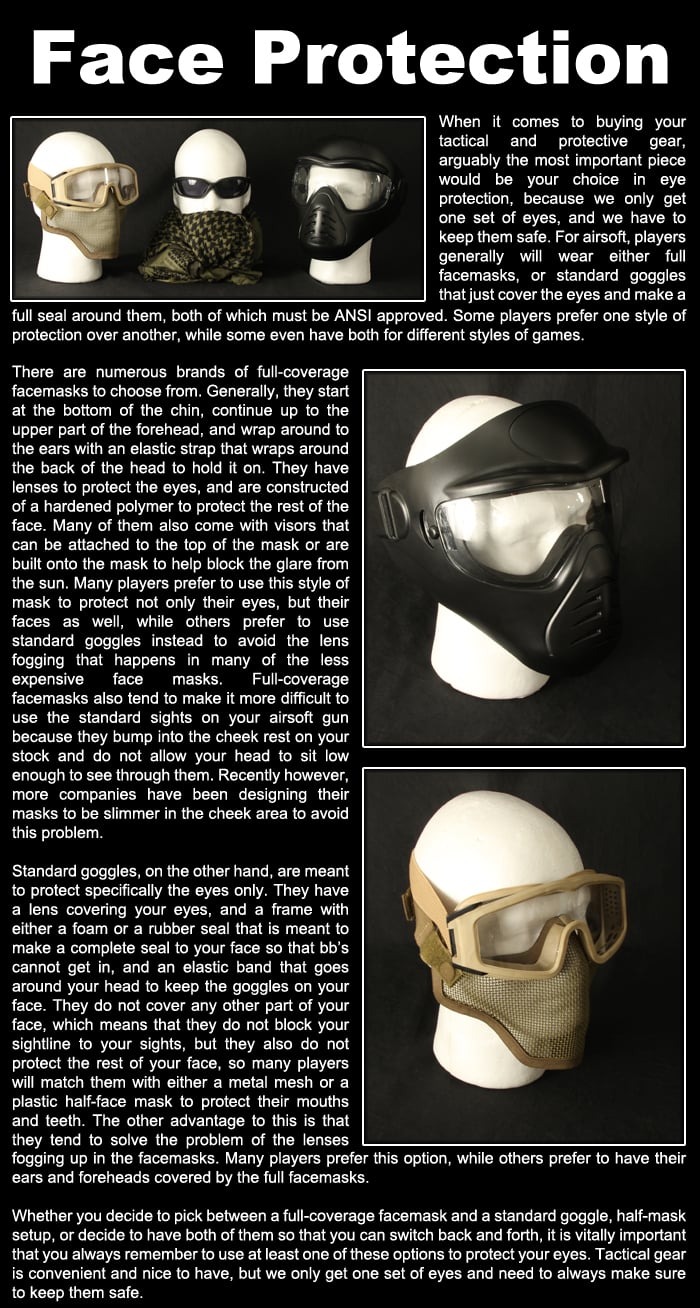 Specifications

Manufacturer: Bobster
Color: Clear / Amber / Smoked
Size: One Size Fits Most
Material: Polymer
Package Includes: One (1) Glasses, One (1) Amber, One (1) Smoked
see 3 reviews
|
Write a Review
verified buyer
D. LEDUC | 2009-06-20
Product Information:
This is very high quality eye protection. All of the lenses are very clear and are large enough to give "wrap around" eye protection. Changing the lenses is easy, if you are intelligent. The frame is adjustable for size, so they won't easily come off. Plus you look cool with these on, so that's a big plus also. The only thing I have to say other than all that is that I do not recommend these for games.
*GO WITH GOGGLES FOR GAMES!*

Pros:
All of the lenses are clear, and there are no smudges from the factory.
They're actually strong enough to stop a BB.
They look cool ;]
Are adjustable for size.
Comes with case, instructions, and cleaning cloth.

Cons:
You (you) don't have one! So get these!
verified buyer
L. MOORE | 2009-08-11
Product Information:
Overall, they are decent shooting glasses. They do their job, and they're good at it. They are ANSI rated. Swapping lenses are easy, as long as you READ the instruction - for some reason, a few people seriously suffer at such an easy task - otherwise, you might end up damaging your lenses, so please don't be a hasty fool and read. The size is adjustable, although it is slightly big on me even with the smallest setting. The comfort factor is satisfactory. They're not the most comfortable glasses I've worn in my life, but they don't drive me crazy either. They do tend to get foggy after vigorous exercise, but, seriously, quit your belly aching and go buy anti-fog spray. It's really not that expensive.
These glasses multi-purpose suitable. They can also be used for running, biking and other.

Pros:
Case, 3 lenses, instruction, cleaning cloth - all included
Adjustable size
ANSI rated
Lenses are easy swapped - as long as you follow the instruction
Flexible

Cons:
Foggy - it is nothing major. Read above and buy anti-fog spray.
Nose piece is clear - I prefer a black one, but again, it is nothing major.
J. MCDONALD | 2014-01-10
Product Information:
I was very happy with this purchase. It came with three lenses, a nice carrying case, and a cleaning cloth. The glasses are comfortable to wear and provide a wide area of protection. Also they do not disrupt field of vision at all.

Pros:
-cheap!
-3 lenses
-clear, undisrupted field of view
-don't fog up as much as full seal goggles

Cons:
-difficult to swap lenses. I actually had to youtube it.
Search Tags: Low Profile Form Fitting Anti-Fog Shooting Range Shooting Glasses Sunglasses Head Wear Head Gear Equipment Anti Fog Removable Changeable Lens Smoke Smoked Tint Tinted Amber
People who bought this item also purchased: