Annex MI-3 Thermal Full Face Mask (Black)
[1][11117 / V353204]
( 6 Reviews )
❤ Add to Wishlist
Free Shipping for orders over $149 No Coupon needed
The Annex MI-3 is a great entry level full face mask that has similar features to high quality masks at a fraction of the price. The MI-3 features a closed cell, water resistant SBR foam which allows the mask to be comfortable and easily washed. The body of the mask is made from high density injected polyethylene. The polycarbonate lens features Fog and scratch resistant coating as well as a hard coated lens treatment. The Annex MI-3 is the perfect choice for a player that requires a high quality face mask without breaking the bank.
Specifications:
Manufacturer: Annex
Model: MI-3
Color: Black
Package Includes: One (1) MI-3 Mask

Features:
High strength high-density injected polyethylene
QuickChange lens-release system
Closed-cell, water-resistant SBR foam
fog and scratch resistant dual paned thermal polycarbonate lens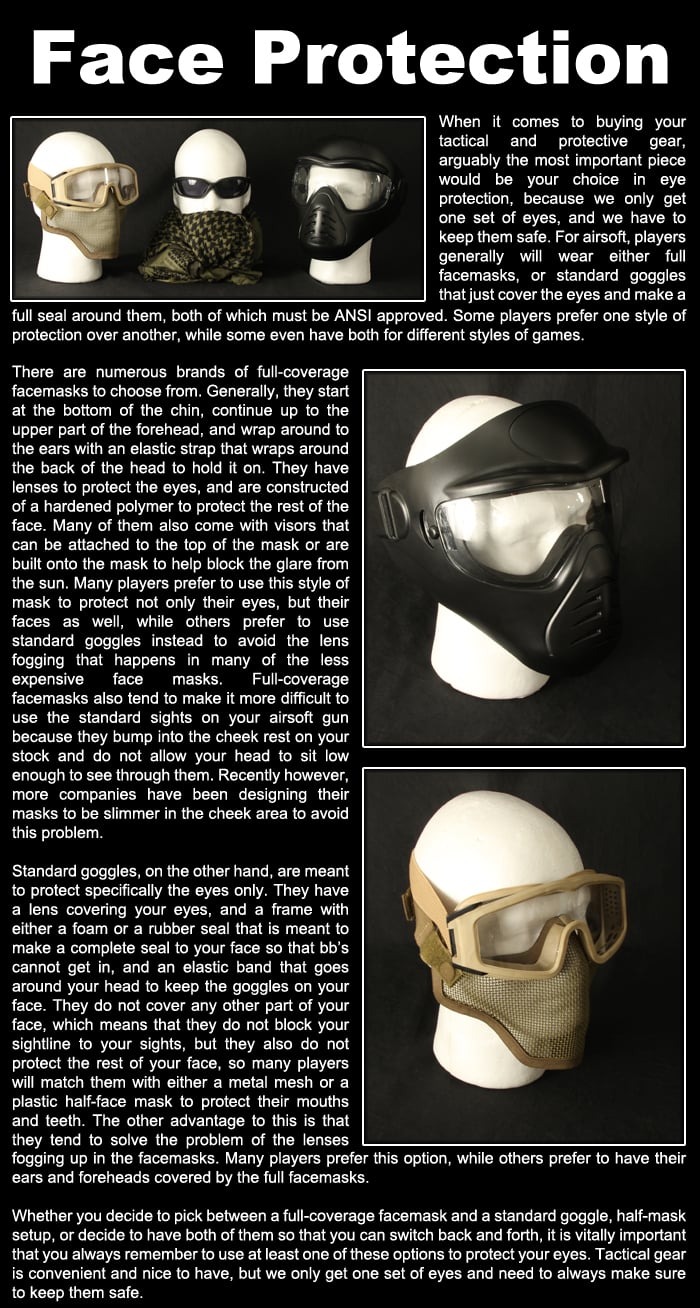 Specifications

Manufacturer: Annex
Color: Black
Size: Adjustable
Material: Plastic
Package Includes: One (1) Mask
see 6 reviews
|
Write a Review
verified buyer
A. OSUNA | 2015-02-23
Product Information:
Amazing mask good looking amazing no fogging.

Pros:
Doesnt fog
Comfortable straps
Other than the aiming it's amazing

Cons:
Hard To aim down g36 sights unless you tilt it
verified buyer
C. DRAKE | 2015-03-19
Product Information:
the annex MI-3 Thermal mask is quite Good for its affordable coast , the pads and straps fit great and has never fogged on me yet , as far as looking down sights , it can be a little tricky no matter what kind of mask or face cover you have on , if you have a full mask like the MI-3 or anything along that line you might want to look into Free aim practice just as a back up.

(Note: Free Aim, is the art of looking and shooting with out you aiming using the sights but rather your hand eye coordination. A must have skill for any (CQB) player or fast pace player.)

Pros:
Good Fit
Good Price
Thermal Lens
Head straps have gummy Grips on them for non-slip grip
(Note: as with all face mask's i do recommend wearing a hat backwards for rear head and neck cover
Chin strap
Plenty of room for (Custom artwork) on the mask using paint pens
(Note: Don't mark on your Lens, only the black plastic)
The visor comes off if you want.
(Note: i added a clip on Hat light with Red and white LED's for night and dark situations right onto the visor)
You can Swap out Lens's and goggle Straps Very easy.

Cons:
I Honestly cant think of anything bad to say about this mask , i have had it for a while and it has yet to let me down, so i guess if you want a (Con) its only real flaw is being (REALLY GOOD) for a great price lol.
verified buyer
K. GREGG | 2017-09-06
Product Information:
When I got this, I was very pleased of it. They definitely weren't lying when they said "anti-fog." I haven't used it on the field yet, but I have ran around with it on in my backyard on a hot and humid day and it felt like the lens wasn't even there. If you breath directly on the lens, the fog will go away in under 10 seconds. I have no regrets about this product.

Pros:
Anti-fog
Lens is really clear, no tint at all (could be a con)
One-size-fits-all with adjustable strap
Visor can be attached/detached whenever desired
Very breathable

Cons:
Tiny bit of glare, but not enough to be noticeable on the field.
Strap on back says "RENTAL" which could cause some problems on fields that use this product as a rental
You can hear your own breathing, but at least you know that your lungs are working O.K.
Thermal lens?

I notice that there are two different versions of this mask on the site. This one is $8 more because it has a "thermal" lens. What exactly does that mean? and what advantage would a thermal lens have over the normal one?

2316 days ago

Joshua W

0

0

(I have this same question)

Staff Answer:

Thermal lenses have less of a chance of fogging

2316 days ago

1 answers
1 asked

what size is it
0 answers
1 asked

Fast Helmet

Can this fit a fast helmet if i remove the visor ?

2906 days ago

Jim U

0

0

(I have this same question)

Staff Answer:

No

2897 days ago

1 answers
1 asked

is the mask ANSI approved

ansi z87.1

2980 days ago

mellisa m

0

0

(I have this same question)

Staff Answer:

yes

2978 days ago

1 answers
1 asked

sights

when using the mask can you look down iron sights on a m4/m16

3051 days ago

Noah C

0

0

(I have this same question)

Staff Answer:

Most likely not

3051 days ago

1 answers
2 asked

Visor

Can I remove the visor and use this mask with a helmet?

3079 days ago

Chase c

0

0

(I have this same question)

Yes, the visor pops right off if you use a tiny bit of force. It can also be re-attached.

3041 days ago

Can I remove the visor and use this mask with a helmet?

3079 days ago

Chase c

0

0

(I have this same question)

Staff Answer:

The visor should be able to be removed

3078 days ago

2 answers
1 asked

can it fit over glasses

My glasses are pretty narrow and I need a mask

3157 days ago

Chris H

0

0

(I have this same question)

Staff Answer:

The mask is not designed to be used with glasses. However, the product should be compatible to use with most glasses.

3154 days ago

1 answers
1 asked

Can detach just the goggles if you want to wear just them?

I want to buy a pair of goggles and face mask.

3223 days ago

James S

0

0

(I have this same question)

Staff Answer:

No, this product is a one piece mask design.

3219 days ago

1 answers
1 asked
Search Tags: Face Eye Protection Polymer Head Gear Equipment Head Wear MI3 Valken V-TAC VTAC Paintball Paint Ball Visor Dual Paned Pane Thermal Lens Teeth Protection
People who bought this item also purchased: