AMP Tactical Laser/Light Combo
[W09B06][02534 / TFLSM1]
( 2 Reviews )
❤ Add to Wishlist
The AMP Tactical Laser/Light Combo is the perfect accessory for any pistol with a rail. The light allows the user acquire targets in low or no light, and the laser allows for quick target acquisition without having to use iron sights.
Specifications:
Manufacturer: AMP
Light Lumen: ~50
Laser distance: ~75 Feet
Batteries: CR123a
Features:
* Comes with coiled pigtail switch
* On/Off switch located to rear
* Selector knob can switch Laser, Light or both at the same time
Please Note:
Laser distance was measured indoors with the lights on, actual distance varies depending on location and lighting conditions. Light lumen was estimated with brand new CR123a batteries, actual lumen amount unknown.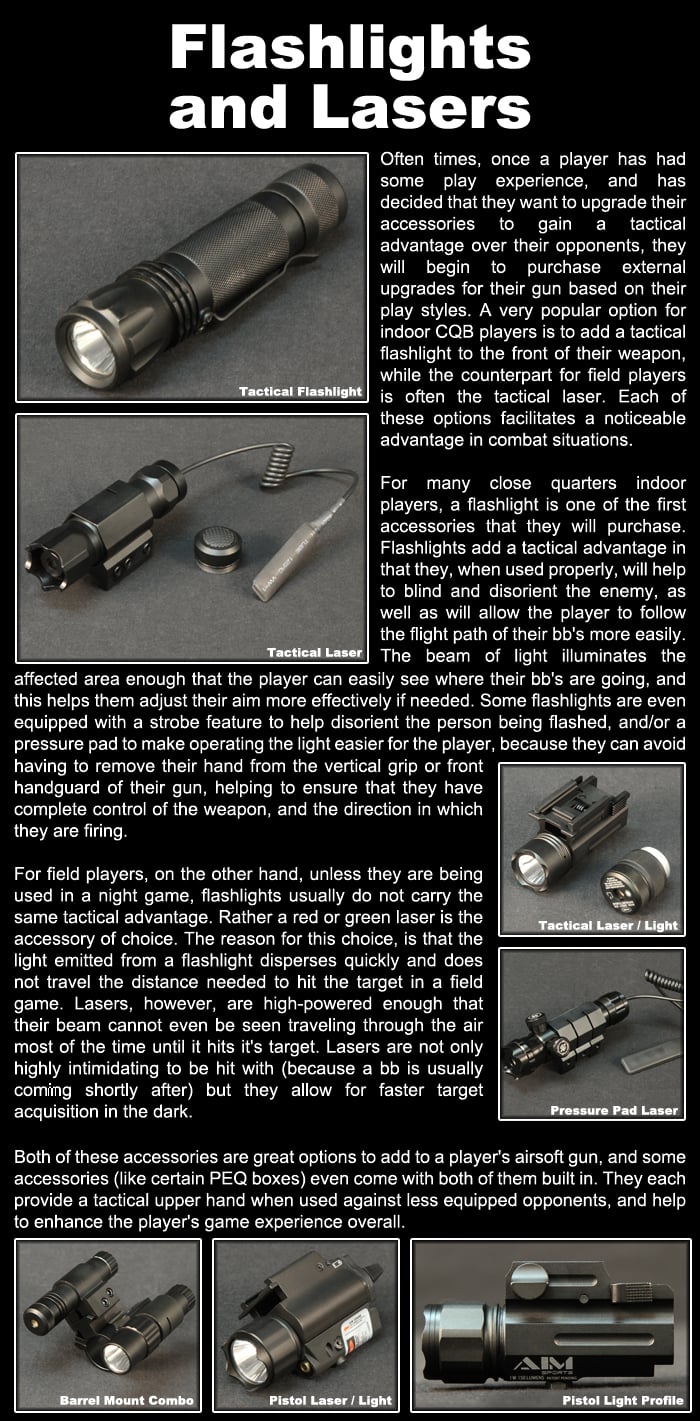 Specifications

Manufacturer: AMP Tactical
see 2 reviews
|
Write a Review
B. RIDGLEY | 2008-01-31
I had my doubts, but all of those went away when I put this on my glock, it is well worth the $85 it is not led, but it is yellow light, like the bright kinda yellow not dull, the laser can go for god knows, probably forever, but the light, the limit is about 200 feet, its good range is down from 100 feet, any where past there, its little hard to make out. it takes 2 cr123a batteries, that are included. asgi did not say, but another nice thing, it comes with a pressure switch. ontop of that, you can select what you want, light laser, light and laser, or you can select the whole thing off with the power button on. it does make your pistol a little front heavy, which is good, reduces kick back, but you wont have to worry about that because for me, the laser was already sighted in this is perfect for a pistol, but you will have to get an adjustable (fully) holster for it to fit, it will not fit vests with the crossdraw. that is the only thing close to a con, is a new holster, it is very durable and well worth the investment, even if you think you do not need it, you do, youll wonder how you survived with out it.
T. PREWITT | 2008-04-09
Great product, my friend owns this and put it on his AEP and it works great. like the guy below me said, the laser extends farther than most pistols will shoot accurately and the light that comes on it is great for night use. overall it is a good investment if you can get over the fact that it is $85. other than the price and having to buy a new holster for your pistol, this thing is awesome. it will work great mounted on a rifle as well.
would it fit on a m4 raider g&g combat machine

Im just curious

2441 days ago

Gilbert C

0

0

(I have this same question)

Staff Answer:

It should fit onto the rail.

2424 days ago

1 answers
1 asked

Does this work with the Elite Force Co2 1911?

Same question as the above I'm using one of those pistols and starting a pistol load out so if u have answer that would be appreciated. Thanks, Roman

2621 days ago

Roman S

0

0

(I have this same question)

Staff Answer:

It should work

2620 days ago

1 answers
2 asked
Search Tags: CQB Distraction Range AEG GBB Pistol Flash Light Spring Cleaning
People who bought this item also purchased: