AIM Sports 4x32 Tri-Illuminated Scope w/ Tri-Rail RR Reticle & QD Mount
[W05D08][11011 / JTDTRQ432G]
( 3 Reviews )
❤ Add to Wishlist

New to airsoft? Here are some safety tips for airsoft guns that we recommend following.
Established in 2007, AIM Sports Inc. first made its appearance in the firearm's accessory industry by doing private label production for several major manufacturers and retailers. During that period, AIM Sports began receiving requests from numerous dealers and distributors for access to the affordable, high quality products that Aim was capable of producing. AIM's Research and Development team, with over 10 years of experience, continuously strives to improve and develop new products for the company. AIM has expanded its original product line of optics, mounts, and accessories to include products designed to enhance a wide variety of firearms used by armed forces around the world, including some of the latest and most innovative platforms that firearms industry offers.

AIM Optics are not only deigned for precise targeting, but are made to endure rugged hunting conditions and harsh combat environments. Built with the latest technology in optics engineering, each lens is multi-coated and fused into the glass. This process provides outstanding anti-fog coating, excellent scratch resistance, superior light transmission, and a sharp crisp sight picture every time. With each scope carrying a limited lifetime warranty, you can mount any AIM scope on your rifle with confidence.

The AIM Sports 4x32 Tri-Illuminated Scope w/ Tri-Rail, Rapid Ranging Reticle, and QD Mount is an extremely modular scope that is perfect for any type of game play. This scope features a fixed 4x32 illuminated zoom for those long range shots or spotting out enemy players at a distance. Three small rails are featured on this optic, one on the top and one on each side to give the user the unique ability to mount a small red dot on the scope. Mounting a small red dot allows the user to quickly acquire targets at a close range instead of having to use the magnified optic. To allow the user to quickly remove or attach this optic, a QD mount is featured. The Body of this Scope features a heavy duty construction that can easily handle any thing you can throw at it.
Specifications:
Manufacturer: AIM Sports
Zoom: 4x
Illumination: Red/Green/Blue
Reticle: Rapid Ranging

Features:
Full metal construction
4x zoom
QD Rail Mount
Illuminated Reticle
Top Rail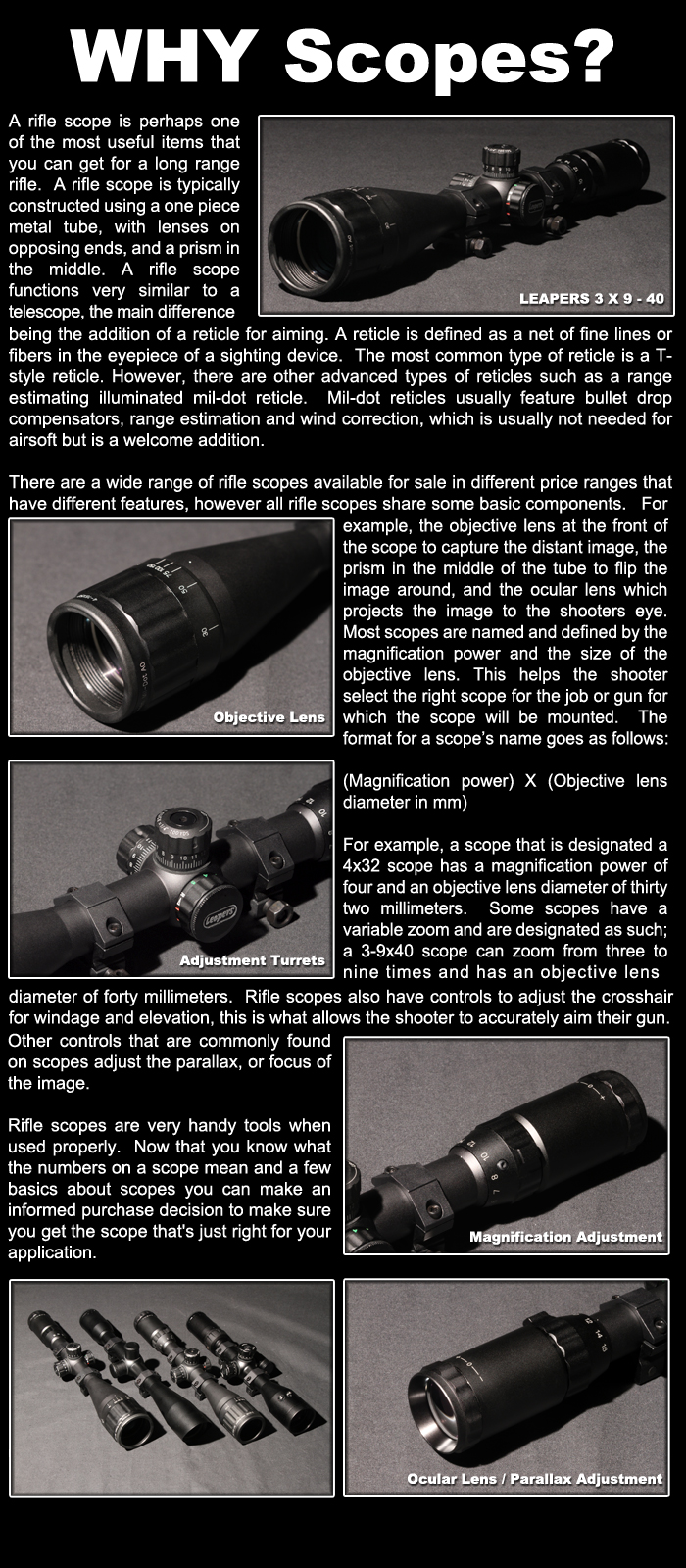 Specifications

Manufacturer: AIM Sports Inc.
see 3 reviews
|
Write a Review
verified buyer
R. HARRIS | 2013-12-20
Product Information:
I won this sight in AGI's giveaway promotion.

Very nice sight mounted on an M4, and it look very cool. It's magnification is that to what you would expect from an ACOG. A bit heavy and does not have ironsights. You will have to by a micro size red dot and place it on one of the rails. It's full metal and you can't adjust the magnification. It is a scope so you need be pretty close to it.

The large dial on top is the battery housing and the illumination dial for the red, blue, and green reticles. Three intensities for each. The reticle itself is somewhat big and obstructive especially at the brightest settings. It also only has one reticle which I don't particularly like. Think the center paragraph icon in Microsoft Word. I find having it off completely (there are range markings in your viewport like expected of a scope) or on the first brightness setting works great.

The small dial on the top and right side are caps for the screws used to adjust for windage and elevation.

The QD mount requires some adjustment to clamp securely onto a picatinny rail without wobble but that only takes 10 secs to perform. It's solidly built and works as expected. If you have a triangle front sight post, you will have to buy a 1/2" - 3/4" rail for co-witnessing or 1" to sight over the post (me). (Due to the magnification, you can actually see around the post so you don't actually need a rail but that feels very weird to me and makes the system look handicapped.)

Pros:
Quality build
Essentially a battery operated ACOG with rails
Rails for lights, lasers, and micro RDS
Red, blue, and green with reticles with 3 brightness settings for each
Rugged contruction

Cons:
Heavy
Full metal
Can't adjust maginifcation (not a problem if you actually want an ACOG)
Reticle illuminated is a bit obstructive
Only one reticle and it isn't that good illuminated brightly.(So no chevron like an ACOG.)
verified buyer
R. HARRIS | 2013-12-27
Product Information:
Some corrections from my previous review:

There are several versions of Trijicon ACOGs, each with a different reticle. As it turns out, there is a model that uses the same reticle as this scope - the Crosshair .223 Ballistic Reticle. For me, this bumps it up another half a star.

Pros:
+ Faithful replica of crosshair

Cons:
Same cons I stated before.
+ There are threads inside the housing in front of the front lens but I can't find a killflash that will fit it
verified buyer
N. WINNIE | 2014-01-11
Product Information:
I won this scope in the holiday giveaway special airsoft gi was having. When i won this i was pumped its a 119 dollar scope that i got for free and it fit perfectly on my new dmr/m4 platform. So when i received the scope i immediately pulled it out and my first thought was this thing was heavy! but not in a bad way at all. it feels like a real steel scope. The rails and trademarks are beautiful. Perfect for mounting a Contour or GoPro camera. the way you attach this scope to a rail system is quite interesting. there is one pin you take out on the right side then you put that pin back and swing the lever around and the scope is snug on any rail system. The three different colors and brightnesses are really nice. Overall this scope will blow you away when you pick it up and it looks intimidating on any rail system. I would highly recommend this to anyone if you want to spend the money!

Pros:
Metal
Wont break on you
Snug fit on your rail system
beautiful rectile
3 different color settings with brightnesses
5/5 for me
It was free too!

Cons:
a few cons for me but none that should make you hesitant to buy this item.
the eye relief is close.. like sniper scope close. this isn't bad its just not a tube style or eotech style eye relief
the nob to turn the brightness and color settings is stiff but it loosens up with time i had no problems with it at all once i used it once or twice
overall beautiful product by aim sports and one i would highly recommend to any player!
Will it fit 20mm RIS?

Will this scope fit onto a 20mm RIS system in my Echo 1 Troy MRF-X?

3500 days ago

Naz been I

0

0

(I have this same question)

Staff Answer:

It should be able to mount onto that gun.

3498 days ago

1 answers
1 asked
Search Tags: Reticle Optic Scope Reflex AEG GBB Sight Range
People who bought this item also purchased: