Zion Arms 11.1v 1100mAh Lithium-Ion Brick Type Battery (Deans)
[66390 / ZA-LIPO11.1V1100FD]
Free Shipping for orders over $179
No Coupon needed
New to airsoft? Here are some
safety tips for airsoft guns
that we recommend following.
Please Note: Lithium batteries MUST be charged with a Lithium Balance Charger!
Description:
Zion Arms now makes batteries! The same company that brought you the Zion Arms Mosfet found in every Gen3 Lancer Tactical also has a new line of high-end Lithium Batteries. Lithium batteries are the newest available batteries for airsoft and other hobby toys. They are designed as a light weight, high output power source. This 11.1v battery is ideal for players in need of quicker responses and faster ROFs with only half of the size of normal batteries.
Specifications:
Manufacturer: Zion Arms
Voltage: 11.1v
Milliampere Hours: 700mAh
Cell Type: Lithium Ion (LiIon)
Connector Type: Deans

LiPoSack Use and Safety Instructions:
Battery safety:

∑ Lithium Polymer/Ion batteries are volatile. Failure to adhere to established charging guidelines may result in fire, personal injury and damage to property if charged or used improperly.



The makers of LipoSack or its distributors or retailers assume no liability for failures to comply with these use and safety guidelines.

By purchasing this product, the buyer assumes all risks associated with its intended use. If you cannot comply with these guidelines please return this product unused to your retailer.


1) Charge batteries in a safe area away from flammable materials and only on a non-flammable surface in a vented area. Do not discharge batteries below 3 volts/cell. Doing so may result in cell damage and subsequent cell venting upon a subsequent charge.
2) Do not recharge damaged batteries. Dispose of damaged batteries in the proper manner.
3) Some Lipo chargers on the market may have technical deficiencies that may cause it to charge the battery incorrectly or at an improper rate. It is your sole responsibility to assure that the charger you purchased works properly. Always monitor the charging process to assure batteries are being charged properly. Failure to do so may result in cell damage or fire.
4) In the event of a crash, you must remove the battery from the model for observation and place in a safe open area away from flammable materials.

LipoSack Use Instructions:

1) Ensure that charger rate is properly set and polarity is correct.
2) Attach charging leads to battery.
3) Place battery in LipoSack towards the bottom.
4) Place LipoSack on non-flammable surface.
5) Route charge leads through vent at the top seam of the LipoSack.
6) Close top flap of LipoSack and press hook and loop closure fully closed.
7) Charge battery using proper charging practices.


Airsoft GI Battery Disclaimer:
Airsoft GI is not responsible for batteries that have been damaged as a result of improper operation, storage, misuse or abuse, accident or neglect, such as physical damage resulting from misuse; contact with liquid, water, rain, extreme humidity or heavy perspiration, sand, dirt or the like, extreme heat, or food; use of the battery for commercial purposes or subjecting the battery to abnormal usage conditions, or other acts which are not the fault of Airsoft GI. Make sure you understand how your battery should be used and how long it should be charged. If you have any doubt regarding the operation, charging, or storage of your battery and/or charger, ask. A charging battery should not be left unattended and should be picked up periodically while charging to check for overheating. Do not charge batteries near flammable material. For more information regarding batteries please refer to the Frequently Asked Questions or the Airsoft GI Airsoft 101 Guide.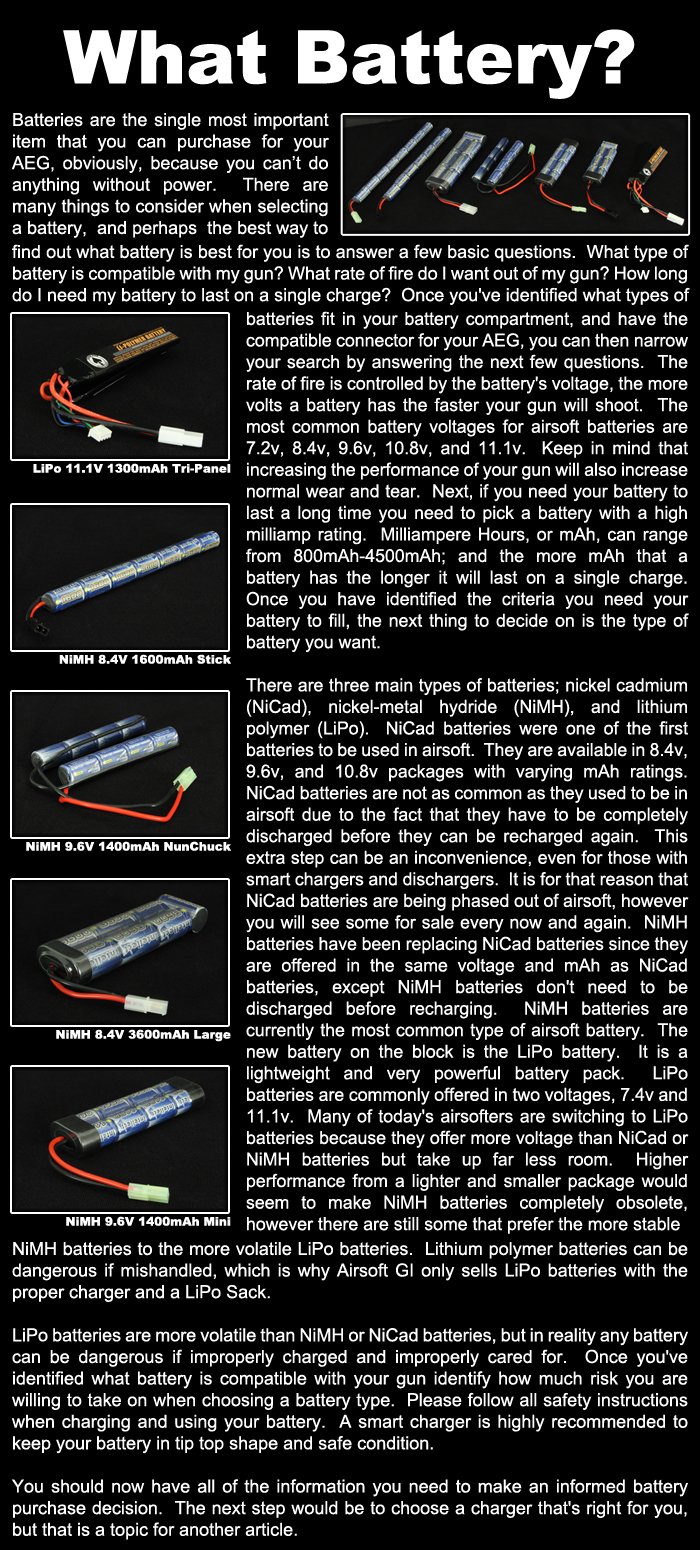 Specifications

Manufacturer: Zion Arms
People who bought this item also purchased: