Valken V-Tac Half Finger Gloves (Black/M - L)
[J06F02][11108 / 48641]
( 7 Reviews )
The V-Tac Armored Half Finger Gloves are designed to provide your hands with maximum protection possible without the restriction of full-fingered gloves. They feature a flexible plastic armor on the back of the hand that is soft enough to allow your hands to move freely, but still sturdy enough to keep them safe. They also feature a breathable padded mesh construction on the back to help keep your hands cool under pressure, and an abrasion resistant padded palm for even more protection. If you are looking for the perfect gloves to keep your hands safe, but restrict them as little as possible at the same time, be sure to check out the V-Tac Armored Half Finger Gloves.
Specifications:
Manufacturer: V-Tac
Model: Armored Half Finger Gloves
Color: Black
Size: Medium
Package Includes: One (1) pair of gloves

Features:
Flexible plastic armor
Breathable mesh back
Abrasion resistant padded palm
Velcro wrist strap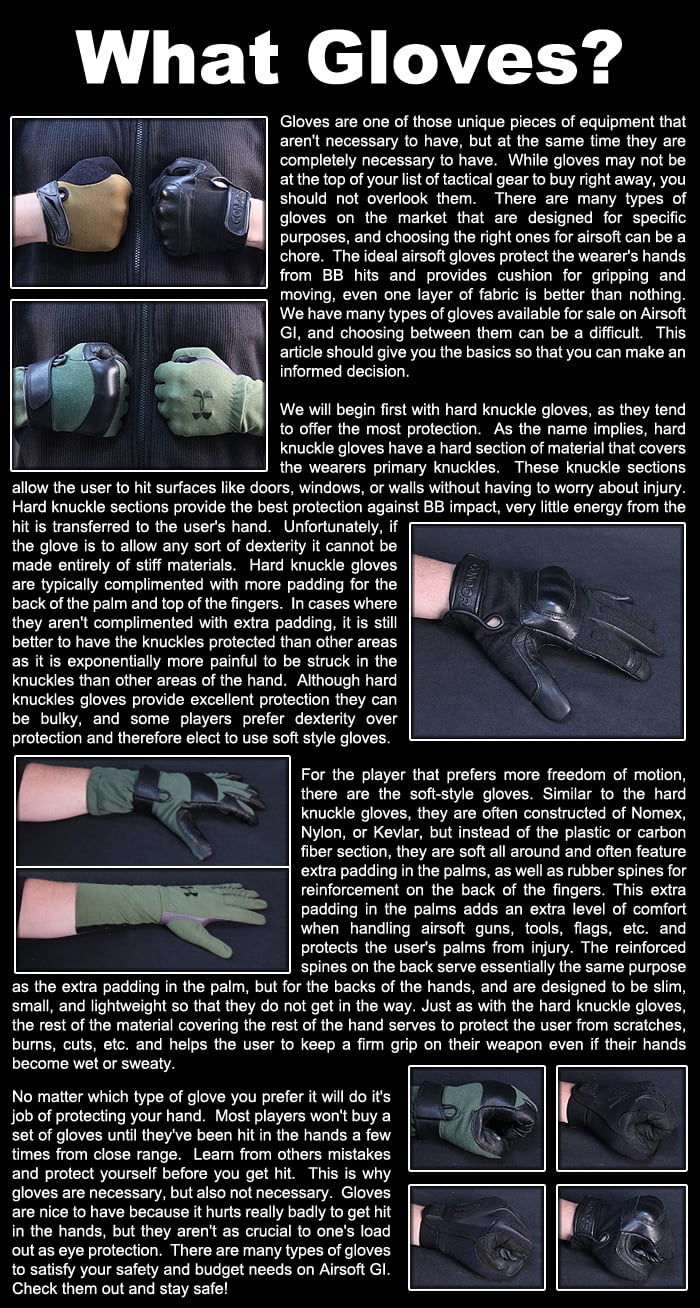 Specifications

Manufacturer: V-Tac
Color: Black
Size: Medium - Large
Material: Polymer / Nylon
Package Includes: One (1) Set of Gloves
see 7 reviews
|
Write a Review
verified buyer
A. MOSS | 2013-12-13
Product Information:
Okay, so before this I was not using gloves at all. I didn't think there was a cheap pair to get and I only had like $20 to spend. I figured gloveless days at the field wouldn't be a problem, until I got nailed in the had at Tac City. So, I decided to look again, and I found these beauties. They are mesh with plastic armor that allows for total dexterous control, the palm area is padded with more soft padding, the open fingers allow me to feel what I'm doing, and for only $10, these gloves are a total STEAL.

Pros:
Cheap
Breathable
Dexterous
Solid armor plating
Tight wrist strap
Only costs $10
Extra padding in palm area
Really light weight
Extremely comfortable (if I left them on I would forget about them after a few hours)
Glove clip (I've lost one glove of a pair before)

Cons:
NO CONS WHAT SO EVER, but if you see the half finger design as a con then just pay $2 more for the full finger variant

Also, since there is only a 5 star possibility, my actual rating is 100 out of 5 stars :D.
J. SHANKS | 2014-01-29
Product Information:
I acquired these gloves for Christmas and I haven't really got the chance to use them yet because I live in Wisconsin and it is bitterly cold for the past month or so. But I put them on for about a half hour every now and then to break them in. If you don't do that before use they may be a little stiff, but that is easily overcome by use so no biggy.


Pros:
Good padding
Strong coating to protect your hands
Half finger cut of (can be pro or con)
Glove clips
Tightens around wrist

Cons:
Stiff at first (just need to be broken in)
Only half finger (once again can be fro or con)
verified buyer
K. SAGENDORF | 2014-03-27
Product Information:
These gloves are great, they have quite a bit of padding so they are very comfortable. The plastic, or rubber shell that protects your knuckles are great and very firm too. It's just annoying sometimes because these aren't all that flexible in my opinion, because of the outer shell. Other than that though you only pay $10.00 and you get pretty well made gloves.

Pros:
Padding
$10
Strong outer shell
Pretty good material
The ends of your fingers remain uncovered, that's good if you have to fiddle around with things on the field (or it may be a con to some).

Cons:
The flexibility isn't the best
The straps can slide off sometimes
Search Tags: Valken Protection Grip Hand Glove VTAC V-TAC Fingerless Finger Less Knuckle Armor SWAT Dark Urban
People who bought this item also purchased: