Valken Energy 9.6v 1600mAh NiMH Crane Stock Battery
[K12C00][14727 / 48108]
( 7 Reviews )
❤ Add to Wishlist
Free Shipping for orders over $89 No Coupon needed
The Valken 9.6v 1600mAh NiMH Crane Stock Battery is designed specifically for use with a Crane Stock. The battery is pack is separated into two halves to fit the slots of the crane stock around the buffer tube. This battery will increase the rate of fire of your airsoft gun due to the higher voltage and its higher discharge rate.
Specifications:
Manufacturer: Valken
Voltage: 9.6v
Milliampere Hours: 1600mAh
Cell Type: Nickel-metal hydride (NiMH)
Connector Type: Mini
Recommended Fit: M4A1 hand guard, M733 hand guard, M4 Commando hand guard, MP5A5 hand guard, and MP5SD6 hand guard
Please Note:
This battery will fit in the G4, Combat Machine, G&G, VFC, KWA, and TSD crane stock. If you have any questions about which type of crane stock this battery will fit in please call us at (909) 869-0671.
Airsoft GI Battery Disclaimer:
Airsoft GI is not responsible for batteries that have been damaged as a result of improper operation, storage, misuse or abuse, accident or neglect, such as physical damage resulting from misuse; contact with liquid, water, rain, extreme humidity or heavy perspiration, sand, dirt or the like, extreme heat, or food; use of the battery for commercial purposes or subjecting the battery to abnormal usage conditions, or other acts which are not the fault of Airsoft GI. Make sure you understand how your battery should be used and how long it should be charged. If you have any doubt regarding the operation, charging, or storage of your battery and/or charger, ask. A charging battery should not be left unattended and should be picked up periodically while charging to check for overheating. Do not charge batteries near flammable material. For more information regarding batteries please refer to the Frequently Asked Questions or the Airsoft GI Airsoft 101 Guide.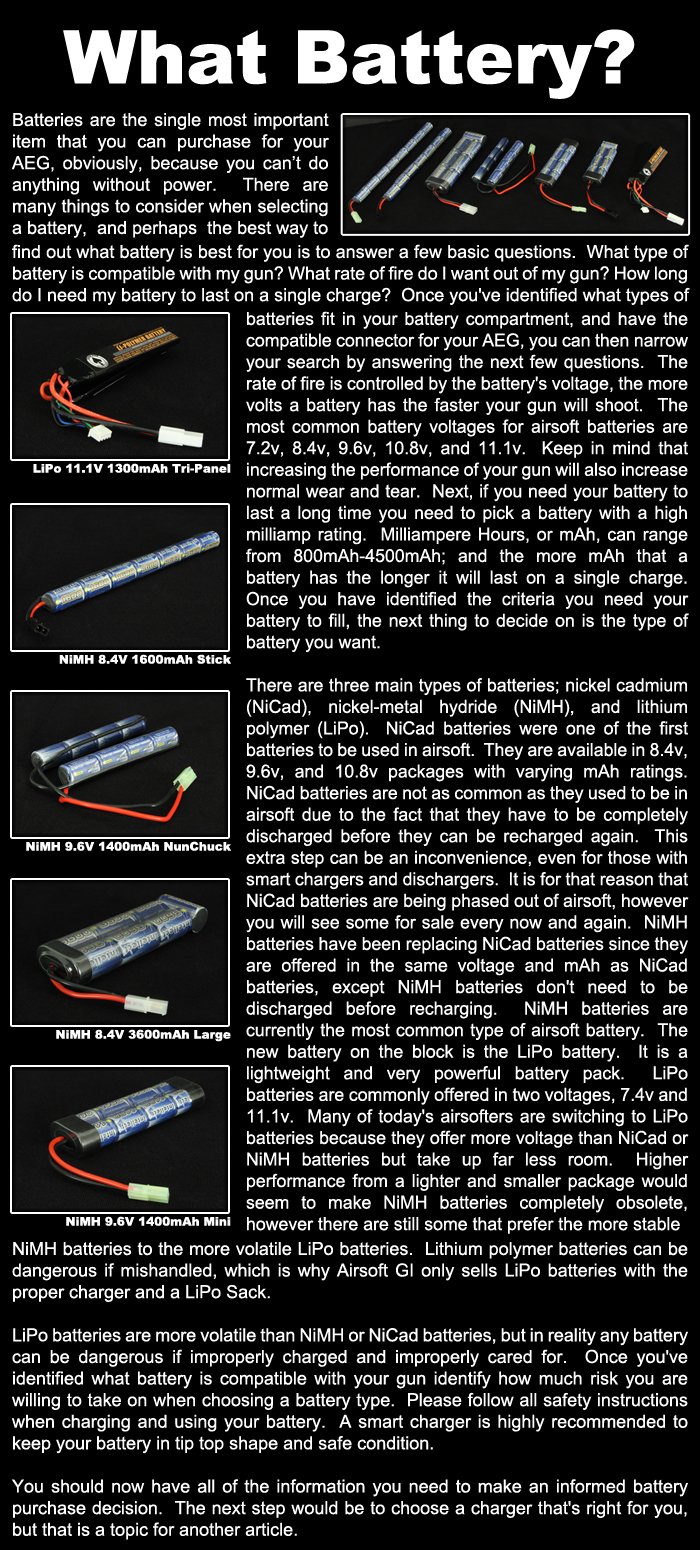 Specifications

Manufacturer: Valken
see 7 reviews
|
Write a Review
verified buyer
M. WOLSLEGEL | 2014-05-01
Product Information:
This is a great battery. I love this battery, its has been very good to me.

Pros:
-Lots of battery space
-Great preformats
-Good rate of fire
-Good price

Cons:
-Ok battery life
I really have nothing but good things to say about this battery
verified buyer
H. HWANG | 2016-07-06
Product Information:
This is a great battery option. For those of you that don't want to run a lipo, this is the best option.

Pros:
Everything pretty much. Great quality. Great battery.

Cons:
Nothing much. For my gun the wires are a little bit too long.
verified buyer
A. MLYN | 2019-10-30
Product Information:
Great battery, usually always in stock too

Pros:
Good quality
Delivers a lot of power

Cons:
None
does it connect to small tamiya

need to know

747 days ago

nathan E

0

0

(I have this same question)

Staff Answer:

Yes, this battery has a small tamiya connector.

744 days ago

1 answers
1 asked

Will this fit Classic Army Ragnar series guns?

I'm wondering because I need a good back up battery

850 days ago

Joseph C

0

0

(I have this same question)

Staff Answer:

yes, it will. this is better: https://www.airsoftgi.com/product/I-Power-11-1v-1100mAh-3s-20c-LiPO-Stick-Battery-34606/

844 days ago

I'm wondering because I need a good back up battery

850 days ago

Joseph C

0

0

(I have this same question)

Staff Answer:

Yes it will fit.

844 days ago

2 answers
1 asked

Fit

Will it fit a spartan delta sx18 mod m4?

986 days ago

Chris C

0

0

(I have this same question)

Staff Answer:

Yes, this will fit the SX18.

815 days ago

1 answers
1 asked

Will this fit?

Classic Army M4 ECR5 Carbine Enhanced mod stock?

1047 days ago

Trae F

0

0

(I have this same question)

Staff Answer:

It should

790 days ago

1 answers
1 asked

What charger do you use for this battery

What charger do you use for This battery

1086 days ago

Mason M

0

0

(I have this same question)

Staff Answer:

You can find a charger for this battery here: https://www.airsoftgi.com/product/Valken-NiCd-NiMH-8-4v-9-6v-Smart-Charger-16046/

811 days ago

1 answers
1 asked

Will it fit a krytac LVOA-C?

Will it fit a krytac LVOA-C?

1146 days ago

Kim M

0

0

(I have this same question)

Staff Answer:

Yes.

778 days ago

1 answers
1 asked

Will it fit the Krytac LVOA-C?

Please answer. Not finding a solid answer online.

1220 days ago

Joseph S

0

0

(I have this same question)

Staff Answer:

Yes, it will fit the LVOA-C.

736 days ago

1 answers
1 asked

WIll this fit

Will this fit the lancer tactical multi mission carbine?

1675 days ago

W. C

0

0

(I have this same question)

Staff Answer:

It should fit most AEG's

1674 days ago

1 answers
1 asked

Will it fit

Will this fit the Airsoft GI G4 M4 PWS

1884 days ago

Jackson S

0

0

(I have this same question)

Staff Answer:

Yes

1826 days ago

1 answers
1 asked

Will it fir

Will this battery fit the Airsoft GI custom silent death and if not what would fit it

1887 days ago

Liam D

0

0

(I have this same question)

Staff Answer:

This battery should fit easily.

1884 days ago

1 answers
1 asked

Will this fit in Crane stocks

Will this battery fit in any VFC Crane stocks

1905 days ago

Monica T

0

0

(I have this same question)

Staff Answer:

Yes

1905 days ago

1 answers
1 asked

Will it fit in the Echo 1 XCR-L?

Will it fit in the Echo 1 XCR-L?

1920 days ago

ARJUNA A

0

0

(I have this same question)

Staff Answer:

Yes, this battery should be compatible.

1919 days ago

1 answers
1 asked

will it fit

will it fit a jg m4 cqbr

1922 days ago

Hank B

0

0

(I have this same question)

Staff Answer:

It should

1902 days ago

1 answers
1 asked

Will it fit in the stock of the JG FAL?
0 answers
1 asked

Would it fit a APEX

Would it fit

2012 days ago

Jesus M

0

0

(I have this same question)

Staff Answer:

It should

2010 days ago

1 answers
1 asked

Will it fit?

Apex Full Metal R5 M10 Battlemod AEG Airsoft Gun (Black) Will it fit in this gun? Thank you so much!

2028 days ago

Johnathan K

0

0

(I have this same question)

Staff Answer:

It should fit

2023 days ago

1 answers
1 asked

Will it fit

Will this fit in the G4-A1

2041 days ago

Julie C

0

0

(I have this same question)

Staff Answer:

It should

2036 days ago

1 answers
1 asked

STOCK

When will this be back in stock?

2085 days ago

Amanda C

0

0

(I have this same question)

Staff Answer:

We have no ETA at this time

2084 days ago

1 answers
1 asked

will it fit

will it fit in an Ares m4 CQC crane stock

2102 days ago

nick g

0

0

(I have this same question)

Staff Answer:

It should

2101 days ago

1 answers
1 asked

Will it fit in a g36c hand guard ?
0 answers
1 asked

will it fit?

i am looking for a battery for the krytac crb will this work?

2120 days ago

Tim G

0

0

(I have this same question)

Staff Answer:

It should

2120 days ago

1 answers
1 asked

what is a good charger for this battery?

Need a good combo for a VFC VR

2129 days ago

mike s

0

0

(I have this same question)

Staff Answer:

<a href="http://www.airsoftgi.com/product_info.php?products_id=16046">http://www.airsoftgi.com/product_info.php?products_id=16046</a>

2128 days ago

1 answers
1 asked

fmg4

the desc. says it will fit a g4 crane stock, does that also apply to the FMG4?

2131 days ago

wes b

0

0

(I have this same question)

Staff Answer:

Yes

2129 days ago

1 answers
1 asked

will it fit

Will this battery fit in a vfc scar l?

2143 days ago

nancy g

0

0

(I have this same question)

Staff Answer:

It should

2142 days ago

1 answers
1 asked

Will this fit a Lancer Tactical PEQ box?

You guys don't have that many PEQ boxes and also I like the look of the Lancer Tactical PEQ box. Please help

2149 days ago

Cathy F

0

0

(I have this same question)

Staff Answer:

No it will not

2149 days ago

1 answers
1 asked

will this fit an echo 1 mtc carbine 2

will it

2160 days ago

Gian R

0

0

(I have this same question)

Staff Answer:

It should

2157 days ago

1 answers
1 asked

cqb

how long will it last in a cqb game

2167 days ago

braeden w

0

0

(I have this same question)

Staff Answer:

It depends on how you are playing, as well as many other factors

2167 days ago

1 answers
1 asked

battery life

how long will the battery last

2167 days ago

braeden w

0

0

(I have this same question)

Staff Answer:

It depends on how you are playing, as well as many other factors

2167 days ago

1 answers
1 asked

does it come with a charger??

and does it fit the m4 diablo

2169 days ago

jake W

0

0

(I have this same question)

Staff Answer:

It does not come with a charger. And it should fit the crane stock of the diablo.

2169 days ago

1 answers
1 asked

time for charge?

Does this come with a manual that says how long to charge it? If not how long should you?

2169 days ago

Caelan B

0

0

(I have this same question)

Staff Answer:

Generally 2-3 hours

2169 days ago

1 answers
1 asked

does it fit

will it fit in a lancer tactical m4 ris carbine because early you said it would but when i got the gun the 8.4v 1200mah barely fit and this one is bigger

2178 days ago

reese a

0

0

(I have this same question)

Staff Answer:

It should fit

2175 days ago

1 answers
1 asked

krytac

Will this fit the krytac crane stock

2188 days ago

Alina o

0

0

(I have this same question)

Staff Answer:

Yes it will. Just like in the video.

2185 days ago

1 answers
1 asked

Does it come charged

Does this battery come charged or is it dead

2196 days ago

justin h

0

0

(I have this same question)

Staff Answer:

The battery will need to be charged

2196 days ago

1 answers
1 asked

will it fit my gun?

will it fit the A&K masada acr?

2196 days ago

shawn C

0

0

(I have this same question)

Staff Answer:

It should

2196 days ago

1 answers
1 asked

What type of connector is it?

Is it a regular sized Tamiya or is it a mini Tamiya? Because it says "mini" for every battery, even though some aren't a mini Tamiya.

2216 days ago

Mike V

0

0

(I have this same question)

Staff Answer:

That is a mini connector

2216 days ago

1 answers
1 asked

What charger would you recommend for this battery and what chargers should it stay away from?

Just got the GI FMG4-18 Daniel Defense RIS Short Next Gen. Carbine and looking for battery and charger this will go with.

2241 days ago

Brandon I

0

0

(I have this same question)

Staff Answer:

any smart charger should work

2241 days ago

1 answers
1 asked

will this battery work in a ares s class cqb m4

Thank you

2242 days ago

Jaxon E

0

0

(I have this same question)

Staff Answer:

it should work

2241 days ago

1 answers
1 asked

will this fit on the kwa m4 shorty mod 2

will it or will it not

2258 days ago

joaquin F

0

0

(I have this same question)

Staff Answer:

The battery should be compatible with the specified airsoft gun.

2258 days ago

1 answers
1 asked

Will this fit in a HK 416 crane stock?

Willl it fit in the crane stock?

2262 days ago

john D

0

0

(I have this same question)

Staff Answer:

Yes this will fit in a VFC H&K 416 Stock.

2262 days ago

1 answers
1 asked

Will this battery fit the Apex Mk13's and specifically the Mod 5?

Will it fit in the Apex Mk13 crane stock?

2279 days ago

Mike E

0

0

(I have this same question)

Staff Answer:

Yes this battery will fit.

2278 days ago

1 answers
1 asked
Search Tags: Nickel Metal Hydrate Hydride NiMH NiHM Low Voltage 8 Cell 9.6 1600 AEG 2/3A Nunchuck Butterfly
People who bought this item also purchased: