UTG M14 330 rd. AEG High Capacity Magazine Set - 2 Pack (Black)
[F03B00][02531 / MAG-M14D-1 / MAG-UTG M14 HC]
( 2 Reviews )
❤ Add to Wishlist

New to airsoft? Here are some safety tips for airsoft guns that we recommend following.
This magazine is recommended for use with the CYMA, Echo 1, UTG, and KART M14 series AEGs, it may work with other brands AEG but cannot be guaranteed by Airsoft GI.
Specifications:
Manufacturer: UTG
Magazine Capacity: 330 rounds

High Capacity Magazine Operation:
Find the trap door, usually located on the top of the magazine near the loading nozzle.
Open trap door and fill reservoir with high quality BBs.
Wind the wheel at the bottom of the magazine (notice the pitch and volume of the click).
Continue to wind wheel until pitch changes. Once the click gets louder, or begins to "double click," the magazine is fully wound.
Insert magazine into gun and fire. You may need to rewind the wheel during play.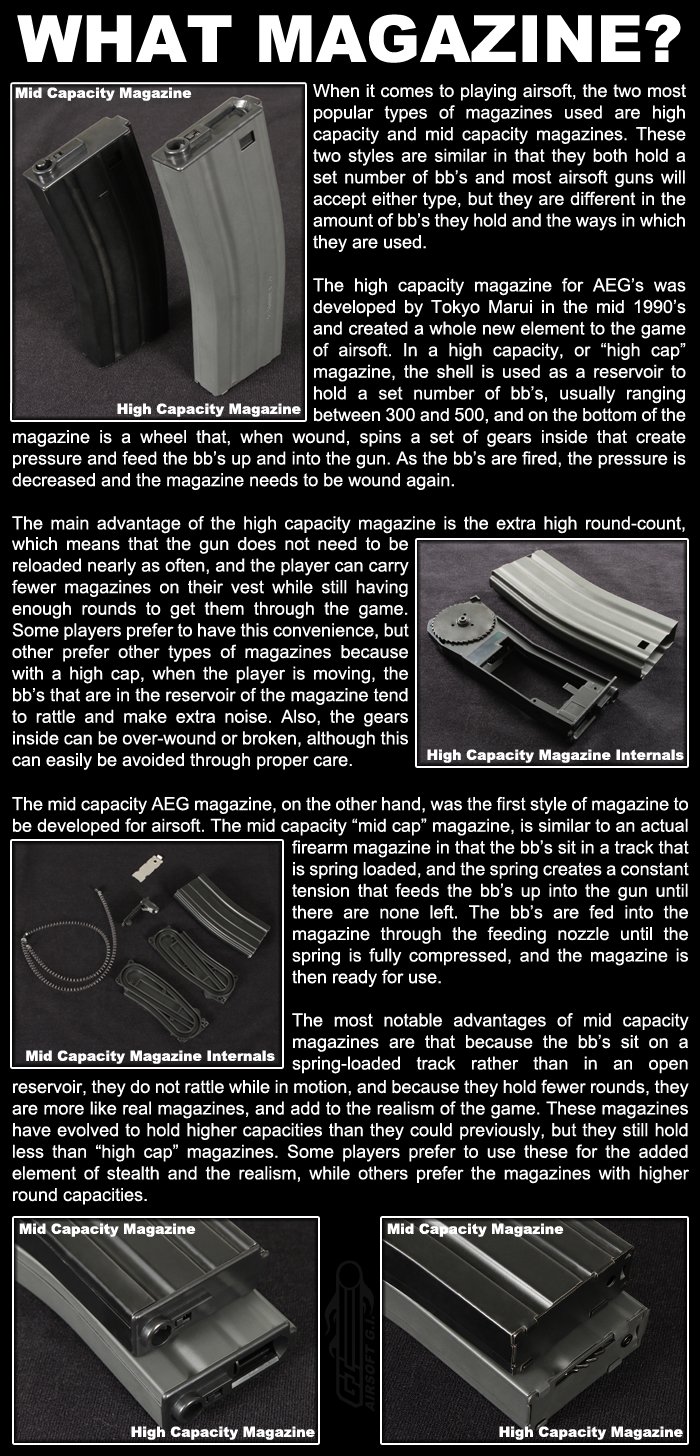 Specifications

Manufacturer: JP
see 2 reviews
|
Write a Review
verified buyer
J. SMITHMIER | 2008-02-24
These mags are good for plain backup mags in skirmishes. I use them on my Echo 1 M14 Soc16 and they work fine on it. All M14 mags are a pain to quickly put in. The plastic on the top of the mag does wear away. Like most hi-cap this mag hold hardly over 300

Fair Quality
Easy to Use
Great Deal

Thumbs Up
verified buyer
C. FORD | 2008-06-09
These are the best deal you will ever find on a m14 magazine. I have minimal problems with them they have unwound a couple time after putting 20 or so shots down range, and they have miss fired may be 5 bbs out of the whole magazine. They are not the perfect magazine, but they are a steal and they wont let you down for the most part. Also the bb doors lock shut which is nice my other mag doesn't, but the winder is not as large. That mite be an issue if you have to spin in the middle of battle, but just be prepared and wind before hand. =]
Is this mag metal or polymer

I dont know what is meant by "detailed explanation"

3370 days ago

anthony b

0

1

(I have this same question)

Staff Answer:

Should be Metal.

3367 days ago

1 answers
2 asked
Search Tags: Mil Sim Gun Field M1A Sniper Under Mag Clip Hicap DMR utg m14 m21 magazine hicap hi cap high
People who bought this item also purchased: