Tenergy LiPo 7.4V 1000mAh 20C Stick Battery & Charger Package
[12110 / Black Friday Special]
Free Shipping for orders over $149
No Coupon needed
Please Note: Lithium Polymer batteries MUST be charged with a Lithium Polymer Balance Charger!
Black Friday Special
The Airsoft GI Black Friday Specials are one of the few ways to save money this holiday season. Lithium polymer batteries provide a higher output over traditional NiMH / NiCd batteries. Not only will this package allow you to save more than $10, but the included charger is specifically designed to properly charge your battery quickly and safely allowing you to get out and play.
Tenergy 7.4v 1000mAh Battery
Description:
Lithium Polymer batteries are the newest available batteries for airsoft and other hobby toys. They are designed as a light weight, high output power source. This 7.4v Li-Po battery can deliver more power than 9.6v Ni-MH large type battery with only half of the size and a third of the battery cells.
Specifications:
Manufacturer: Tenergy
Voltage: 7.4v
Milliampere Hours: 1000mAh
Cell Type: Lithium Polymer (LiPo)
Connector Type: Mini
Recommended Fit: M4A1, AK, M14, MP5, G36
LiPoSack Use and Safety Instructions:
Battery safety:

∑ Lithium Polymer batteries are volatile. Failure to adhere to established charging guidelines may result in fire, personal injury and damage to property if charged or used improperly.



The makers of LipoSack or its distributors or retailers assume no liability for failures to comply with these use and safety guidelines.

By purchasing this product, the buyer assumes all risks associated with its intended use. If you cannot comply with these guidelines please return this product unused to your retailer.


1) Charge batteries in a safe area away from flammable materials and only on a non-flammable surface in a vented area. Do not discharge batteries below 3 volts/cell. Doing so may result in cell damage and subsequent cell venting upon a subsequent charge.
2) Do not recharge damaged batteries. Dispose of damaged batteries in the proper manner.
3) Some Lipo chargers on the market may have technical deficiencies that may cause it to charge the battery incorrectly or at an improper rate. It is your sole responsibility to assure that the charger you purchased works properly. Always monitor the charging process to assure batteries are being charged properly. Failure to do so may result in cell damage or fire.
4) In the event of a crash, you must remove the battery from the model for observation and place in a safe open area away from flammable materials.

LipoSack Use Instructions:

1) Ensure that charger rate is properly set and polarity is correct.
2) Attach charging leads to battery.
3) Place battery in LipoSack towards the bottom.
4) Place LipoSack on non-flammable surface.
5) Route charge leads through vent at the top seam of the LipoSack.
6) Close top flap of LipoSack and press hook and loop closure fully closed.
7) Charge battery using proper charging practices.


Airsoft GI Battery Disclaimer:
Airsoft GI is not responsible for batteries that have been damaged as a result of improper operation, storage, misuse or abuse, accident or neglect, such as physical damage resulting from misuse; contact with liquid, water, rain, extreme humidity or heavy perspiration, sand, dirt or the like, extreme heat, or food; use of the battery for commercial purposes or subjecting the battery to abnormal usage conditions, or other acts which are not the fault of Airsoft GI. Make sure you understand how your battery should be used and how long it should be charged. If you have any doubt regarding the operation, charging, or storage of your battery and/or charger, ask. A charging battery should not be left unattended and should be picked up periodically while charging to check for overheating. Do not charge batteries near flammable material. For more information regarding batteries please refer to the Frequently Asked Questions or the Airsoft GI Airsoft 101 Guide.
Tenergy Li-Po / LiFePO4 Battery Charger
The Tenergy Li-Po / LiFePO4 Battery Charger is a very basic charger that is able to balance and charge your Li-po or LiFePO4 batteries. This charger extends the life of your battery by charging each cell individually to ensure that the cell is properly charged before use. The Tenergy Li-Po / LiFePO4 Battery Charger features a light weight and durable polymer case and is able to charge a battery with 1-4 cells.
Specifications:
Manufacturer: Tenergy
Model: Li-Po / LiFePO4 Battery Charger
Color: Silver
Package Includes: One (1) Charger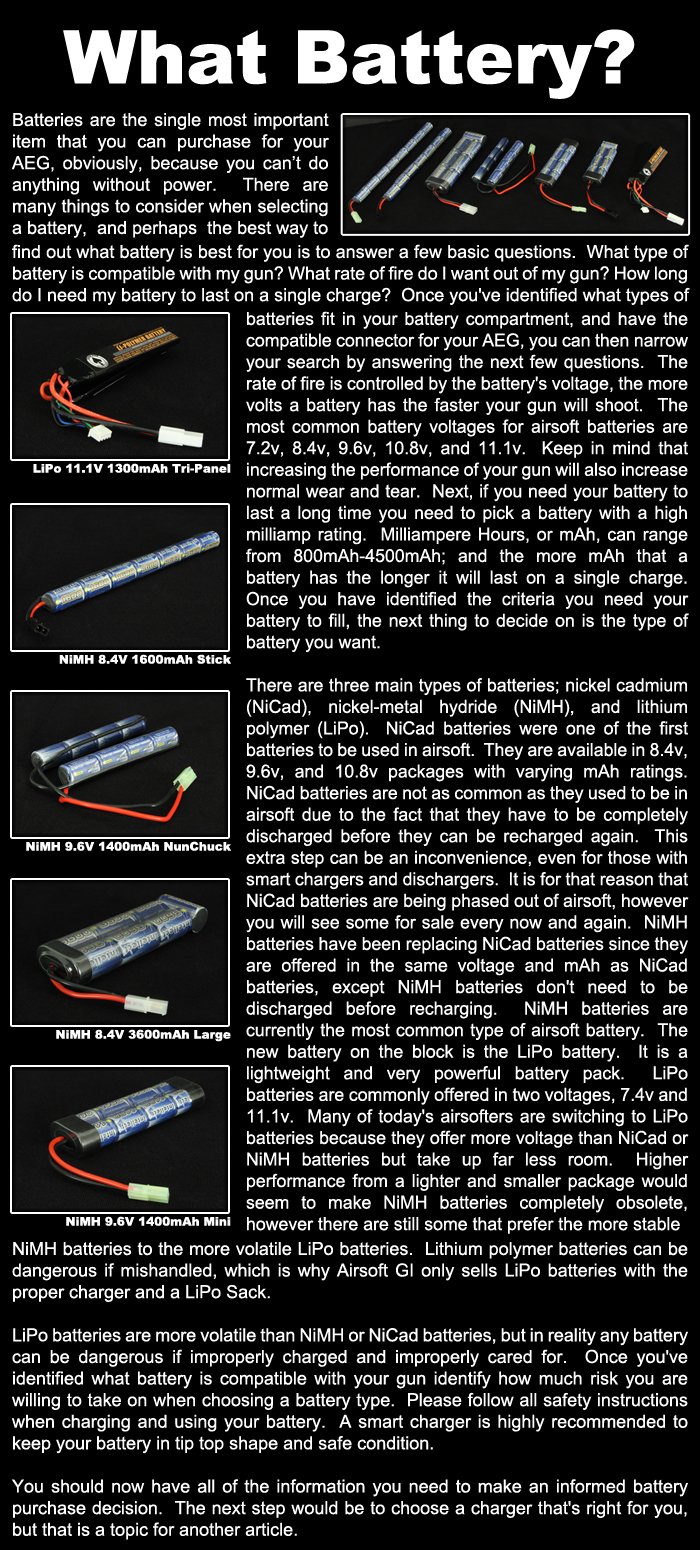 Specifications

Manufacturer: Tenergy
Color: Black / Silver
Material: Plastic / Metal
Package Includes: One (1) Battery & Charger
Timiya right size

is the timiya the right size to fit in a lancer tactical ak74u ris

2972 days ago

Abdullah G

0

0

(I have this same question)

Staff Answer:

Yes

2972 days ago

1 answers
1 asked

Power output level

Will this battery be too powerful for a G&G combat machine? It says you recommend a 7.4v LiPo for that AEG, so would this work?

2973 days ago

Johnnie L

0

0

(I have this same question)

Staff Answer:

It should work

2972 days ago

1 answers
1 asked

Shipping

Does/can Airsoft GI ship batteries across the border with no problems/ custom problems? I live in Canada

3151 days ago

Neiman R

0

0

(I have this same question)

Staff Answer:

It shouldn't have any issues with shipping

3150 days ago

1 answers
1 asked

KWA SR10

Will this fit in the KWA SR10? Thanks

3178 days ago

Andrew H

0

0

(I have this same question)

Staff Answer:

Yes

3178 days ago

1 answers
1 asked

Will this fit in a SCAR-L by VFC?

Just need to know.

3191 days ago

Andre G

0

0

(I have this same question)

Staff Answer:

Yes it will fit.

3189 days ago

1 answers
1 asked

Will this connect to a polar star engine fire module with the connector it has on it

or will i have to buy a connector converter

3219 days ago

Miles P

0

0

(I have this same question)

Staff Answer:

You will need a different connector

3217 days ago

1 answers
1 asked

how does this charger. please explain in detail
0 answers
1 asked

does the charger stop when it the battery is full
0 answers
1 asked

what are the dimensions
0 answers
2 asked

Will this fit in the ares s class cqb m4

I would like to know

3240 days ago

Justin R

0

0

(I have this same question)

Staff Answer:

It should fit.

3238 days ago

1 answers
1 asked

plug in connector that goes to wall does that come with it?

sorry for all the questions but this is actually what I meant I knew it came with a smart charger

3321 days ago

levi l

0

0

(I have this same question)

Staff Answer:

Yes, this is a wall smart charger.

3320 days ago

1 answers
1 asked

tamiya?

I was just wondering

3325 days ago

levi l

0

0

(I have this same question)

Staff Answer:

Yes, small tamiya.

3322 days ago

1 answers
1 asked

does it come with standard wall charger

I was just wondering

3326 days ago

levi l

0

0

(I have this same question)

Staff Answer:

No, this product should come with a smart Li-Po balance charger.

3322 days ago

1 answers
1 asked

will this fit in the buffer tube?

I just need to know

3341 days ago

Amy M

1

0

(I have this same question)

Staff Answer:

That battery should fit in buffer tubes as long as there isn't too many wires in the way.

3341 days ago

1 answers
2 asked
Search Tags: Season Deal Combo Combination Bundle Savings 1000 mah 20 C Lipoly Lithium Polymer 7.4 V Volts Volt LiPo Lithium Polymer Phosphate PO4 Li ion Fe Iron
People who bought this item also purchased: