Tenergy 9.6v 1600mAh NiMH Mini Crane Stock Battery
[K10C00][07638 / TEN11423 / NIMH9.6V1600N]
( 15 Reviews )
❤ Add to Wishlist
Free Shipping for orders over $89 No Coupon needed
The Tenergy 9.6v 1600mAh NiMH Crane Stock Battery is designed specifically for use with a Crane Stock. The battery is pack is separated into two halves to fit the slots of the crane stock around the buffer tube. This battery will increase the rate of fire of your airsoft gun due to the higher voltage and its higher discharge rate.
Specifications:
Manufacturer: Tenergy
Voltage: 9.6v
Milliampere Hours: 1600mAh
Cell Type: Nickel-metal hydride (NiMH)
Connector Type: Mini
Recommended Fit: M4A1 hand guard, M733 hand guard, M4 Commando hand guard, MP5A5 hand guard, and MP5SD6 hand guard
Please Note:
This battery will fit in the G4, Combat Machine, G&G, VFC, KWA, and TSD crane stock. If you have any questions about which type of crane stock this battery will fit in please call us at (909) 869-0671.
Airsoft GI Battery Disclaimer:
Airsoft GI is not responsible for batteries that have been damaged as a result of improper operation, storage, misuse or abuse, accident or neglect, such as physical damage resulting from misuse; contact with liquid, water, rain, extreme humidity or heavy perspiration, sand, dirt or the like, extreme heat, or food; use of the battery for commercial purposes or subjecting the battery to abnormal usage conditions, or other acts which are not the fault of Airsoft GI. Make sure you understand how your battery should be used and how long it should be charged. If you have any doubt regarding the operation, charging, or storage of your battery and/or charger, ask. A charging battery should not be left unattended and should be picked up periodically while charging to check for overheating. Do not charge batteries near flammable material. For more information regarding batteries please refer to the Frequently Asked Questions or the Airsoft GI Airsoft 101 Guide.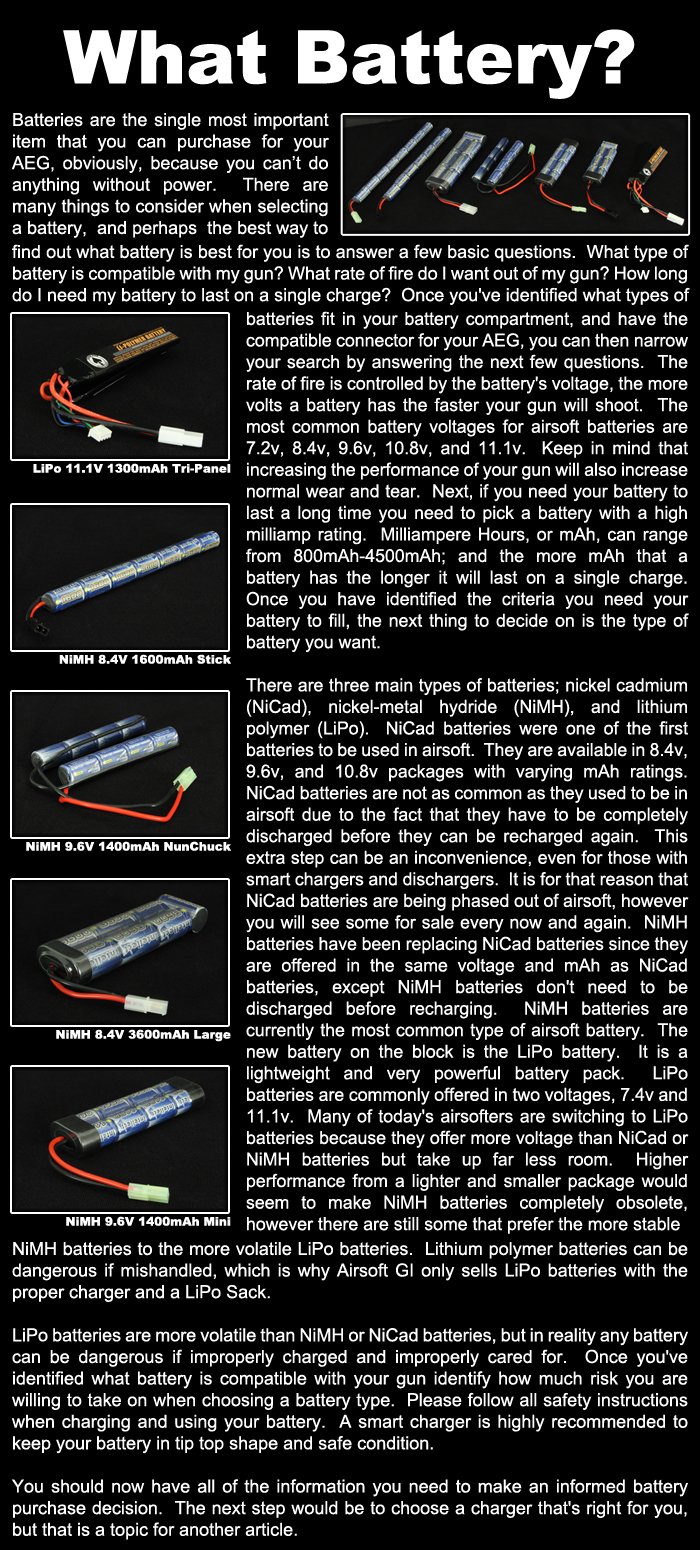 Specifications

Manufacturer: Tenergy
see 15 reviews
|
Write a Review
W. LYNCH | 2014-01-29
Product Information:
This product is perfect for most crane stock guns you have. For a moderate player this is great, I use this battery in my kwa sr-10 and I have had no problems. the life of the charge is pretty decent, again for a battery of this level. I enjoy using this product and it is a great battery for almost all levels I would defiantly recommend this to a friend

Pros:
good life for charge
good response with trigger pull
fast charging
fits good in most guns that have a standard crane stock
looks cool
charges even when there is a charge in the battery

Cons:
not may cons
but i wish that the rate of fire was better
same with the power
the power fluctuates quite some bit
gets very hot while charging
overall no huge complaints
A. MORGAN | 2014-02-07
Product Information:
This is a pretty standard nunchuck battery and aside from crane stocks is very easy to use with regular hand guards as well because it has more freedom of movement. The only real downside to this battery is partially my fault, but they develop memory very easily. After about 15 minutes of charging I caused my charger to unplug and when I plugged it back in the battery was indicated to be full. Just be very wary when charging that it will develop a memory if you unplug it prematurely. However, I will note that even with the developed memory, it maintained a very long life.

Pros:
Very easy to use with crane stocks and front wired batteries alike as well as a very long life.

Cons:
The only real con is that it develops memory instantly, which I was led to believe was a non issue in NiMH batteries but this is 100% preventable.
verified buyer
J. ELLIS | 2016-02-24
Product Information:
This is a great battery for CQB and just about any field who doesn't mind a rapid shooting gun

Pros:
increases ROF
looks cool
nunchuck style

Cons:
sometimes its hard to get into my battery slot, but will vary from gun to gun
Small tamiya

Spelling sucks will it fit a small Tamiya connector

792 days ago

Steven H

0

0

(I have this same question)

Staff Answer:

Yes, It has a small tamiya connector

791 days ago

1 answers
1 asked

what type of charger does this take? and will it fit in the lancer tatical lt-27b

idk I need answer

871 days ago

Preston W

0

0

(I have this same question)

Staff Answer:

This battery takes an NiMH smart charger and will fit into the LT-27B.

793 days ago

1 answers
1 asked

Will this battery fit the m4 from the starter pack?

Will it fit into m4 from starter pack

966 days ago

Michael L

0

0

(I have this same question)

Staff Answer:

Yes, it should fit it fine.

767 days ago

1 answers
1 asked

Will it fit?

This might be the dumbest question but will this fit the stock wired Beretta ARX 160 Elite?

1071 days ago

Kanaan S

0

0

(I have this same question)

Staff Answer:

It would be a very tight fit. We recommend Lipo batteries for those rifles.

754 days ago

1 answers
1 asked

Will this fit in G&G TR4-18 M4?

Will this fit?

1098 days ago

Stephen M

0

0

(I have this same question)

Staff Answer:

Yes it should

753 days ago

1 answers
1 asked

Will it fit in an ARX?

Will the battey fit in the stock of an ARX?

1201 days ago

Kainin B

0

0

(I have this same question)

Staff Answer:

May be a tight fit, but since the battery goes into the hand guard it should fit.

676 days ago

1 answers
1 asked

Do you need to charge the battery on arrival or will it be able to use from the start?

Will the battery work out of package or do you need to charge it first

1296 days ago

Jorge E

0

0

(I have this same question)

Staff Answer:

The battery will need to be charged before initial use.

767 days ago

1 answers
1 asked

Will this fit the connector in a Lancer Tactical M4 RIS-II? I bought that gun and this battery. The connectors do not fit.

Is there an adapter or another battery that would work?

1397 days ago

Taigon W

0

0

(I have this same question)

Staff Answer:

If the connector on the gun is larger you will need this item. <a href=http://www.airsoftgi.com/product_info.php?products_id=589>http://www.airsoftgi.com/product_info.php?products_id=589</a>

1397 days ago

1 answers
1 asked

Will it fit

Will this fit in the Krytac trident m4 crb with ease?

1810 days ago

Jack S

0

0

(I have this same question)

Staff Answer:

It should

1810 days ago

1 answers
1 asked

Will it fit?

Will it fit an Elite Force Next Gen. M4 CGB crane stock? I'm trying to find a good battery for this stock.

1903 days ago

Ann G

0

0

(I have this same question)

Staff Answer:

Yes! This battery should fit!

1901 days ago

1 answers
1 asked

Will this fit?

Will this fit in the stock of a VFC Scar- L?

1910 days ago

Richard G

0

0

(I have this same question)

Staff Answer:

It should fit

1908 days ago

1 answers
1 asked

Will this fit

Will this fit in an apex full metal R5 M10 crane stock and will the connector fit with the gun?

1914 days ago

Mason R

0

0

(I have this same question)

Staff Answer:

Yes! This item is the ideal battery for this gun.

1913 days ago

1 answers
1 asked

will it fit?

will this fit the king arms NYLON M4 CQB/R stock?

1934 days ago

Justin P

0

0

(I have this same question)

Staff Answer:

Yes! The CQB/R is equipped with a crane stock, which this battery is specifically meant to fit.

1927 days ago

1 answers
1 asked

will this fit?

will this fit in the silent death crane stock

1993 days ago

John W

0

0

(I have this same question)

Staff Answer:

It should

1991 days ago

1 answers
1 asked

will this fit?

I recently bought my gun and i want a higher rate of fire will this battery fit my gun thanks in advance link to gun http://www.airsoftgi.com/product_info.php?products_id=17867

1995 days ago

Nicholas D

0

0

(I have this same question)

Staff Answer:

It should fit

1991 days ago

1 answers
1 asked

stock

Will you get these back in stock soon if not how long does it take to get them from the distributor?

1998 days ago

preston g

0

0

(I have this same question)

Staff Answer:

We are working to get them back in stock, It generally takes 2-6 weeks depending on the distributor

1998 days ago

1 answers
1 asked

will this fit the Lancer Tactical Full Metal FAL Tactical AEG Airsoft Gun

i was thinking on buying tis gun but i was wondering if this battery would fit in its peq box please help me

2012 days ago

Nicholas D

0

0

(I have this same question)

Staff Answer:

It should fit

1992 days ago

1 answers
1 asked

Will this fit?

Will this fit a G&G CM16 MOD0 30th Anniversary

2034 days ago

James B

0

0

(I have this same question)

Staff Answer:

It shouuld

2033 days ago

1 answers
1 asked

Will this fit in a handguard of a G and G Cm16 Mod 0?

Currently tried running an 8.4v mini and doesnt fit. Woll this help in a very tight space for batteries?

2035 days ago

Cheryl R

0

0

(I have this same question)

Staff Answer:

It should fit

2033 days ago

1 answers
1 asked

We Scar-L

Will it fit the We Scar L

2039 days ago

Hubert S

0

0

(I have this same question)

Staff Answer:

It should

2039 days ago

1 answers
1 asked

will this work with the umarex hk416 cqb aeg

will it

2047 days ago

Gian R

0

0

(I have this same question)

Staff Answer:

It should

2046 days ago

1 answers
1 asked

Kwa g36c
0 answers
1 asked

will this fit in the ics l85
0 answers
1 asked

charging amp?
0 answers
1 asked

KWA M4 A1 CQR Mod 1?

Will this battery fit into a KWA M4 A1 CQR Mod 1?

2103 days ago

Kyle M

0

0

(I have this same question)

1 answers
3 asked

Will this fit?

Will this fit the Airsoft GI FMG4 13" Next Gen. DMR Airsoft Gun?

2106 days ago

Zachary D

1

0

(I have this same question)

Staff Answer:

It should

2103 days ago

1 answers
1 asked

Will this Fit?

Will this battery fit in a magpul handguard?

2123 days ago

Cooper L

0

0

(I have this same question)

Staff Answer:

It should

2123 days ago

1 answers
1 asked

If I do not have a smart charger?

If I do not have a smart charger how long do I have to charge the battery? Thanks

2124 days ago

Lori P

0

0

(I have this same question)

Staff Answer:

2-3 hours

2124 days ago

1 answers
1 asked

Classic Army m15a4

Will this fit in a classic army crane stock

2127 days ago

wes b

0

0

(I have this same question)

Staff Answer:

It should

2125 days ago

1 answers
1 asked

Will this fit in a buffer tube

I'm getting into airsoft and I want the g&g cm16 with the magpul like gear, and I want to get this battery (for both price and effectiveness.

2133 days ago

wes b

0

0

(I have this same question)

Staff Answer:

It will not fit in a buffer tube

2132 days ago

1 answers
1 asked

How long does the battery last?

How many hours could I use it with a full charge?

2201 days ago

Cody M

0

0

(I have this same question)

1-2hours depending on how muck you use it

2104 days ago

1 answers
4 asked

agm ?

would this fit into the agm stubby m4?

2227 days ago

colby l

0

0

(I have this same question)

Staff Answer:

It should be able to fit.

2226 days ago

1 answers
1 asked

Smart Charger

What smart charger do you recommend for this battery?

2268 days ago

Brendan B

0

0

(I have this same question)

A $30 tenergy smart charger works great.

2167 days ago

What smart charger do you recommend for this battery?

2268 days ago

Brendan B

0

0

(I have this same question)

Staff Answer:

Airsoft is a hobby/sport where you get what you pay for. The better your smart charger, the longer your battery should last. I would recommend purchasing the best smart charger you can afford.

2268 days ago

2 answers
1 asked

What size is the connector

mini or a large connector

2277 days ago

Brit H

0

0

(I have this same question)

Staff Answer:

Mini tamiya.

2277 days ago

1 answers
1 asked
Search Tags: Nickel Metal Hydride NiMH NiHM Low Voltage Nunchuck Butterfly Crane Stock 2/3A M4A1 G4 MP5A5 MK5A5 MK36 G36 AEG 8 Cell 9.6 1600
People who bought this item also purchased: