Tenergy 8.4v 1600mAh NiMH Stick Battery
[K16E01][07735 / TEN11329 / NIMH8.4V1600S]
( 5 Reviews )
❤ Add to Wishlist
The 8.4v 1600mAh NiMH stick battery is designed to fit the range of airsoft guns that have a minimal amount of space for a battery pack. The stick battery is able to fit in AEGs such as the MP5K and AK-47S where a standard battery pack wouldn't fit while still providing the power of a mini battery pack.
Specifications:
Manufacturer: Tenergy
Voltage: 8.4v
Milliampere Hours: 1600mAh
Cell Type: Nickel-metal hydride (NiMH)
Connector Type: Mini
Recommended fit: Folding stock AK series, MP5k, MP5 PDW and UMG

Airsoft GI Battery Disclaimer:
Airsoft GI is not responsible for batteries that have been damaged as a result of improper operation, storage, misuse or abuse, accident or neglect, such as physical damage resulting from misuse; contact with liquid, water, rain, extreme humidity or heavy perspiration, sand, dirt or the like, extreme heat, or food; use of the battery for commercial purposes or subjecting the battery to abnormal usage conditions, or other acts which are not the fault of Airsoft GI. Make sure you understand how your battery should be used and how long it should be charged. If you have any doubt regarding the operation, charging, or storage of your battery and/or charger, ask. A charging battery should not be left unattended and should be picked up periodically while charging to check for overheating. Do not charge batteries near flammable material. For more information regarding batteries please refer to the Frequently Asked Questions or the Airsoft GI Airsoft 101 Guide.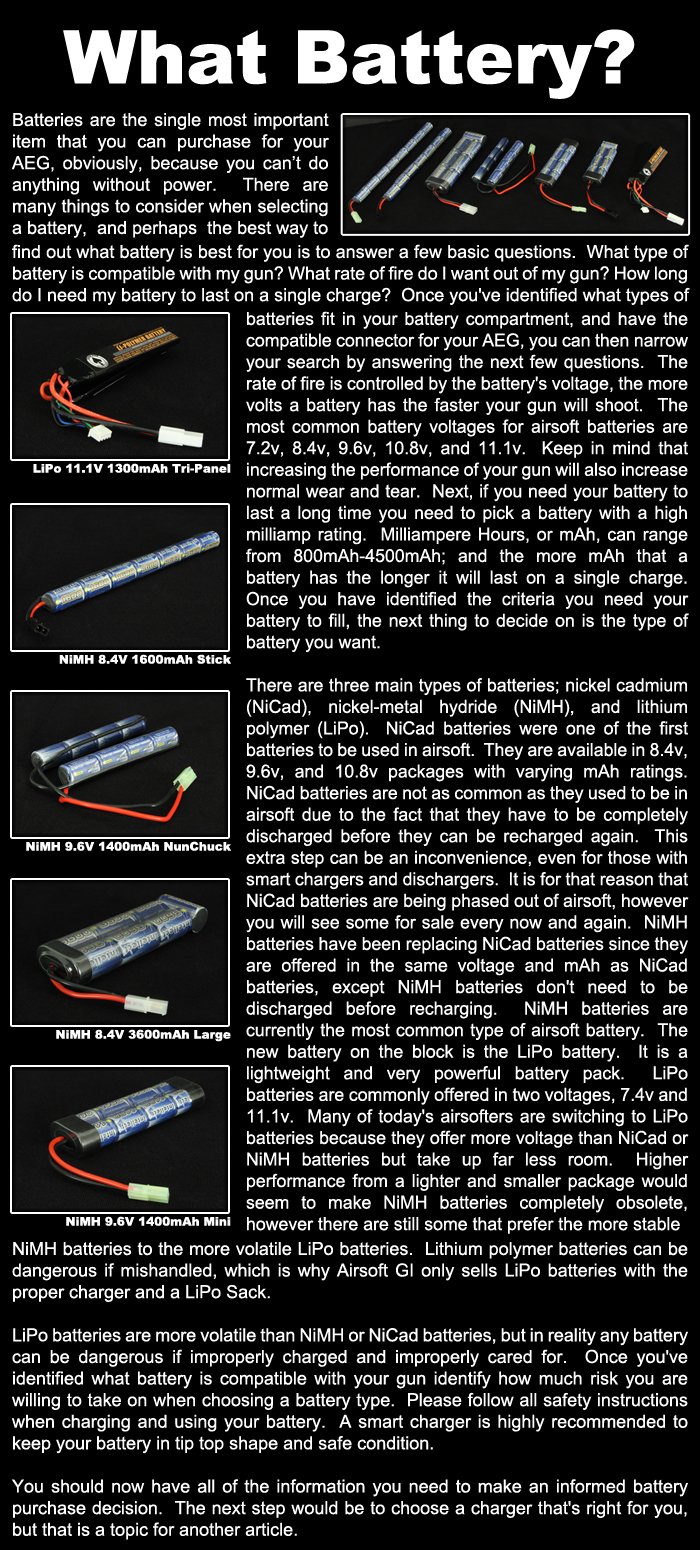 Specifications

Manufacturer: Tenergy
see 5 reviews
|
Write a Review
B. MOK | 2013-10-17
Product Information:
It lasted me 3 skirmishes without dying like any other stock battery. Just for safety, I bring another one just to bring it.

Pros:
Good ROF
Increase trigger response
Shoots like a 9.6v
Long battery life
Doesn't heat up quick


Cons:
There is really no cons about this product except that it takes forever to drain.
verified buyer
T. EASTERDAY | 2014-03-27
Product Information:
At first i was concerned with how long the cord was considering i bought this battery for my Ak 47 and there is little to no room to spare in the tops of them. The cord was flexible enough i had no trouble getting it to fit. I found with the flexible wires it fits better than my original battery. It is a great battery and highly recommended.

Pros:
-Cords is extremely durable and flexible making it easy to fit any gun
-Long battery life
-Low Cost
-Really nothing i can complain about

Cons:
-Cord is rather long can be slightly difficult when putting in an AK style but fits nicely anyway
verified buyer
E. GUBERNATOR | 2019-01-11
Product Information:
I bought this for my mp5k and it fits perfectly as long as you spin it a certain way, it lasts long and im getting the same results as most of the other reviews, The only thing is that you cant do the hk slap when its in with the stock on, you win some you lose some.

Pros:
Lasts long
Fits amazingly
Better then any stock battery ive used


Cons:
Cant hk slap when stock is in place
Wire is a little long in my opinion
Will this fit a UMP

It would be nice to have another battery and was wondering if it will fit in my H&K Ump

1552 days ago

Erik S

0

0

(I have this same question)

Staff Answer:

It should

1552 days ago

1 answers
1 asked

What is the length?
0 answers
1 asked

Is a charger included? If not, which charger should I choose?

I am wondering if a charger is included, or if i need to purchase one separately.

1802 days ago

Zach Kanyan K

0

0

(I have this same question)

I would recommend a Tenergy Universal Smart Charger.

1710 days ago

I am wondering if a charger is included, or if i need to purchase one separately.

1802 days ago

Zach Kanyan K

0

0

(I have this same question)

Staff Answer:

Charger is not included

1799 days ago

2 answers
1 asked

Conector Type

Is mini the same as small tamiya?

1934 days ago

Matthew H

0

0

(I have this same question)

Staff Answer:

Yes, Mini type.

1932 days ago

1 answers
1 asked
Search Tags: Nickel Metal Hydride 2/3A MK5K AK S ICS SIG 551 AEG 7 Cell 8.4 1600
This product was added to our catalog on Wednesday 16 March, 2011.
People who bought this item also purchased: