Tenergy 8.4v 1600mAh NiMH Mini Battery
[J03G00 / SF11][07734 / TEN11328 / NIMH8.4V1600F]
( 7 Reviews )
❤ Add to Wishlist
Free Shipping for orders over $149
No Coupon needed
The 8.4v 1600mAh mini battery pack will fit a wide range of airsoft guns and is specifically designed for those guns without a full stock. Its small size allows it to fit into the hand guard of many compact AEG. For example AEG models such as the M4A1, Sig 552, G36C, and the MP5A5 are all wired to their hand guards. This battery pack also has the high quality Tenergy battery cells.
Specifications:
Manufacturer: Tenergy
Connector: Mini
Voltage: 8.4v
Milliampere Hours: 1600mAh
Cell Type: Nickel-metal hydride (NiMH)
Connector Type: Mini
Recommended Fit: M4A1, 733, M4 Commando, Sig 552, G36 series, MP5A5, MP5SD6, and AUG

Airsoft GI Battery Disclaimer:
Airsoft GI is not responsible for batteries that have been damaged as a result of improper operation, storage, misuse or abuse, accident or neglect, such as physical damage resulting from misuse; contact with liquid, water, rain, extreme humidity or heavy perspiration, sand, dirt or the like, extreme heat, or food; use of the battery for commercial purposes or subjecting the battery to abnormal usage conditions, or other acts which are not the fault of Airsoft GI. Make sure you understand how your battery should be used and how long it should be charged. If you have any doubt regarding the operation, charging, or storage of your battery and/or charger, ask. A charging battery should not be left unattended and should be picked up periodically while charging to check for overheating. Do not charge batteries near flammable material. For more information regarding batteries please refer to the Frequently Asked Questions or the Airsoft GI Airsoft 101 Guide.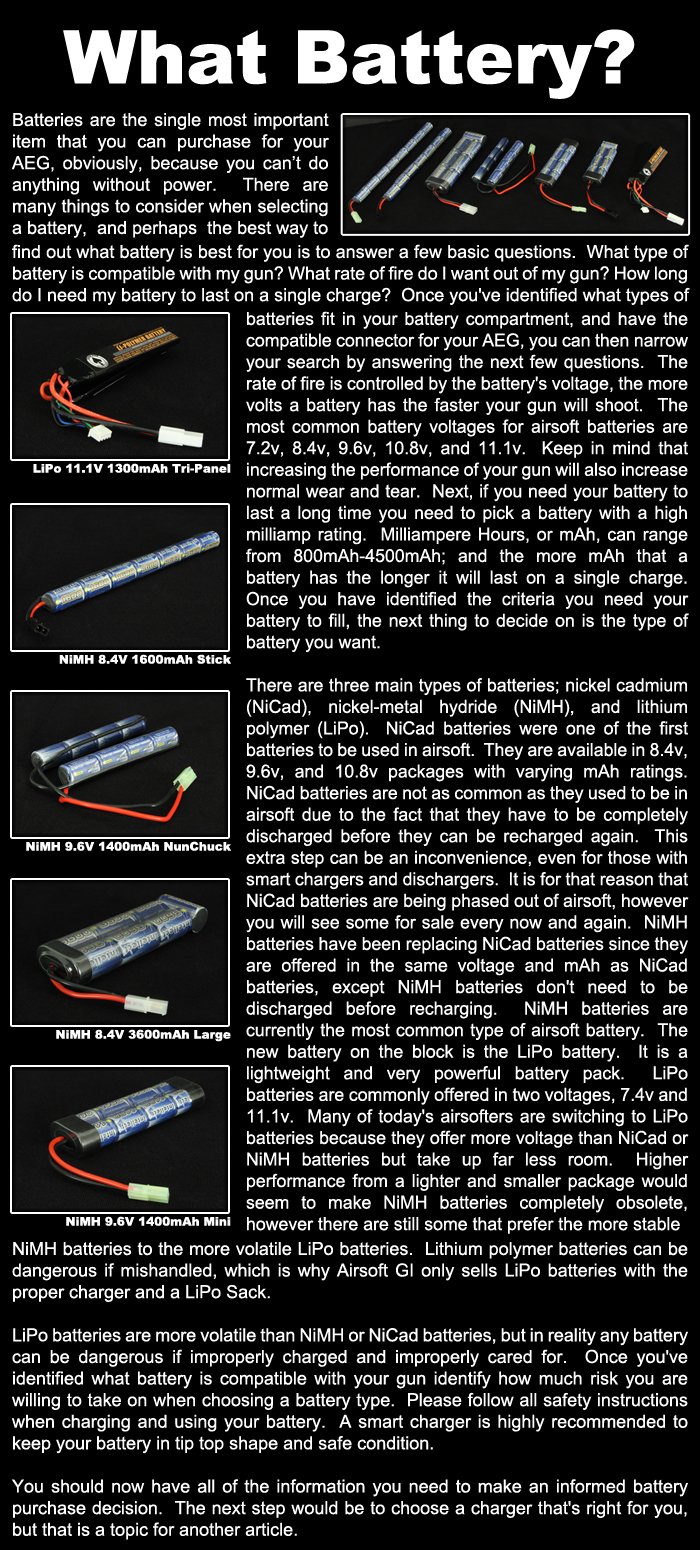 Specifications

Manufacturer: Tenergy
see 7 reviews
|
Write a Review
verified buyer
J. KOPYSCIANSKI | 2013-11-11
Product Information:
I purchased three of these due to the attractive price. This is a great, long lasting battery. Rate of fire is surprisingly fast for an 8.4. It is light weight and doesn't lose its charge very fast. Good quality connectors and wiring also.


Pros:
*Excellent price! Good enough for me to purchase three.
*Good quality. The connectors and wiring seem to be good
*Good Rate of Fire for an 8.4 in my opinion

Cons:
*Would like if they held charge a little longer. Not that it is unacceptable but always nice to have a few extra shots on a single charge.
J. PALMIOTTO | 2014-02-03
Product Information:
The price is very nice on this. It gives a surprising rof for a 8.4 volt. It is a long lasting battery. Well worth it.

Pros:
great rof for 8.4v
1600 mah
long lasting
awesome price

Cons:
only 8.4
not to many cons great product
P. TOM | 2015-03-28
Product Information:
This is a great little battery. I played all day at my local field and it DIDN'T DIE!!
Note: the wire is longer than the G&G brand.

Pros:
very long battery life
good for m4 with the battery in the forgrip

Cons:
overheats when it charges
None more
will it fit a cyma ak

will it fit the stock

2895 days ago

tim T

0

0

(I have this same question)

Staff Answer:

Yes, this battery should have plenty of room in a CYMA AK stock.

2894 days ago

1 answers
1 asked

Fitting

Can this fit In a standard m4 style buffer tube?

2910 days ago

Vince V

0

0

(I have this same question)

Staff Answer:

No. This battery will be too large to fit in a buffer tube. We have listed a couple options below for buffer tube batteries: <BR><BR> Keep in mind that these are LiPo batteries, and require a LiPo Balance Charger: <BR> <a href="http://www.airsoftgi.com/product_info.php?products_id=11914">Tenergy LiPo 11.1V 1000mAh 20C Stick Battery[Link]</a> <BR> <a href="http://www.airsoftgi.com/product_info.php?products_id=11913">Tenergy LiPo 7.4V 1000mAh 20C Stick Battery [Link]</a>

2893 days ago

1 answers
1 asked

What are the dimensions of the battery
0 answers
1 asked

Mah

is there a performance radiance between a 8.4v 1100 Mah and a 8.4v 1600Mah? I was looking for a battery and i was going to get the 1600mah one. Does it do anything different to the gun? Will it ruin my umarex G36c Sportline faster? Thanks

3061 days ago

Ryan P

0

0

(I have this same question)

Staff Answer:

Voltage increases rate of fire, mAh increases battery life

3061 days ago

1 answers
1 asked

Would this fit in a vfc scar l ?

I have a lipo but I person do not like them because of the dangers of them

3086 days ago

Aaron L

0

0

(I have this same question)

Staff Answer:

A 9.6v 1600 mAh crane stock battery would fit better

3083 days ago

1 answers
1 asked

Will this fit
0 answers
1 asked

Time

How long or for how many shots does this typically last?

3160 days ago

Luke M

0

0

(I have this same question)

Staff Answer:

It depends on many different factors. But usually around 1600 shot

3160 days ago

1 answers
1 asked

PEQ-15 Box?

Would this fit in a Matrix Airsoft PEQ-15 Battery Box w/ Laser System - Red Laser?

3203 days ago

Logan H

0

0

(I have this same question)

Staff Answer:

This will not fit in the PEQ-15.

3202 days ago

1 answers
1 asked

Charger?

Does this battery come with its own charger

3220 days ago

jose S

0

0

(I have this same question)

Staff Answer:

The product does not come with a charger. I recommend purchasing the most affordable smart charger that you can.

3220 days ago

1 answers
1 asked
Search Tags: Small Type Brick 2/3A Nickel Metal Hydride NiMH NiHM Low Voltage M4A1 MK36 G36 MK5A5 MP5A5 AEG 7 Cell 8.4 1600
People who bought this item also purchased: