Save Phace Phantom Full Face Tactical Mask (Black)
[N02A00][07550 / Phantom]
( 8 Reviews )
❤ Add to Wishlist
Description:
The Save Phace face mask is an ANSI Z87.1 rated face mask that is made of an extremely durable polymer. It has an extremely low profile so you are able to use your iron sights while still being able to protect your face, and is extremely rigid, having been designed to take some tough hits by anything from BBs to simunition rounds. The lenses are coated with military grade anti fog, anti scratch and UV coatings that give them a clear picture. Adding to the overall appearance of the mask, the graphics are very detailed and really differentiate Save Phace masks from other, more run-of -the-mill face protection.
Save Phace has been making face protection for years. They have products specialized for off road motoring use and military and law enforcement training, and are now using their years of experience making masks, as well as their artistic flare to bring the airsoft community some of their great products.
Specifications:
Manufacturer: Save Phace
Series: Diss Series*
Package Includes: Mask, Visor, Vent Plugs
Features:
ANSI Z87.1 Rated
Extremely Durable Polymer Construction
Low Profile Design
Anti-fog, Anti-Scratch and UV resistant lenses

Please Note:

For further explanation about mask series classification please visit the manufacturers website by clicking HERE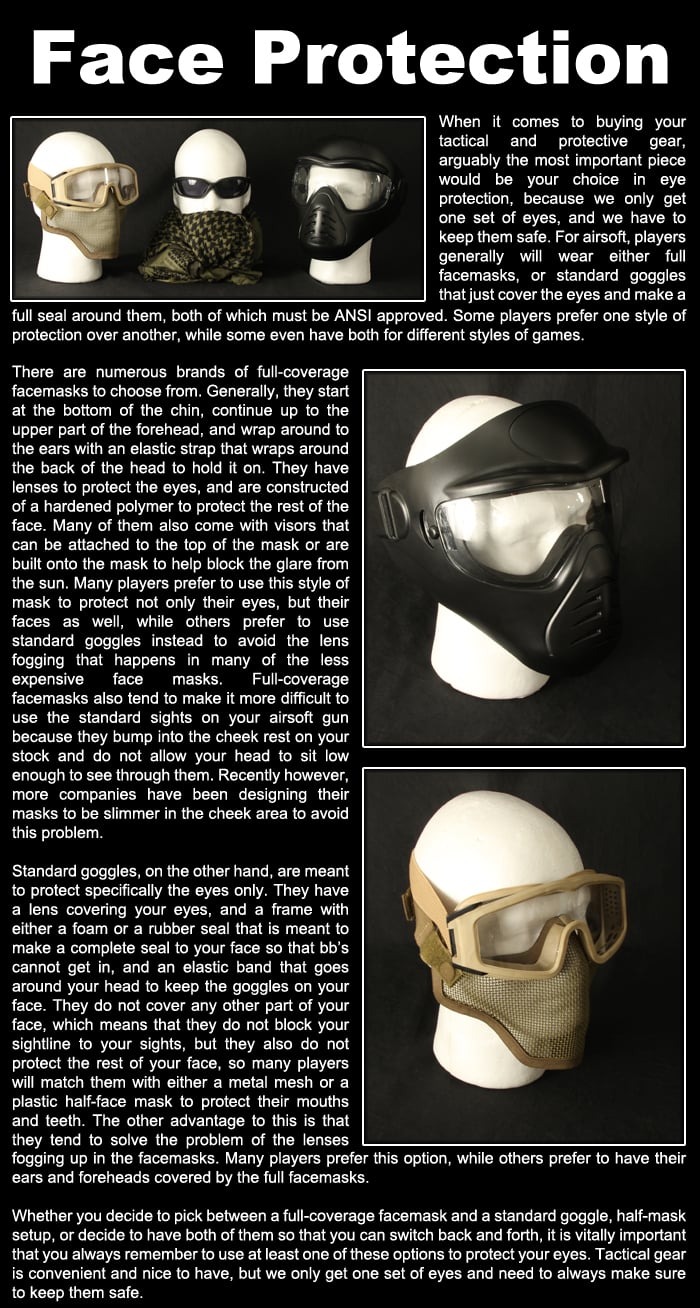 Specifications

Manufacturer: Save Phace
see 8 reviews
|
Write a Review
L. HEMSTREET | 2013-12-09
Product Information:
Very nice mask, i love how it rings if you get hit. Very good lenses that hardly fog, and the forehead guard is nice.`

Pros:
thermal lens
quick release strap
forehead guard
included visor
comfortable foam
breaths well
covers ears
rigs when hit

Cons:
doesnt have RWI foam
bland black color
no bag
G. SALUS | 2014-04-15
Product Information:
This mask is OK. This mask definitely does it's job, and protects your whole face from any incoming BB's. On the other hand, this mask is not very comfortable, and after a while of using it the foam around the eye piece started to fall off. Also, this mask fogs up like crazy. Even when i got the thermal anti fog yellow replacement lens it hardly helped. If you are going to be running around a lot on an indoor field like me, be prepared for the fog. i would recommend going with goggles, and a mesh face mask.

Pros:
-covers entire face, including your forehead.
-easy to replace lens
-easy to adjust to your preference



Cons:
-plastic feels cheap
-fogs up almost very easily even with the thermal lens
-foam liner starts to come off with extended use
-not a very comfortable mask in general
J. DEATON | 2014-04-17
Product Information:
A decent mask for the price. It is low profile, and you can aim down sights with it. It is a bit difficult and uncomfortable to do, but if you really want to, you can. It's as close as you'll get with a face mask. It does come with an anti-fog lens (There is a plastic coating on the inside of the lens to protect it during shipping, remove it before using the mask) that works pretty well. I played for 30 minutes, and then sat still for 10 minutes in a metal box with little to no air circulation (We were playing an attack/defense game), and the mask only fogged in the last two minutes. I also used this at a large OP (Reclamation 2), and during two, 2 hour sessions, it only fogged a few times when I stopped moving for long periods or time, and unfogged shortly after. It is also pretty comfortable. Overall, it's a good, not amazing mask that will allow aiming down sights and no fogging for the most part for a decent price when it comes to masks.

Pros:
Low profile (Can aim down sights, it is just hard to do, but it can be done if you really want to)
Anti-fog lens works pretty well
Pretty comfortable


Cons:
A bit pricey
It will fog, but only when you don't move for a while, so that is to be expected
Can this be used in paintball?

This is a paintball rated mask right?

3457 days ago

Chris M

1

0

(I have this same question)

Staff Answer:

Yes it is a paintball mask

3456 days ago

1 answers
1 asked
Other Great Deals and Accessories:
Select the item from the Drop Down Menu and click add.
Search Tags: Face Eye Protection Polymer Head Gear Equipment Head Wear ANZI Basic Face Ear Eyes Mouth Polymer Plastic Anti-Fog Anti Fog Glasses Friendly Teeth Protection
People who bought this item also purchased: