SOCOM Gear Full Metal R700 Bolt Action Sniper Rifle Airsoft Gun (Black)
[05735 / USMCMEU]
( 13 Reviews )
The SOCOM Gear R700 Sniper Rifle is a bolt action, spring powered, sniper rifle similar to the Tokyo Marui VSR10; and because it's so similar the R700 is compatible with some Tokyo Marui VSR10 upgrade parts. The rifle comes complete with a full metal barrel an polymer stock. The finish on the stock is dull and rugged so it doesn't reflect light, perfect for a sniper that doesn't want to attract attention. This gun also comes with a rifle camouflage net to cover the gun so it remains unseen. SOCOM Gear has also included a speed loader and a bottle of BBs with a loading nozzle to make life easier. For an out of the box ready sniper rifle, look no further than the SOCOM Gear R700.
Specifications:
Manufacturer: SOCOM Gear
Muzzle Velocity: 280 FPS
Magazine Capacity: 25 rounds
Package Includes: gun, magazine, bbs, speed loader, camo net.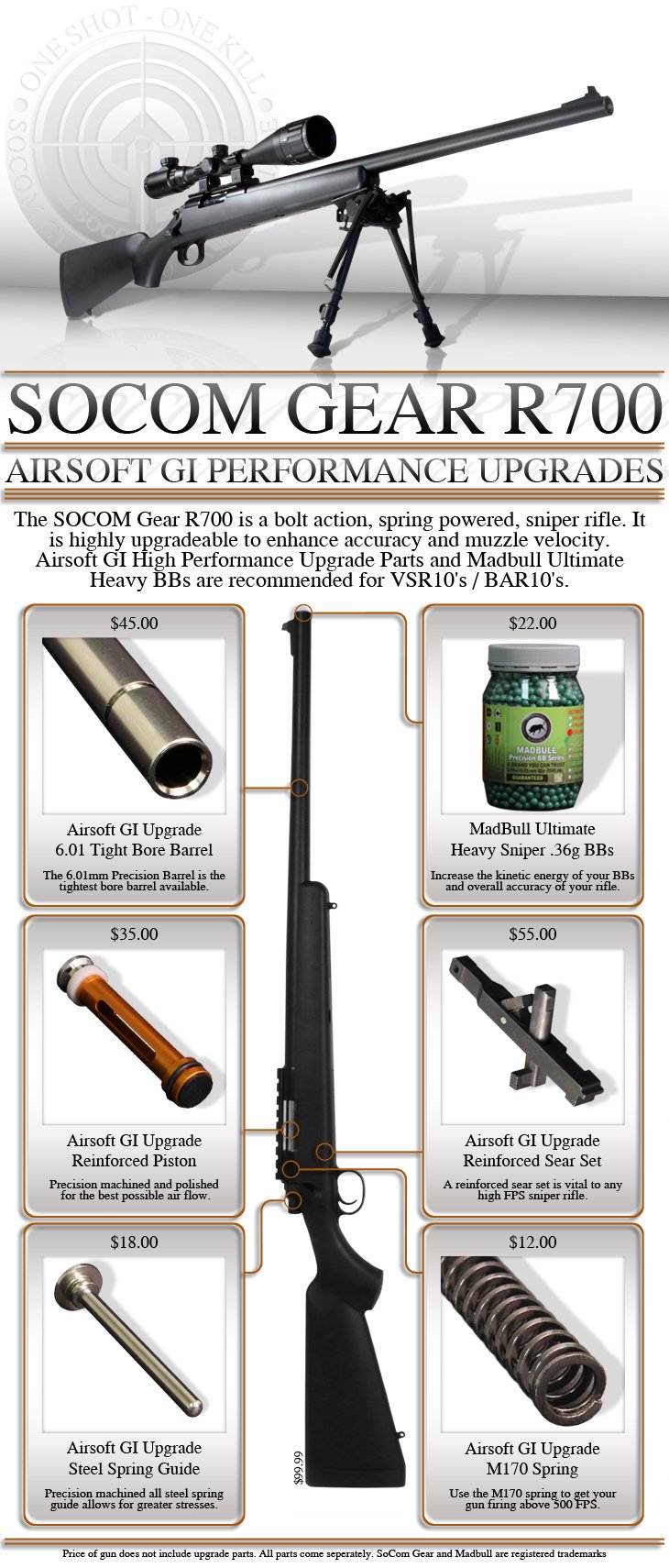 Specifications

Manufacturer: SOCOM Gear
Muzzle Velocity: 280-300
see 13 reviews
|
Write a Review
K. DULIC | 2010-05-21
Product Information:
this gun is a great gun but i do not recommend the m1700 spring with the reinforced sears they give you. I bought all the parts and i mean ALL of them, and sadly the gun started slam-firing after 100 shots. I only need to replace the piston sear but asgi doesn't sell it separately so i now need spend 55 dollars for a part i dont even need.

Pros:
piston is good
barrel is good
spring is STRONG!!
spring guide is good

Cons:
the "reinforced" trigger parts wear down with the m1700 spring after about 100 shots and your gun slam-fires
sadly asgi doesn't sell the piston sear separate from the trigger sear so i have to spend money on parts i dont need
verified buyer
K. LAI | 2010-08-12
Product Information:
this is a decent gun. its a good alternative to the JG BAR-10. it takes very good to upgrades. but before i get into details, if you do not have an extra 300-500 dollars laying around for upgrades, dont get it. In its stock form, this gun can be used for little backyard skirmashes with your friends. but anything more serious than that, this gun cannot compete with mid priced AEGs. the first thing you should do when you buy the gun is to remove the Real Shock System which is basically a piece of crap weights around the piston. go look around airsoftforum.com they have a thread on how to remove the weights. but its impossible if you do not have access to a drill or dremel. however, this gun takes very nicely to upgrade as it is a very close TM VSR-10 clone. i dropped in a PDI TBB, Laylax piston and spring guide perfectly. you will be a very valuable asset to your team if you have this gun in a heavily upgraded form. ok... the finish on the stock is very, very nice. when you first get it, it will almost feel like rough sandpaper. after you hold it for a while, it will smooth out. but will still provide a lot of grip. the power is very low for a bolt action. the iron sights are extremely nice. if you dont plan on upgrading, dont get a scope. the iron sights will be sufficient. the trigger is adjustable. i set mine to be extremely sensitive so to minimize torque. the rubber back piece on the stock is removable, but upon removal, you are greeted with a plate that would prevent you to store anything inside like the JG bar-10. i tried removing it with my dremel, but behind that plate, is another plate. the bolt pull is extremely easy as it is firing a low FPS. and it is also extremely smooth. the accuracy is AMAZING with this gun. it comes stock with a 6.06 mm barrel, but you might want to get something a bit tighter... the hop up is the main reason this gun is so accurate. its an amazing stock hop up chamber. however, tokyo marui makes a upgrade hop up and barrel kit. so you can upgrade it. its 55 dollars and worth every penny. tokyo marui makes one of the best hop ups and bucking in their stock gun and now they just made a even more precise version of it. this is a total beast of a gun when upgraded but it cannot compete with other sniper rifles in the same price range if its not upgraded/

Pros:
easy to upgrade
upgrade parts are readily available
cheap
great clone
great finish on stock
amazing stock hop up
great accuracy
great iron sights
very comfortable
very light
cheap

Cons:
real shock system is crap
low stock FPS
a bit hard to find rails but go on redwolfairsoft.com and you will find it
the stock is hollow but a plate is blocking it
loud with the real shock
verified buyer
G. HORSEY | 2013-03-30
Product Information:
socom gear r700

great gun for anyone who is going to start sniping need to be upgraded my mag was broken when i got the gun but thanks to asgi return policy i returned the gun and with in a week i got the gun back mag has been great ever sense

Pros:
stock is made with great polymer
full metal insides
great hop up
it is light about 5-6 lbs
highly upgradeable


Cons:
fps only shoots 280
needs a rail to mount a scope
Other Great Deals and Accessories:
Select the item from the Drop Down Menu and click add.
Search Tags: M700 Sniper DMR Accuracy Polymer Furniture Upgradable VSR10 Compatible 25rd Magazine
People who bought this item also purchased: