Revision Desert Locust Goggle w/ Clear Lense (Black)
[ST10][03262 / 4-0309-0301]
( 9 Reviews )
+ Add to Wishlist
Description:
Revision is a company dedicated to excellence that makes protective eye wear specifically for use in combat. Their mission is to, "Protect Warrior's eyes by designing, developing, and delivering the best purpose-built military eye protection solutions, worldwide.
The Revision Desert Locust Goggles have a low profile design that ensures compatibility with helmets, weapon sights, binoculars, and night vision equipment. The goggles have been tested and certified to military requirements for high impact protection. The optically correct lens provides a wide field of view and protection from UV rays. Top and lateral forced air vents provide airflow while filtration media prevents small particles from entering. The high performance OcuMax coating gives enhanced protection from fogging and scratching. All these features combine to make these goggles very comfortable and functional.
Specifications:
Manufacturer: Revision
Model: Desert Locust
Color: Black


Features:
High-Impact Protection Certified To Military Requirements
Polycarbonate Lenses Provide 100% Protection From UV A/B/C Rays
Optically Correct Lens Provides Visual Clarity and Wide Field of View
Air Vents Provide Airflow While Filtration Prevents Small Particle Entry
OcuMax Coat Gives Improved Protection Against Fogging / Scratching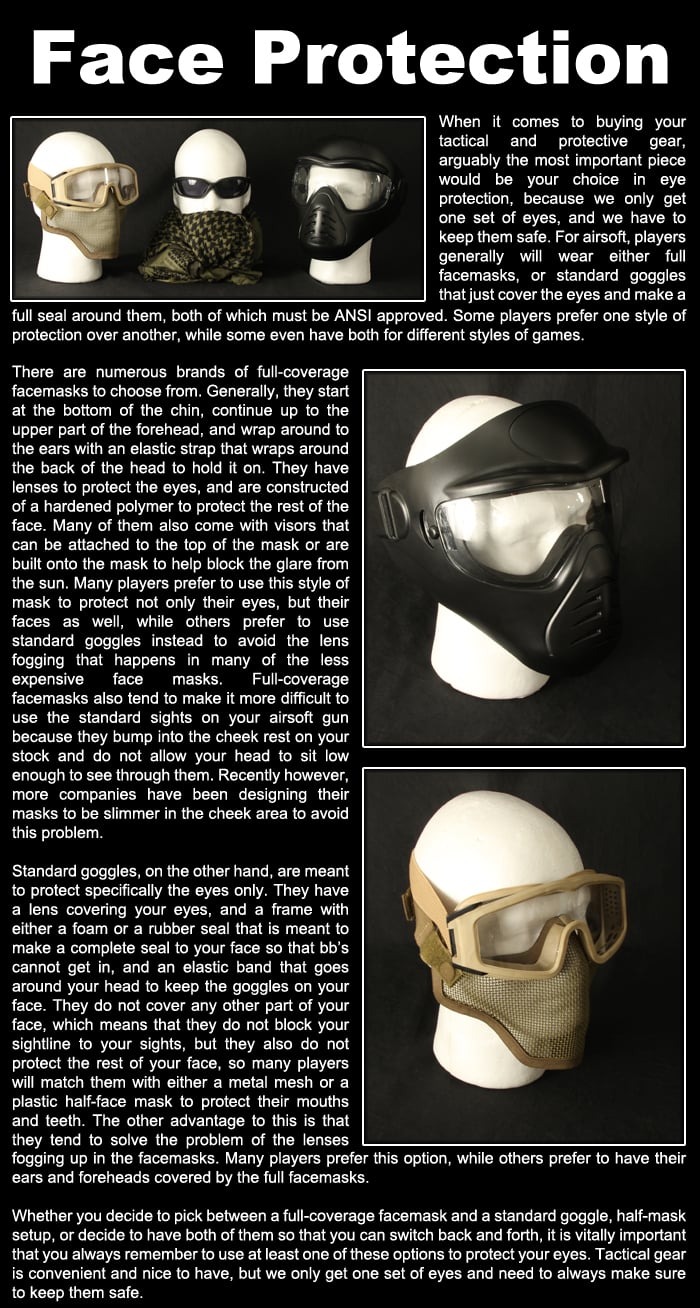 Specifications

Manufacturer: Revision
Color: Black
Size: Adjustable
Material: Polymer
Package Includes: One (1) Goggle
see 9 reviews
|
Write a Review
verified buyer
V. WEDEL | 2013-10-28
Product Information:
These goggles are well worth the money. The lens is very durable, and incredibly clear. The goggles are well ventilated, with a foam mesh over the vents preventing dirt from getting. Overall I would definitely recommend this product to a friend.

Pros:
-Very clear lens
-Good ventilation
-Adjustable strap fits almost any size head
-Ventilation covers to stop dust getting in

Cons:
-The first couple of times I used these goggles, I had sweat running down the inside of the lenses (I play in Colorado and it gets very hot in the summer). Between the sweat running down the inside of my googles and me wiping it off between games, I basically wiped off the anti fog coating. This is a minor complaint however, and easily fixable with some revision anti fog wipes.
J. CARMINATI | 2014-10-16
Product Information:
Awesome goggles, they breath really well and sit closer to your face. If you where glasses then i strongly recommend that you get the prescription kit, it works amazing. But you can modify them so they will fit your glasses, it can be a hassle though. They have rubber instead of foam so if you sweat a lot them it may irritate your face a bit, i solved this by gluing some velvet on the rubber. it is so comfy now.

Pros:
-change lens colors
-they sit closer to your face
-dont fog even on humid days or in the winter
-they have a Rx kit for them!!!!!!

Cons:
-the rubber can be a pain
-hard to use with glasses with out modification (just get the Rx kit)
K. HEWITT | 2017-06-27
Product Information:
These are great goggles, at first they fogged kind of a lot but then I cut out the tops and bottom of the goggles and they dont fog at all. They fit perfectly with my helmet and lower mesh mask. And the lens that come with it are great to switch out, it is very easy. It is definetly worth the money. 10 out of 10

Pros:
Don't fog
Multiple lens
Comfortable

Cons:
Kind of bulky
Which mesh mask should I get that will fit with these goggles?

I'm looking towards buying some gear and I want to make everything as comfortable as possible. I've heard that this doesn't work with some masks. Which ones does it work with?

694 days ago

Cameron G

0

0

(I have this same question)

Staff Answer:

Any mesh mask should work with those goggles.

343 days ago

1 answers
1 asked

Can you add a fan kit later?

Currently I don't want to buy a fan for these goggles, so can I add them later?

1627 days ago

Nashoba L

0

0

(I have this same question)

You can get a fan kit or Do what my friend did and go to a store like radio shack and buy a small 1"x 1" fan and a 9v battery house with an on off switch then glue/tape it to the side of the googles. total cost is maybe $10.

1281 days ago

1 answers
1 asked

Will this fit glasses (please read)

I ordered these (http://www.airsoftgi.com/product_info.php?products_id=11526 lancer tactical goggles) but when they came in they didn't fit my glasses. Can you tell me if glasses about 5 1/2" wide will fit in these. Don't want to buy them and find out they don't fit. and also can you guys do another battery video?

1848 days ago

alex p

0

0

(I have this same question)

They make an insert to go into the goggles. google Revision RX insert there is a few places that sell them. The average price is $25. But then you have to take them too your eye DR and get the custom lens made. My friend uses them

1281 days ago

1 answers
1 asked
Search Tags: High Impact Rated UV Protection Anti-Fog Scratch Resistant Low Profile Wide View Anti Fog Eye Pro Goggles Rubber Full Seal Black Dark Night Urban SWAT
This product was added to our catalog on Monday 10 March, 2008.
People who bought this item also purchased: