Prometheus EG Precision AEG Inner Barrel for TM M14 (500mm)
[Z10F03B][02131 / PR-4582109586907 / LAY-586907]
( 2 Reviews )
❤ Add to Wishlist
Free Shipping for orders over $149
No Coupon needed
Description:
Prometheus is one of the best, if not the best, names in airsoft. They are widely known for their extremely high quality upgrade parts for all different types of guns. Precision barrels are best described as an inner barrel with a diameter of 6.03mm or less. Precision inner barrels allow for better compression, improved accuracy, and in a few cases increase muzzle velocity. Although precision barrels often require more maintenance and cleaning, they can give an AEG a greater range and improve the overall performance of an airsoft AEG.
Specifications:
Manufacturer: Prometheus
Material: Stainless Steel
Bore Diameter: 6.03mm
Gun Type: Tokyo Marui M14
Barrel Length: 500mm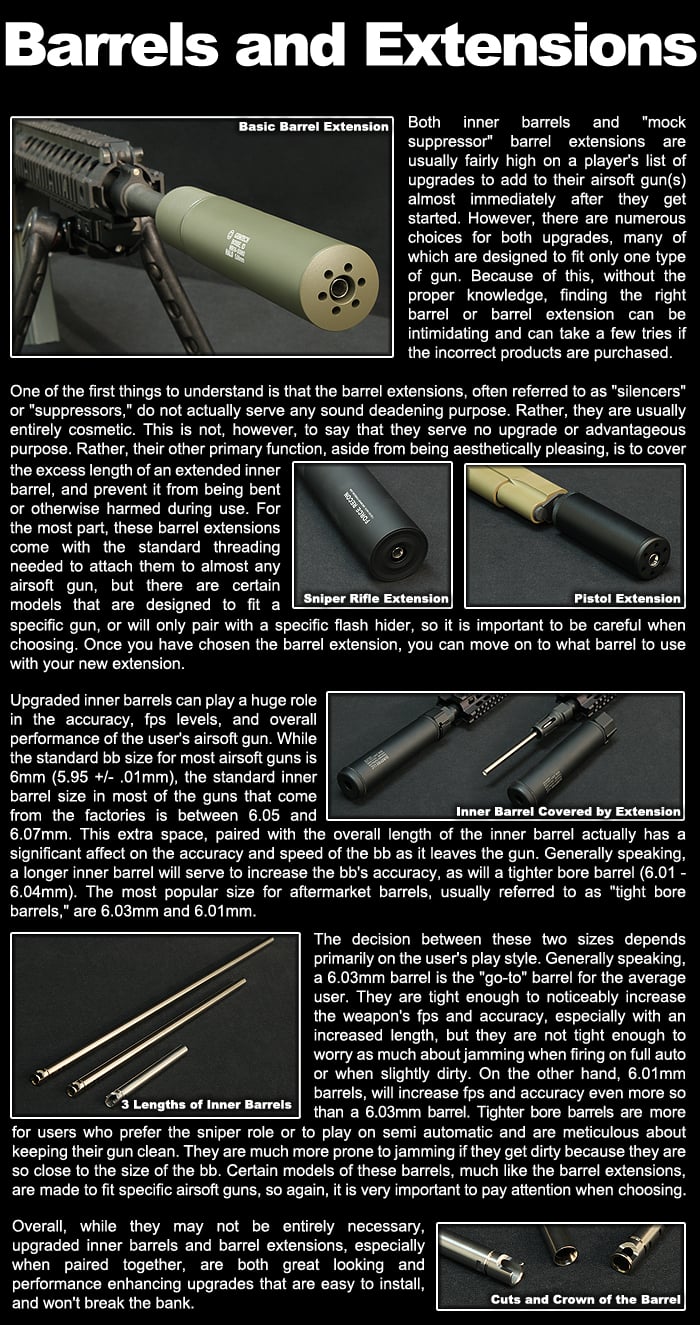 Specifications

Manufacturer: Prometheus
Color: Silver
Size: 500mm
Material: Stainless Steel
Package Includes: One (1) Precision Inner Barrel
see 2 reviews
|
Write a Review
verified buyer
J. MERK | 2009-12-14
Product Information:
To start off just to alert the public from making the same mistake I did, do not get this barrel unless you are getting for an M14. I originally bought it for my G3 since I figured all AEG barrels are the same-they are not. This is made specifically for an M14 hopup unit. The notch at the top for the nub to go through is abnormally, large and the groove for the hopup unit to clamp to gets covered by the bucking. However, I got this to work in my gun for a little and it did wonders for the accuracy. It is definatly worth the money to buy any Prometheus barrel. I give it a 5 for it's performance.

Pros:
Improved accuracy a ton.

Cons:
Does not work in any gun except an M14
A. ZICARI | 2013-12-05
Product Information:
This barrel is great for upgrading your m14. It produced better groupings and slightly more range. As long as you have your hop up chamber tuned properly this barrel with certainly give you the performance. This barrel is also one of the more " r hop friendly" barrels out there.

Pros:
Very consistent and accurate!
Made of steel! (until you can buy steel miracle barrels, I'll stick with these) I flat hop or r hop anyway.


Cons:
The price is a little steep but you really get what you pay for with these barrels.
CYMA

I've heard that the M14 barrel cuts can be different depending on whether it is for a TM or TM clone. I own a CYMA CM032 (http://www.airsoftgi.com/product_info.php?products_id=2910) and would like to know if this particular barrel would fit.

2522 days ago

Antonio G

0

0

(I have this same question)

Staff Answer:

It should work, as CYMA's are clones of TM guns

2521 days ago

1 answers
1 asked

Barrel cut?

Does this barrel have normal AEG type barrel cuts for the hop up, or some special cut for an M14? (My apologies, have never had an M14 so do not know, looking at this barrel for my PDI hop up in my MK96)

2792 days ago

Nick S

0

0

(I have this same question)

Staff Answer:

This barrel should have a standard AEG cut.

2790 days ago

1 answers
1 asked
Search Tags: Internal Upgrade Replacement Tightbore Range Accuracy Part Piece Increase Performance Trajectory Grouping Distance Output Tight Bore
People who bought this item also purchased: