NcSTAR 36" Rifle Case Gun Bag (Tan)
[S09B08][12250 / CVT2907-36]
( 3 Reviews )
❤ Add to Wishlist
Description:
The NcSTAR 36" Rifle Case Gun Bag is a great way to store and transport your long rifle. The rifle compartment is padded to protect your gun and on the outside there are smaller compartments to carry magazines or other miscellaneous accessories. This product has a slim profile that will not take too much space in transport or storage. The rigid carry handle in the middle of the bag lets you grab this quickly on the go. Use the shoulder strap to carry the case if you need access to both your hands. Attention all airsoft and paintball players, it is illegal to brandish your replica guns in public. Please always transport them in a carrying or storage device. If you do not have a rifle bag yet, you need to get one now! It is the perfect rifle bag for your Tokyo Marui, ICS and Classic Army AEG. Please make sure to purchase a rifle bag for your airsoft weapon.
Specifications:
Manufacturer: NC Star
Model: Gun Bag
Color: Tan
Length: 36"
Package Includes: Gun Bag

Features:

Foam Lined

Carry Handle

Exterior Magazine compartments

Durable Nylon Construction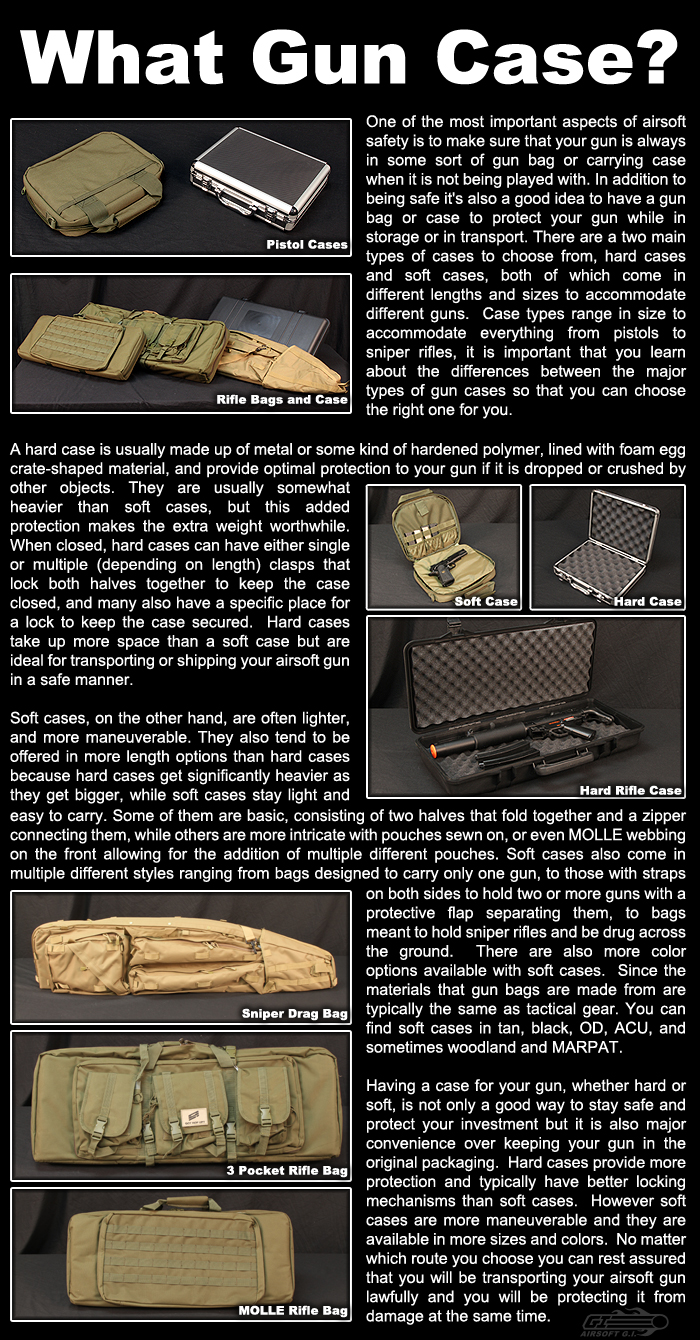 Specifications

Manufacturer: NC Star
Color: Tan
Size: 36"W x 12"H
Material: Nylon Webbing
Package Includes: One (1) 36" Gun Bag
see 3 reviews
|
Write a Review
verified buyer
C. RATH | 2013-11-18
Product Information:
This case can hold most guns. There are 5 mag pouches. The case is pretty well protected. The padding is good and the case is comfortable to hold.

Pros:
-cheap
-durable
-nice padding
-5 mag pouches
-

Cons:
- may not fit some guns (a let down if you wanted to carry a gun and it didn't fit)
verified buyer
J. HATAKA | 2014-01-25
Product Information:
*I agree w/ C. Rath's review* I was lucky to grab one of these on sale for $17.99. Remember, for your gun to properly fit, it should be LESS than 36" in length. I did manage to squeeze a TM SR-16 into this bag (which I would recommend a 38" bag for that AEG instead)

Pros:
Very affordable, good padding, five mag pouches

Cons:
none (based on the price), but...shoulder strap could be beefier if carrying a heavier gun
verified buyer
B. UPLEGER | 2014-04-10
Product Information:
this is a great gun bag, at a great price. if you are transporting your airsoft guns, don't just walk around with them out in the open, this could alarm others and they'll probably believe it's a real firearm. pick up one of these gun bags, they're cheap, protect your gun when not in use, and can store up to 5 mags on the front. this gun bag is 36", it would fit a nice majority of the guns out there as long as it has a collapsable/foldable stock. my friend was able to fit his g&g g26 with a scatterplot carbon fiber suppressor on it in this bag. and i was able to fit my g&g cm with a 14.5 " barrel with a 150 mm suppressor. just a little over 20" of barrel, and the gun barely fit with the stock fully collapsed. plus it holds m4 mags in front, which is always nice for transporting mags.

Pros:
-really cheap, at $19.99
-great tan color
-holds 5 mags up front
-it holds majority of the guns out there with a collapsable stock, even my m4 with a 14.5" barrel and 150 mm suppressor fit in this gun bag.

over all, really great gun bag, highly recommend it! pick one up!

Cons:
theres really no cons with this gun bag at all. it does everything you need it to. hold your gun, hold your mags, looks good, and is really cheap for $19.99! pick one up, you need a gun bag, don't bring your airsoft rifles out in public without one!
Search Tags: Rifle Accessories Equipment Carry Transportation Storage Multiple Pockets 36 Inch Inches Padded Pad Pads NCstar Desert Dark Earth Nc Star
People who bought this item also purchased: