NcSTAR 36" Rifle Case Gun Bag (Black)
[S01C07/ SI05][08166 / CV2907-36]
( 1 Reviews )
❤ Add to Wishlist
Free Shipping for orders over $89 No Coupon needed
Description:
The NcSTAR 36" Rifle Case Gun Bag is a great way to store and transport your long rifle. The rifle compartment is padded to protect your gun and on the outside there are smaller compartments to carry magazines or other miscellaneous accessories. This product has a slim profile that will not take too much space in transport or storage. The rigid carry handle in the middle of the bag lets you grab this quickly on the go. Use the shoulder strap to carry the case if you need access to both your hands. Attention all airsoft and paintball players, it is illegal to brandish your replica guns in public. Please always transport them in a carrying or storage device. If you do not have a rifle bag yet, you need to get one now! It is the perfect rifle bag for your Tokyo Marui, ICS and Classic Army AEG. Please make sure to purchase a rifle bag for your airsoft weapon.
Specifications:
Manufacturer: NC Star
Model: Gun Bag
Color: Black
Length: 36"
Package Includes: Gun Bag

Features:

Foam Lined

Carry Handle

Exterior Magazine compartments

Durable Nylon Construction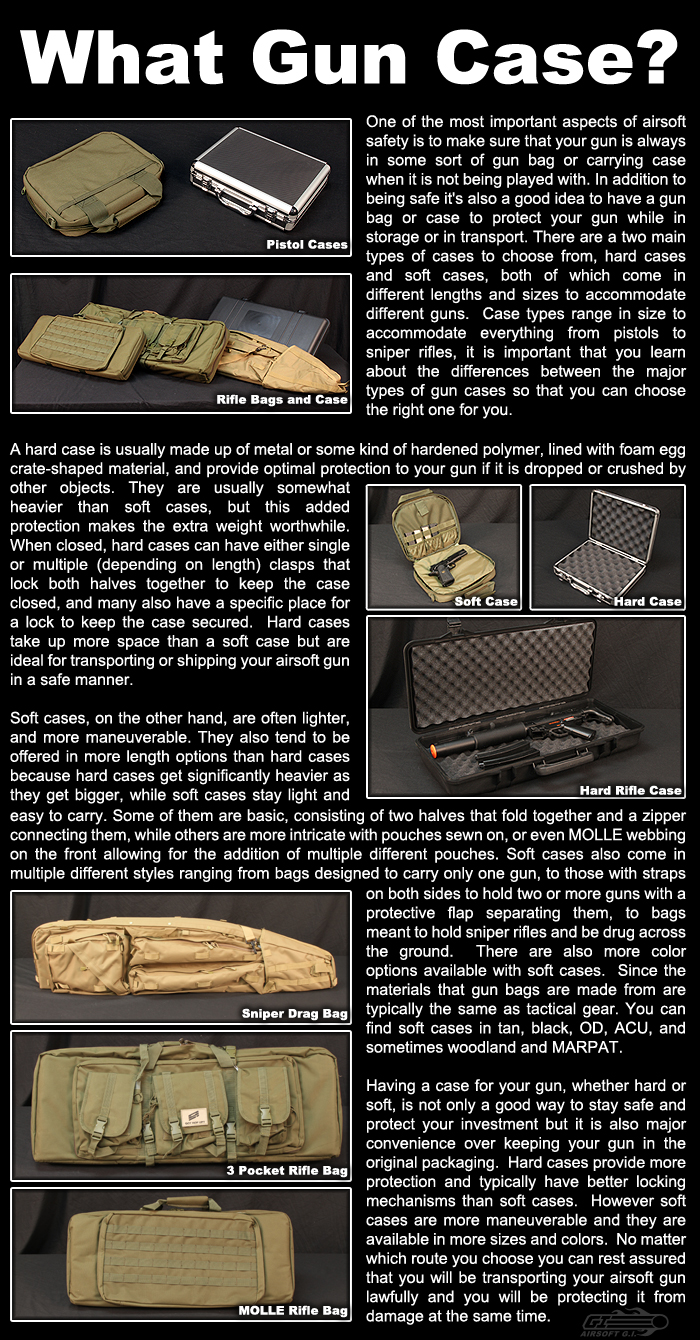 Specifications

Manufacturer: NC Star
Color: Black
Size: 36"W x 12"H
Material: Nylon Webbing
Package Includes: One (1) 36" Gun Bag
see 1 reviews
|
Write a Review
R. MATTINGLY | 2012-05-10
Product Information:
Decent bag for most if not all AEG's. I bought this bag when i got my Echo-1 AK-47 RIS about 4 months ago, and its been treated fairly. Pouches on the side are great for holding extra mags, gun slings, or hand grips. DO NOT place any optics in the pouches, it may not severely damage them, but if your not careful they will be damaged. The bag itself comes with an adjustable sling, but i wouldn't trust it with your gun in it, because the sling attachments are not made to support anything over 10 pounds. (At least mine don't). In my opinion, this bag is worth the twenty bucks, its sturdy, the handles on top are solid, and overall gives it a more organized look to your gun, if not more professional look as well.

Pros:
Pouches for storage
Padded inside for comfy fit for your AEG
Big enough to keep optics on your gun. (At least AK's)
Hefty design gives peace of mind about keeping your gun good.
Pouches can hold up to 5 mags. (Individually)

Cons:
Material wears easily, exterior only however.
Sling clamps are flimsy, don't trust it.
Velcro is loud when you separate it, but i don't mind it too much.
Stock

When Are These Back In Stock?

2097 days ago

Nate G

0

0

(I have this same question)

Staff Answer:

We are working to get these back in stock

2095 days ago

1 answers
1 asked
Search Tags: Rifle Accessories Equipment Carry Transportation Storage Multiple Pockets 36 Inch Inches Padded Pad Pads NC star Nc Star
People who bought this item also purchased: